Love your old boat? Then keep it! "Refitting" is the term used with large yachts, and it applies to smaller boats, too. Refitting is easy, cost-effective, and can move you closer to having the boat you have always dreamed of.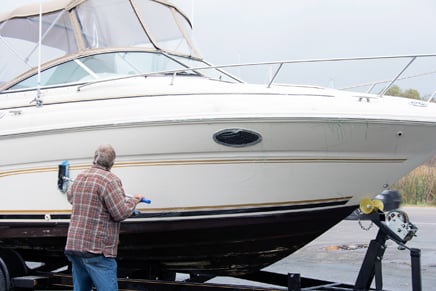 The process is also a lot more fun than you might think. Here are six easy steps to making an old boat look new:

Step 1: Cleaning and Repainting Hull and Deck
There are a lot of things you can do to improve the look of the exterior of your boat, including a deep cleaning and repainting. Cleaning the hull and deck is easy, so long as you do not mind a lot of scrubbing. Make sure you start from the top down and use the right marine cleaner for the task.

Repainting your boat might be better left to the bottom paint professionals, who can tell you if it is necessary and follow the right application guidelines to ensure a quality, long-lasting job.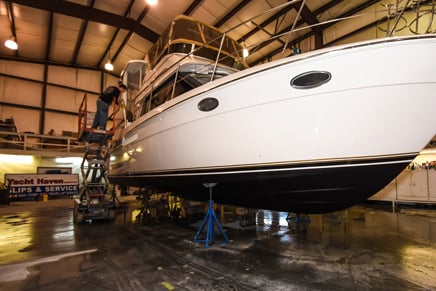 Step 2: Updating the Cockpit Vinyl and Carpet
Unlike the cabin, the cockpit of your boat is not just visible to you and your guests but to all the boaters who walk by at the marina. Two items that are easy to update and provide instant gratification are the vinyl and carpeting.

If the vinyl is beyond saving with a good cleaning and a marine vinyl protectant, there are two options. The easiest but more expensive choice is to take the existing cushions, backrests, bolsters, and sun pads to a marine upholstery shop. The second is to use a high-quality, marine-grade vinyl paint that brings cushions back to life and will not crack, chip, fade, or peel. This is a great time to change the colors on your boat if you like.

If your deck carpeting is worn, weathered, or does not match the new color of your restored boat, grab some marine grade replacement carpeting and change it out yourself. If you have custom snap-in carpet, things get trickier, but not much. The professionals offer pre-cut snap-in carpet for most of the top boat manufacturers. If they do not have your template, you can send them your old carpeting or make a template and they will custom-cut your carpets. They offer a selection of carpet styles and color. The new trend, however, is SeaDek, a durable and shock resistant alternative to carpet that looks great and is easy to clean. SeaDek is an easy way to add some dock appeal to your boat and can be ordered in various colors and patterns. It looks great on everything from a cruiser to a go-fast boat. For a list of SeaDek installers in your area check out our SeaDek Pros.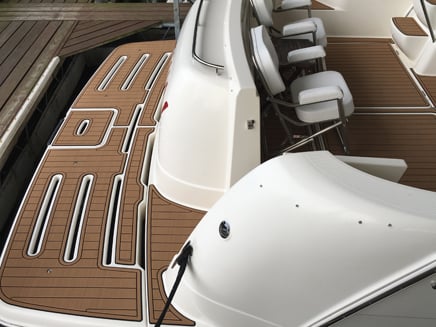 Step 3: Updating the Cabin Carpet
New carpet rejuvenates a cabin and ties an interior together. It is one of the most cost-effective improvements out there and installation, even on a boat, is easy.

The first thing to do is stand back and look at your cabin with a critical eye. Decide what you want to keep and what goes. Then choose a color palette that sets the tone you want. Boat carpet can be ordered online and can be laid with basic tools and skills.

One concern in high-use areas is picking a color or pattern that will not show dirt too fast. And do not forget padding, preferably with an antimicrobial material not affected by rot and mildew.

Leave a little extra time for this project, as you are likely to find some mold and mildew under the old carpeting that must be thoroughly remediated before the new carpet is laid.

Step 4: Reupholstering the Cabin
Updating the interior upholstery is like a cabin facelift. In most cases, you can simply take in your old cushions to a marine upholsterer. But if your cushions are horribly misshapen, they will not make good templates and measurements should be taken by the professional on site.

Marine fabrics come in three categories: Sunbrella, Ultraleather, and solution-dyed acrylics, all of which resist damage from UV rays and wet bathing suits and come in a variety of styles and textures. When choosing a pattern, keep in mind that you do not want to combine too many intricate forms and lines unless you wish to contribute to the seasickness of your guests.

Step 5: New Bedding
Nothing feels as good as climbing into a fresh bed after a wonderful but tiring day of boating. The good news is that thanks to the Internet V-berth and other odd size sheets are no longer hard to find. A wide selection of styles and colors can be found at retailers like Defender Marine. Resist the urge to cheap out. The right bedding will not clump or bunch and is easier to change.

Sleeping aboard gets even better with the low-profile, interlocking Froli box spring system. Designed for boats, the individual spring elements are firmness adjustable for a customized feel with an "articulated air flow" that adapts to your body shape and movement aboard. Upgrade your pillows with your favorite Tempur-Pedic for an added ergonomic treat.

Step 6: New Faucets
The faucet is the most used item in the galley and therefore a high-impact update. If you have a conventional 4-inch centerset or single-hole design, you are not limited to the "marine" faucet selection. The things to keep in mind when buying any faucet are the spread and reach. Pull-down sprayers are popular, and you want ceramic valves. Outdoor kitchen faucets designed for home backyards offer a sturdy option.

Now that your refit is done, fire up the blender and mix up a pitcher of frozen drinks. Invite your friends over and show off your improvements. You have earned it!

What is the best refit you have ever made to your boat, and what are your recommendations for making an old boat look new? Share your secrets with us below.