Keep Critters, Mold, and Oxidization at Bay

As the days get shorter and temperatures get colder, it's tempting just to rinse your boat off, winterize it, and wait until spring to give it a thorough cleaning. Who's going to see a few crumbs under the sink when no one's using the boat, anyway?

The question isn't who's going to see them – it's what's going to smell them.

"In the fall, we vacuum all the compartments," said David Nolan, owner/operator of Marine Clean, a mobile professional boat detailing service for boats in the Lake of the Ozarks area. "If there are Doritos crumbs in there, you might have some cats or raccoons live in the boat the whole winter. That can cost thousands."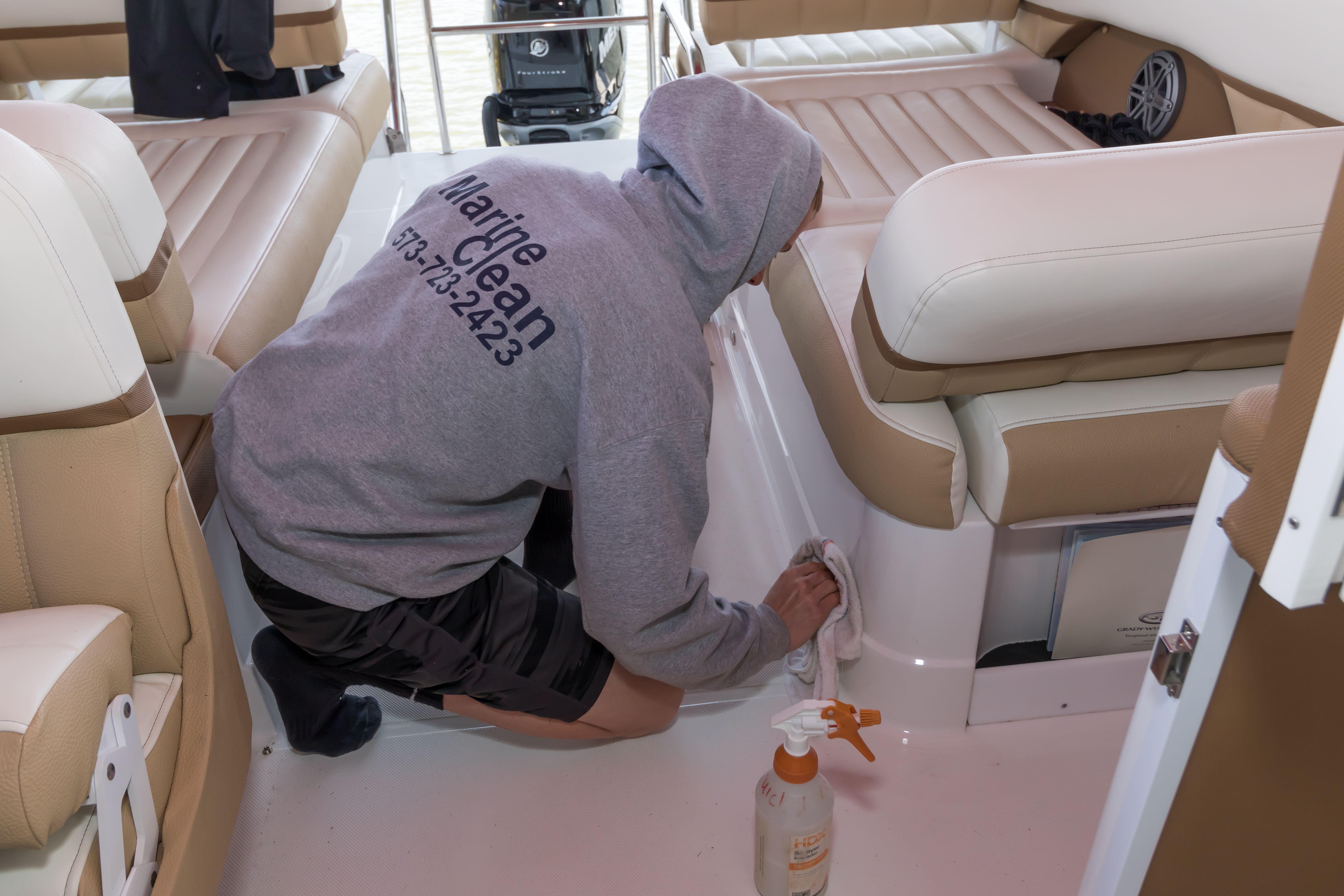 In addition to creating a mess, cats and raccoons have been known to destroy vinyl upholstery and wallcoverings in the winterized boats they occupy. "I don't know why, but raccoons really hate vinyl," Nolan said.

When they detail a boat in the fall, he and his team at Marine Clean also rid clients' boats of any spider eggs and other bug larvae, which can hatch and cause an infestation onboard.

"The other thing we're looking for in the fall is to get all the moisture out of your boat before you put the cover on it," Nolan said. Otherwise, you can come back to your boat in the spring and find it full of mold and mildew.

Why Detailing Can Help a Boat Hold its Resale Value

Having your boat professionally detailed also can help to improve its overall look and ultimately its resale value. Having a pro thoroughly clean your boat's exterior and then give it a new coat of wax will help it to withstand the rigors of the winter ahead, including the impact of UV rays on the gelcoat. "The wintertime sun is much lower and much more direct on the hullside," said Nolan.

He trains the Marine Clean team to check the hulls of all the boats they detail for gelcoat oxidization, which dulls the shine. "When you look at it under a microscope, it looks like mountains and valleys," he said.


It's important to address oxidation right away instead of letting it sit over the winter and potentially get worse due to exposure to UV rays and other factors. Marine Clean detailers use a circular buffer with a product that Nolan calls "liquid sandpaper" to buff out oxidized areas, evening out the "mountains and valleys" and restoring hull shine. Then, they add a protective coat of wax to help prevent further damage.

Let the Detailer Buy the Boat Soap

While some boat owners prefer to detail their boats themselves in order to save money, marine cleaning products that are both effective and green aren't cheap. "A pro will spend the money on professional-grade products and equipment. We use a lot of BioKleen products, which are safer both for the boat and the environment," Nolan said, adding, "We can probably do a better job for the same money it would cost you to stock up on the products you'd need."

Hiring a pro to detail your boat also saves time, not only in the autumn when you want to savor those last warm weekends, but also in the spring when it comes time to re-commission your boat. "If the boat was detailed, buffed and waxed in the fall it's usually much quicker and easier to clean in the spring," he said.
How do you prepare to winterize your boat? Do you detail your boat yourself or are you in search of boat detailing services? Be sure to check out our list of trusted boat detailers here!