Love boating? Live in the north? Can't wait another five or six long months to get back on the water? Why not consider taking a yacht charter vacation somewhere sunny, warm, salty, and sandy this winter.
Types of Yacht Charter Vacations

Yacht charter vacations come in two flavors: "bareboat", which means you drive the boat yourself, and "crewed," when a skipper does the boat handling and navigating for you. The boat charter industry was founded primarily by sailors, for sailors, but today, you can find both sail and powerboat charter vacation options all over the world.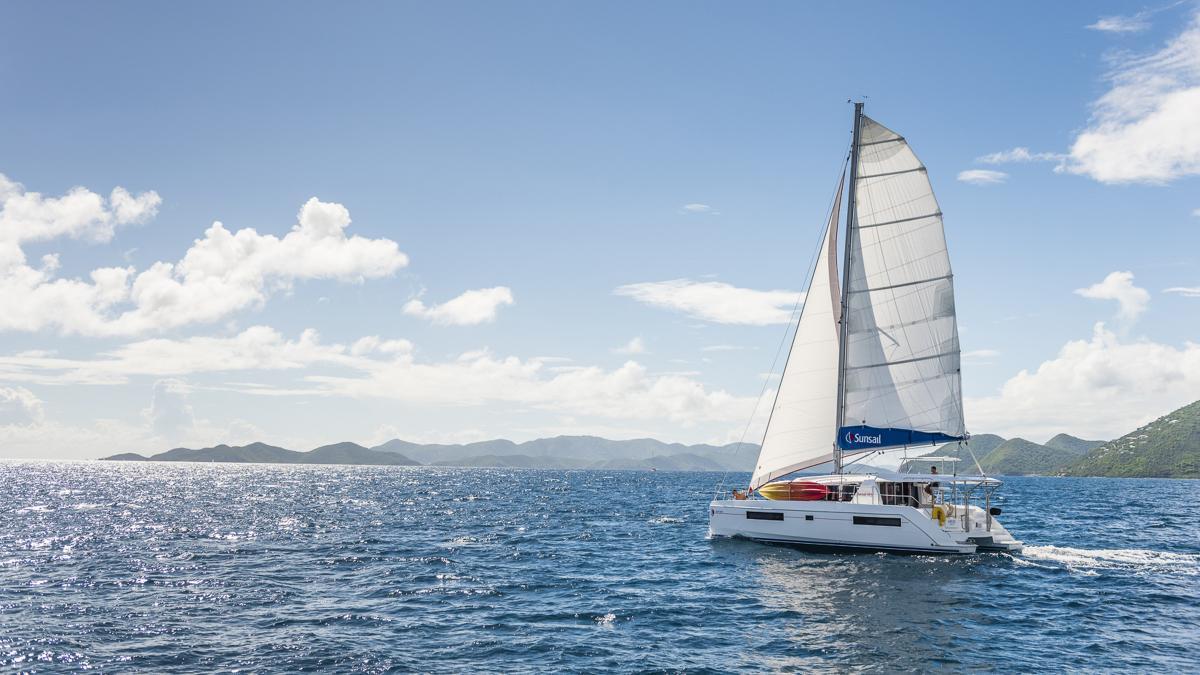 Photo Credit: SunSail

In recent years, catamarans – both power and sail – have become extremely popular for yacht charter vacations because they offer so much living and sleeping space. Thanks to their twin hulls, cats also have a more stable, upright ride than many monohulls, so even the landlubbers in your charter party will surely enjoy themselves.
Cruising Grounds

For American boaters, some of the most popular cruising grounds to take a winter yacht charter vacation in are located in Florida, the Bahamas, and the Caribbean. Two iconic charter destinations are the British Virgin Islands (BVI) and the Bahamas' Abaco Cays, both of which offer a string of islets within an easy island-hopping distance of each another. The BVI and the Abacos both feature a combination of friendly island ports with resort marinas and beach bars, and deserted, sandy coves where you can spend a night at anchor under the stars. (In September 2017, the BVI took a beating from hurricanes Harvey, Irma and Maria, but while some resorts in the region still remain closed, the islands themselves remain just as beautiful and pristine as ever.)

Photo Credit: SunSail

Yacht Charter Vacation Costs

At first glance, the price of a weeklong yacht charter vacation in one of these "postcard from paradise" destinations may seem a bit steep. However, most of the charter fleets offer boats of different sizes, providing comfortable accommodations for two to ten people, so you can share the cost with family or friends. Typically, airfare, provisions, dockage, and fuel are not included in the charter price, so be sure to factor these in when you are planning a winter yacht charter vacation. In the case of a crewed charter, it is also customary to tip the captain and crew, which is an extra expense. (Most charter companies should provide you with the standard costs for cruising in a particular region.)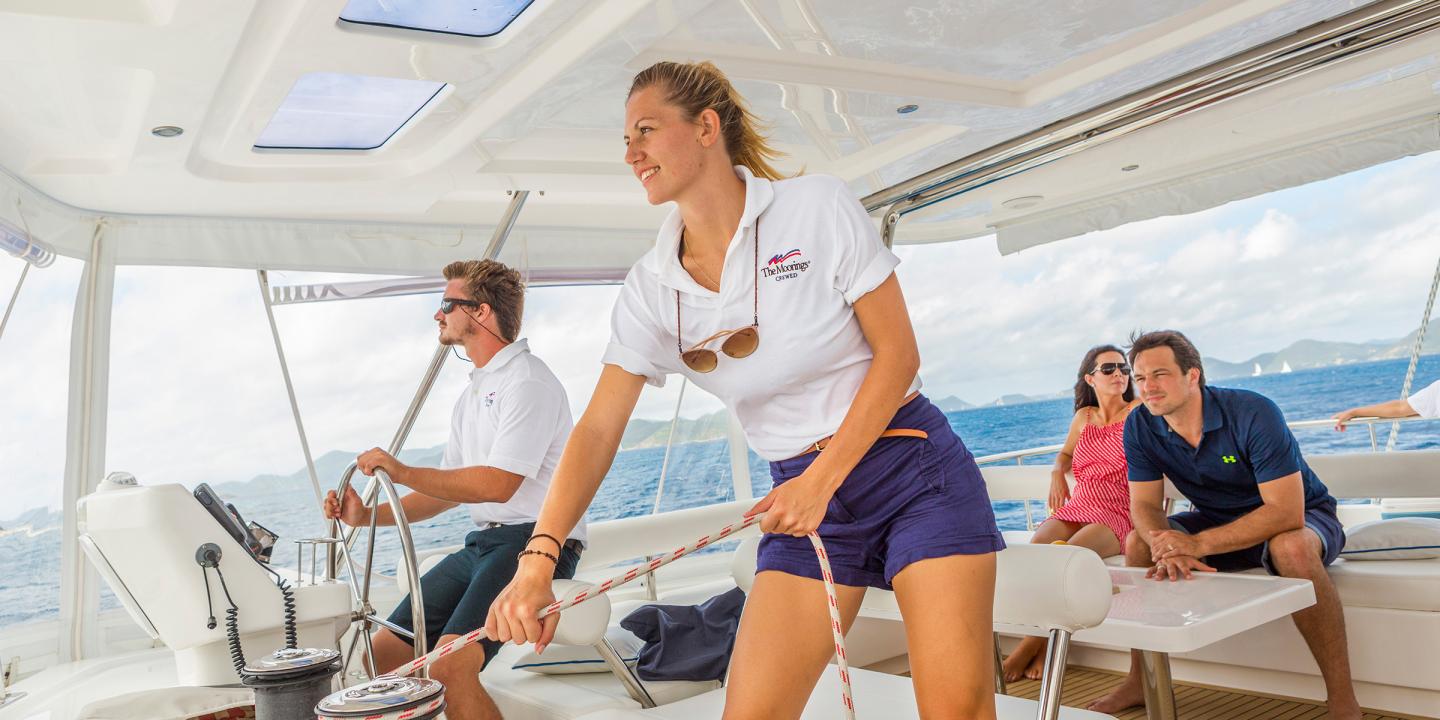 Photo Credit: The Moorings

Yacht Charter Vacation Operators
A great alternative to traditional yacht companies is Anchor. Anchor has a unique and very popular concept when it comes to renting a boat in various areas of Florida. Anchor has a variety of privately owned boats and yachts to make your on-the-water experience extraordinary. In addition to helping you find the perfect boat or yacht, Anchor will also pair you up with an amazing Captain & Crew so everyone can have fun and relax. To book your next adventure, simply visit Anchor's website, where you can filter boats by length and number of passengers. You will then be paired with the perfect boat for your desired boating experience.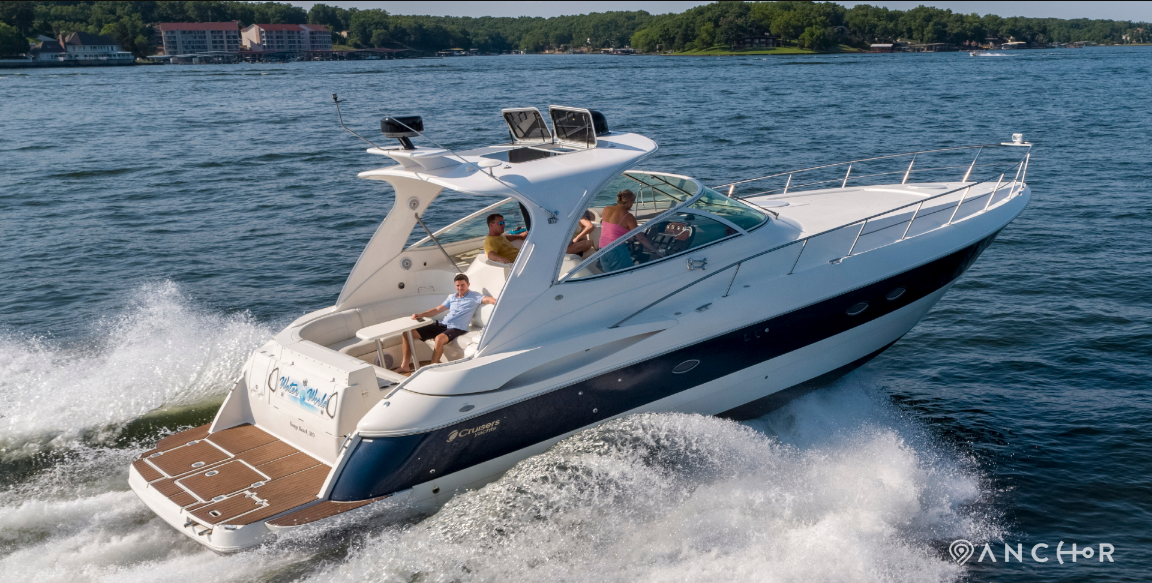 Photo Credit: Anchor
Perhaps the world's best-known charter boat vacation operator is The Moorings, now in its 51st year. The Moorings offers sail and powerboat charters, bareboat and crewed, in destinations all over the globe including the Bahamas and Caribbean, Mediterranean, and far-flung locations like Belize, Tahiti, and Seychelles. A new Moorings program lets you book "By the Cabin" on a crewed charter rather than paying for the entire boat. The Moorings fleet includes sailing monohulls 34 to 54 feet, sailing cats from 39 to 58 feet, and power cats from 39 to 50.5 feet.

Photo Credit: The Moorings

SunSail is another popular charter brand that specializes solely in sailing charter vacations. It also has fleets of sailing cats and monohulls ranging from 32 to 53 feet. SunSail destinations include Canada, French Polynesia, Tonga, and Thailand in addition to the Bahamas, Caribbean, and the Mediterranean.
You may be familiar with MarineMax, which has more than 60 new brokerage sales locations in the U.S. But did you know it has an established boat charter program called MarineMax Vacations? This worldwide operation has locations in the Caribbean, Pacific Northwest, Europe, and even Australia. Most of its charter vacations are offered in power cats from 36 to 48 feet, but MarineMax also has sailing options. There are three levels of charter: bareboat, crewed, and "all-inclusive" – which adds full provisioning and a chef for the length of your vacation.

If you are not a "cat person", there are boat charter companies that offer different types of yachts. Southwest Florida Yachts in Cape Coral, Florida, for example, operates a charter fleet that includes trawler yachts built by Grand Banks, Jefferson, Mainship and Saberline, as well as a Sea Ray Sundancer express yacht. On the sail side, Southwest Florida Yachts has both catamarans and sloops, including yachts by Beneteau, Island Packet, and Leopard. This company's cruising grounds on Florida's Gulf Coast include well-known resort islands like Sanibel and Captiva, Marco Island, and Naples, as well as charming "hidden" islets like Cabbage Key – reportedly the inspiration for Jimmy Buffett's "Cheeseburger in Paradise."

Photo Credit: The Moorings

Boating Resumés

While crewed charters offer the ultimate in relaxation, if you are an experienced boater, a bareboat charter can be both more private and more affordable. To qualify, you will need to fill out a Boating Resumé listing all the boats you've owned and operated, along with their makes and LOAs. You also will be asked about your proficiency with docking and navigating with today's marine electronics. Click here for the Bareboat Resumé form on the MarineMax Vacations site.
Sunsail also asks you to fill out a Boating Resumé. It ranks its charter destinations by difficulty and offers the more challenging ones only to clients who have spent a substantial amount of sea time in a similar-sized boat. (Happily, popular winter charter destinations like the Bahamas and BVI are available to those with only a moderate amount of experience.) For more on this, click here.
Learn to Charter Vacation

If you don't have enough hours behind the helm to qualify for a bareboat charter, or you feel uncomfortable jumping aboard a different type or size of a boat than you're used to, you can consider taking a "learning to charter vacation." The Moorings has a variety of these hands-on programs geared for a wide range of boaters from beginners to experienced "old salts." There are both sail and power options.

Photo Credit: The Moorings
The Moorings' "learn to sail" programs were developed in collaboration with the well-known Offshore Sailing School.

No matter your boating experience level, a learning boat charter is an ideal way to combine a vacation in paradise with gaining skills and experience that will enable you to enjoy both boating at home and in exotic locations for years to come.

So there's no need to sit at home by the fire dreaming of the day you can get your boat back in the water. Instead, research taking a winter boat charter vacation in paradise. You'll be glad you did!