We know you are excited to hit the water for another year of boating. We all are. But getting your boat shipshape is serious business and should not be skipped.

How well you inspect, tune-up, and prep your boat before your first trip will determine whether you encounter smooth sailing or find yourself with a host of problems when you leave the dock.

If you followed our fall maintenance checklist, you should not have a lot of cleaning, polishing, and mildew prevention to do. So rather than rehash that list, here are some critical tasks to get the boat ready for summer.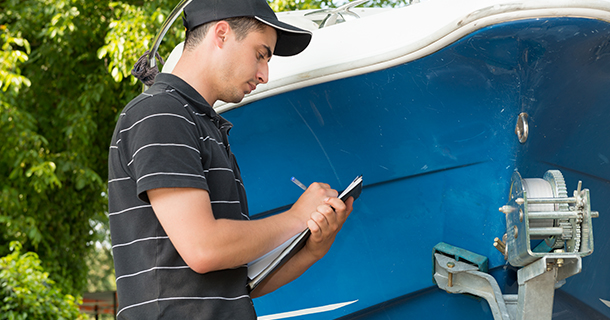 Think Thru-Hulls
BoatUS reports that nearly 10 percent boats that sink are a result of underwater fittings failing. Do not just inspect them from the outside; put on your oldest T-shirt and shorts and crawl around in the boat. Check that the sea valves work easily by hand. Make sure nothing obstructs the swing of the handle. After inspecting the thru-hull valves, check the fittings for corrosion, as most failures occur where the fittings attach to the valves.
Examine Hoses & Clamps
Check hoses for signs of soft spots, cracking, and dry rot. Make sure the hose clamps are tight and corrosion-free. Inspect engine fittings as well, especially the exhaust hoses and fittings that will be below the waterline. A leaking hose can result in water being pumped into the bilge instead of overboard, often at a rate that the bilge cannot handle — and that can lead to taking on water and potential sinking. If your boat does not have a high-water alarm, you may want to install one. If your vessel has air conditioning, do not forget to check those fittings and hoses as well.
Bilge Essentials
While you are already in the tight, cramped, unsightly bilge inspecting the thru-hull fittings and hose connections, take a moment and look at the bilge pump and its float arm switch. It should be securely mounted, with the wires in good condition with no corrosion. The float arm must move freely and should be facing parallel to the keel, with the flapper pointed toward the stern to avoid surging water during starts.

Do not take your head and shoulders out just yet: If you have a bilge blower, inspect its hose for leaks. Lastly, pour a quart or so of water into the bilge sump to check it works. If you have a manual bilge, which is typically not used as often, it is important to make sure that the diaphragm has not hardened and cracked.
Below the Waterline
While inboard/outboard owners should have inspected the sterndrive's rubber boot for cracks, splits, or general deterioration in the fall, check it again after it has been exposed to the harsh winter months. Pay particular attention to cracks and splits that may be hidden in the folds. The rubber boot may seem like its there for cosmetic purposes, but it is actually a critical part of the boat and its watertight integrity must be maintained.
Shore Power
Fire is a leading cause of all boat losses, according to BoatUS Fire Facts report, with AC electrical fires accounting for 12 percent of the incidents. Most AC electrical fires start somewhere between the marina pedestal and the shore power inlet on the boat, BoatUS reports, and it has long recommended using only marine-grade power cords with proper adapters and replacing them at the first sign of wear on the cord or pitting on the blades of the plug. Each time a cord in unplugged without power being turned off at the breaker, arcing occurs, which burns a pit on both the receptacle and blade. These burns are not conductive, resulting in resistance and heat buildup. Replace as needed.

Trailer Corrosion
What could be worse than a bad day on the water? How about having a trailer axle collapse as you drive your trailered boat on a highway? Aluminum trailers definitely last longer than galvanized steel, but at a cost. A half-point solution is to replace galvanized steel fasteners and other rust-prone components with stainless steel. Give your trailer the once-over before you launch your boat and replace any corroded parts. If there is no stainless option available, cover the parts with a thick layer of waterproof grease. The good news is corrosion is worse for saltwater boaters, leaving us much better placed in the waters of the Midwest. Still, even rainwater can have corrosive effects, so we have to be diligent.

Although spring commissioning and winterizing makeup the largest part of boat maintenance, oil levels drop and things like belts get worn out when they want and not on our schedule. Before every outing, you should check fluid levels, open up the engine compartment and listen for funny noise, and squeeze the hoses. An ounce of prevention is worth a pound of cure.

What else do you do before launching your boat to get it shipshape and set the stage for another great season on the water? We want to know!