We have all been there before: You are hanging out right next to some other boats or are tied up to one another on the water and each one is blaring different music like a sonic tornado. It is enough to drive you nuts.

But what if you could share the same tunes on all your stereos? Now that sounds like a party waiting to happen.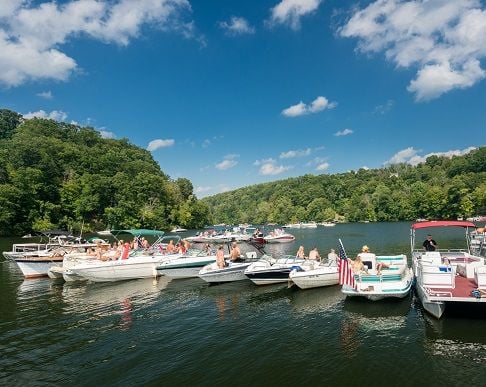 In the past, this would have meant stringing 100-foot-long auxiliary cables between the boats, hooking into each stereo via the auxiliary connectors, and hoping there was no annoying delay in the music coming from each craft.

Go ahead and chuck those cables overboard! Today there are new options to help you share music that are easy, cost-effective, and much less intrusive. Seriously though, do not actually throw your old cables in the water.

A Simple, Seamless Solution

Wet Sounds A-Link is a product made for linking marine audio systems together. It is comprised of two waterproof units that are about the size of a large car remote. One is set to send and is plugged into the auxiliary output of the master device through a 1/8-inch audio jack. The master device can be a stereo head, smartphone, MP3 player, or any other device with an audio output.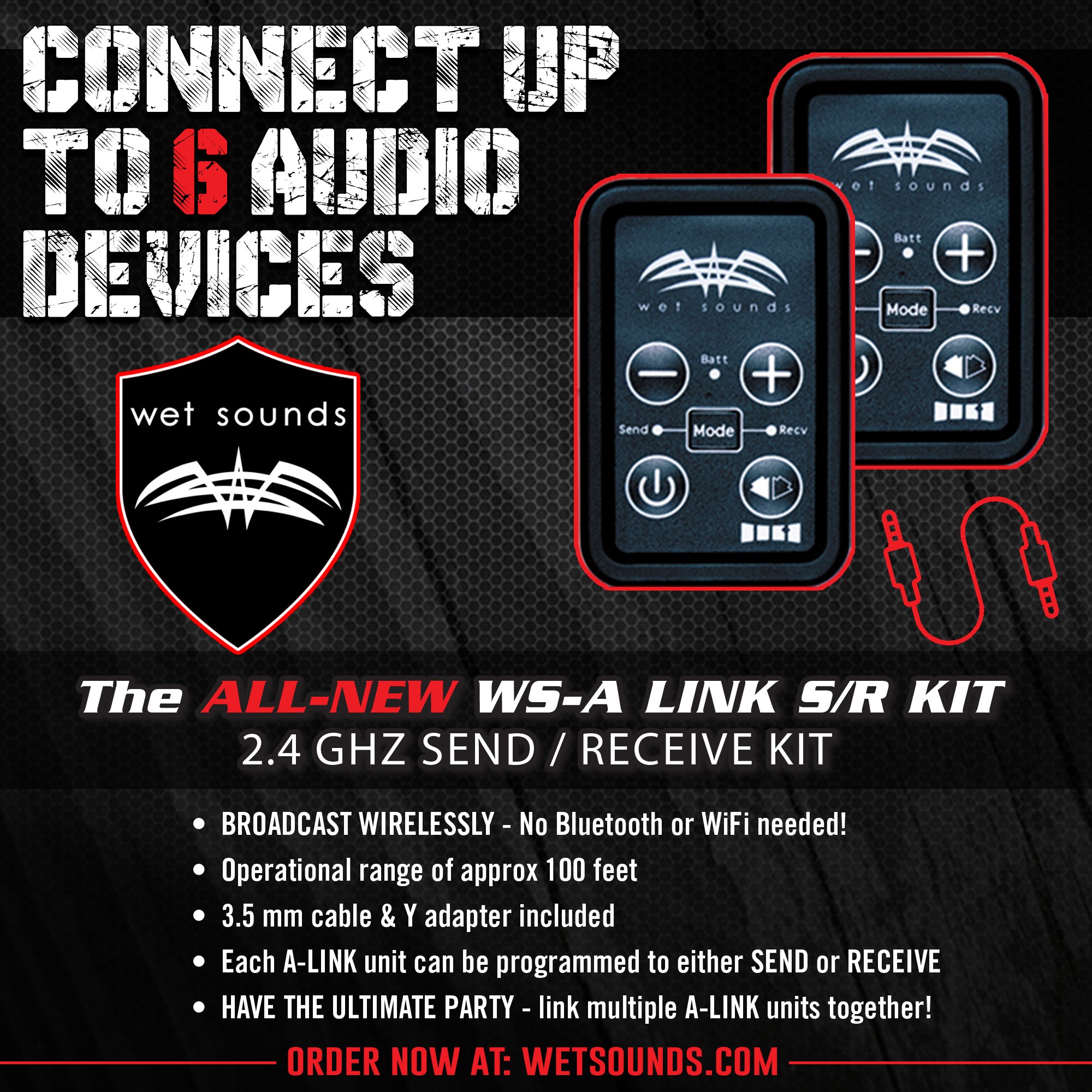 The second A-Link is set to receive using the buttons on the face of the unit and is plugged into a second sound system through its 1/8-inch audio jack. If more boats want to join in, all you need to do is add more A-Link units set to receive. Before you know it, the whole cove is jamming to the same tunes at the same time with no lag. It is that easy.

Standard kits come with two A-Link units as well as a 3.5-mm connection cable and a Y-adapter. Also included is a micro-USB charging cable. The kit retails for $159 and can be purchased from Amazon.com or from one of Wet Sounds' dealers.
The A-Links run on a lithium-ion battery, and it is said they can run for 7.5 hours prior to needing a charge. They can also be charged while in use. They transmit on a 2.4 GHz Audio Link that gives the modules about a 100-foot range, which should be enough for a tie-up or cove party. Because they transmit on this frequency, they do not rely on Bluetooth or Wi-Fi, freeing those connections for other things.

Speaking of Bluetooth

If you are looking to get your tunes from your phone or MP3 player to your stereo and are not worried about including other vessels, a Bluetooth-enabled stereo receiver will do just that. No built-in Bluetooth? Not to worry, there are a variety of Bluetooth adapters that can be connected to your stereo to allow access to the playlist on your device.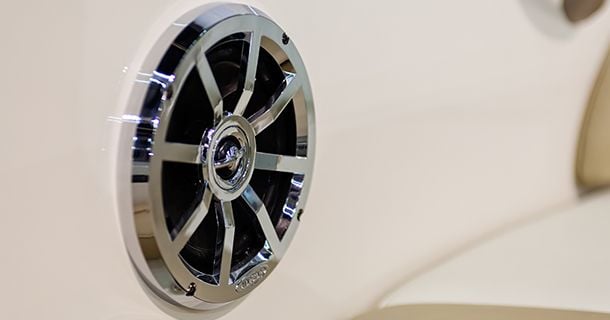 One such adapter is the Fusion MS-BT100, which can connect to your stereo via its RCA auxiliary connectors. This small Bluetooth receiver allows you to play and control audio from your phone or device through your stereo but will not allow control through the stereo head itself. Although manufactured by Fusion, the MS-BT100 will work on other stereo brands with RCA auxiliary connections. Be sure to check for compatibility and do not mistake it for the MS-BT200 model, which has more features but will only work on specific Fusion stereos.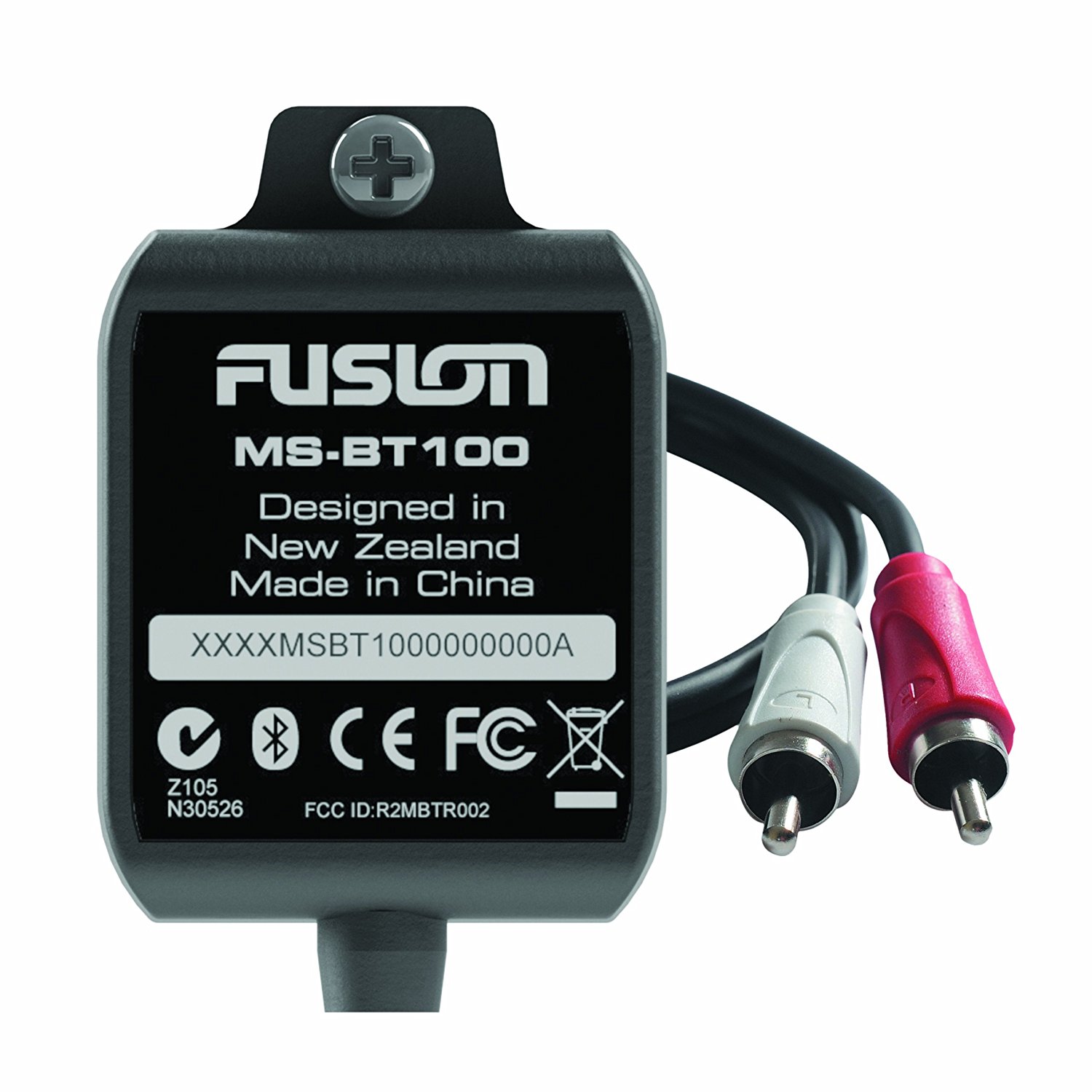 The range on the MS-BT100 is about 50 feet, and operation is as simple as pairing up the head and the device. If you are able to play music on your phone, your technical abilities are good enough to make this work on your boat. If you have a hard time turning on your cell phone, you may need help setting it up.

For under $50, the Fusion MS-BT100 is a simple and inexpensive streaming solution.

The 'No Stereo' Stereo System

If you want to eliminate that old non-Bluetooth stereo head altogether, a simple and inexpensive option is the JL Audio MBT-CRX. When connected directly to an amp, the control head acts as a Bluetooth link with your device and can also act as a controller. That means you can safely tuck away your phone and keep it from getting damaged by water or tipsy deck mates.

The MBT-CRX has a round display that measures just over two inches and is lit by LEDs. Its diminutive size makes it a great option for the audiophile with a small watercraft or limited dash space. It can be flush-mounted or front-mounted for when rear access is not possible.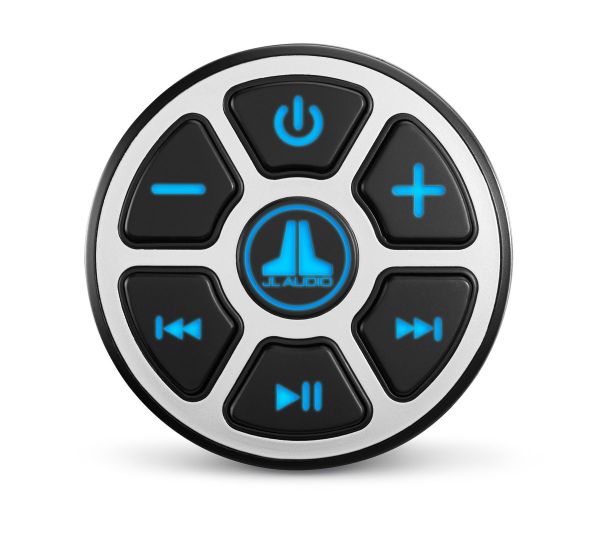 Range from the device to the controller is limited to 35 feet, but on most boats that means you can keep your phone or device safe and dry almost anywhere on board. The JL Audio MBT-CRX sells for under $100 and is available here.


Do you have any innovative ways to share your tunes? Have you tried any of these systems for yourself? If so, tell us in the comments section.