The so-called 100 days of summer are over. It was another fun and busy Memorial Day through Labor Day at Lake of the Ozarks. Fall is now here. The local chambers of commerce refer to the period post-Labor Day as the "shoulder season." Locals say we have our lake back. It's safe to say, hundreds of thousands of people won't return to the Lake until next summer.
However, Lake of the Ozarks is a special and beautiful place during the fall. The fall foliage is outstanding. Soon, the Lake's magnificent colors will be on full display! Enjoy the Lake this fall as the locals do with our 12 reasons for loving fall boating at Lake of the Ozarks:

1. Fall Harbor Hop - The Fall Harbor Hop signals the unofficial end to the boating season at Lake of the Ozarks. We all know there are many great weeks of boating left! For many, the Fall Harbor Hop is their last hurrah of the boating season. Click here for more information.

2. End of Season & Customer Appreciation Parties - Many of your favorite lakeside establishments have end-of-season discounts and customer appreciation parties where great discounts can be had on food, drink, and apparel. The best way to find out if your favorite lakeside hot-spot is offering any deals is to check out their Facebook page or website.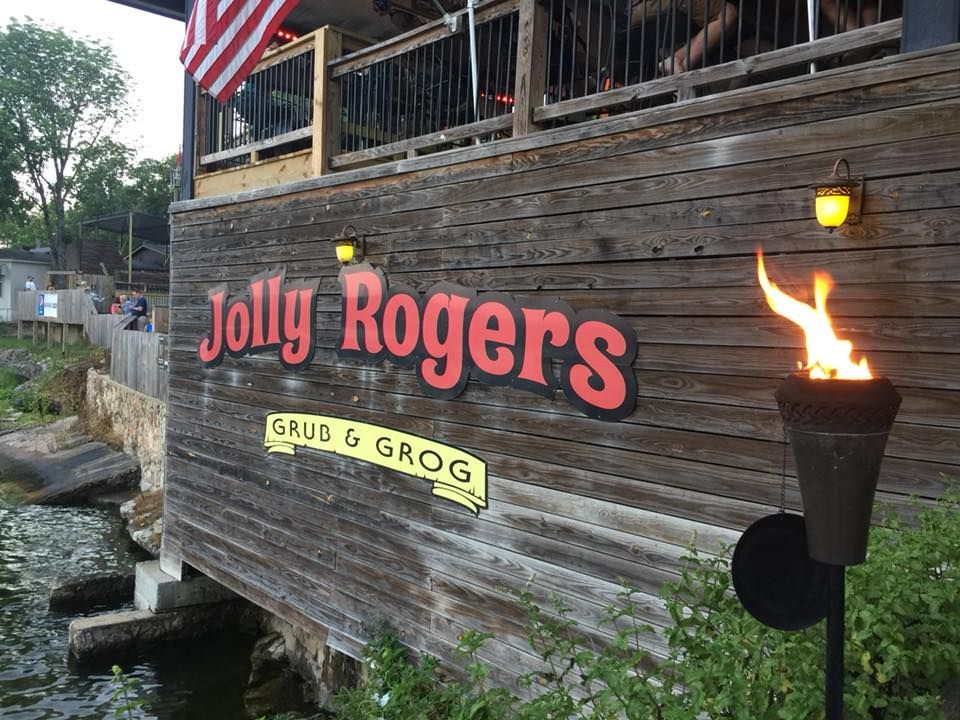 3. Fall Festivals - There are an abundance of fall festivals that take place around LOTO, making visiting the area during the fall time so worth it. If you're looking to attend some festivals around the area, you can find a list of events here.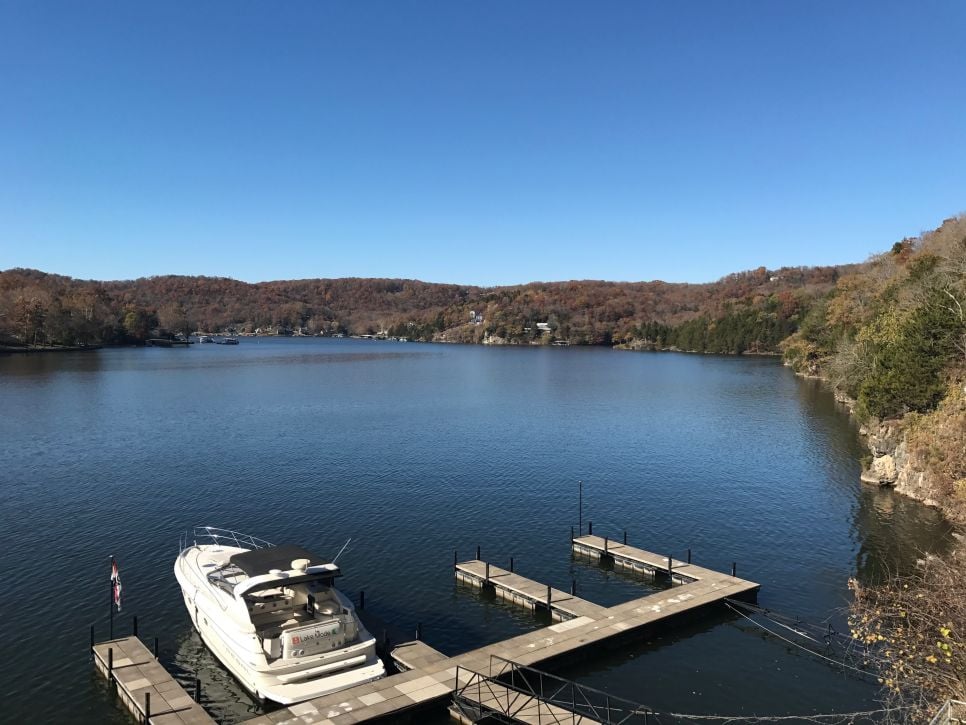 4. Explore Lake Area Caves - Looking for something new to do? The Lake offers some awesome spots to explore, like Bridal Cave for instance, which can be reached by boat. Dock your boat and head up to take a tour of the cave, which is great for a family day out or even as a date idea.

5. Fall Foliage - With 1,150 miles of shoreline, Lake of the Ozarks offers boaters some of the best fall foliage viewing opportunities in the Midwest, and arguably, the nation. Enjoy the brilliant colors of white oaks, maples, dogwoods, redbuds and more. Take a ride down the Glaize Arm (1MM - 14MM) for some undeveloped views of beautiful foliage through Lake of the Ozarks State Park.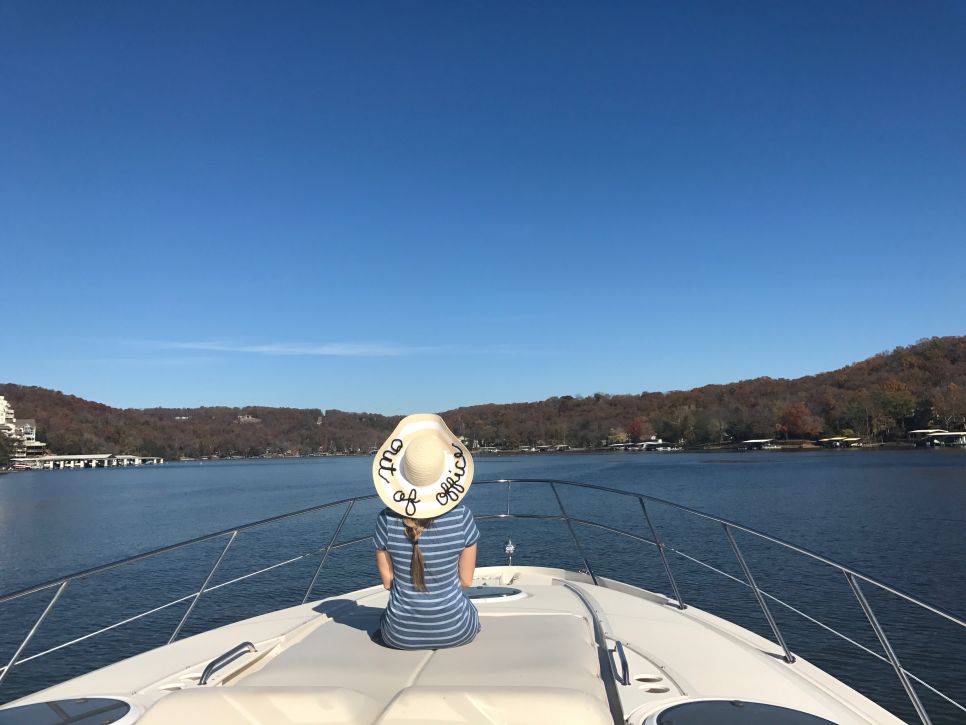 6. Enjoy the Warmth of an Outdoor Fireplace or Fire Pit - Enjoy a hot bowl of jambalaya in front of the outdoor fireplace at Shorty Pants (21MM) or head over to The Lodge of Four Seasons (13.5MM) to warm up in front of one of their two gas fire pits that sit poolside–both have beautiful lake views.

7. Relax in a Hot Tub or Heated Pool - Relax to a sunset in one of Lake of the Ozarks' many heated pools or hot tub options. Among them, Redhead Lakeside Grill (21MM) is open year round. Enjoy their heated pool that sits right outside the restaurant and lakeside. If you're looking for even warmer water, take a dip in the hot tub at Camden on the Lake (7MM).
8. Spend the Night on the Water - Coving out or spending the night on the water can be a much more enjoyable experience with the cooler temps of fall. Perhaps, pick a spot you normally don't frequent. One that will allow you to enjoy some fall scenery along the way. A great spot is Ha Ha Tonka State Park (14.5MM Big Niangua Arm). With towering bluffs and castle ruins overhead and beautiful fall foliage opportunities on each shoreline, Ha Ha Tonka State Park won't disappoint.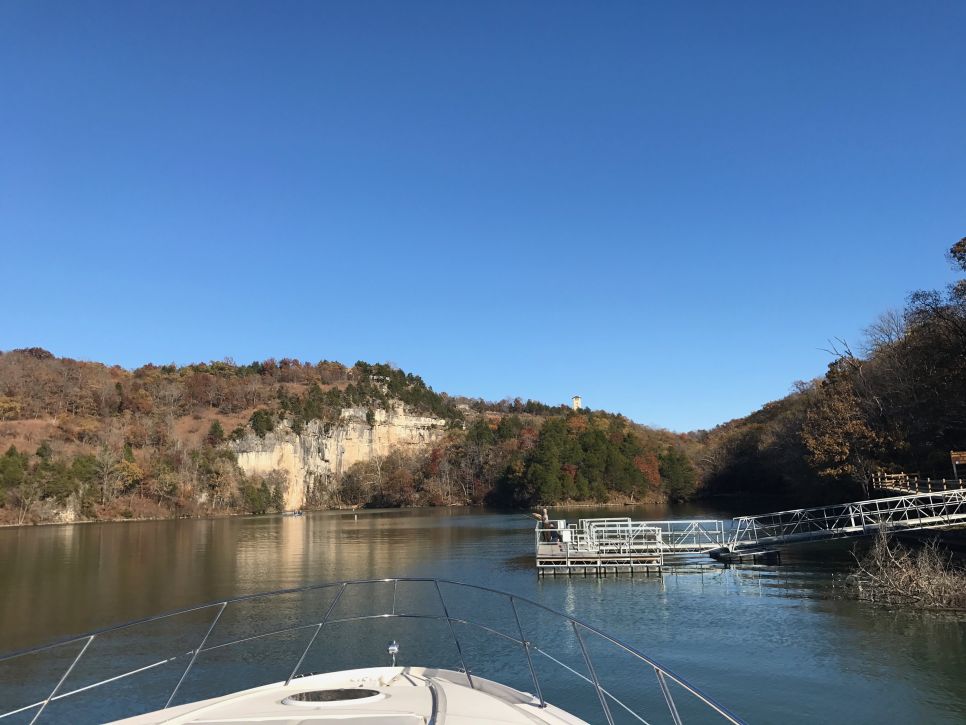 9. Horseback Riding at Tan-Tar-A - Take the family by boat to Margaritaville Lake Resort (26MM) for a horse or pony ride. Once docked, head to the stables just up the hill from Tan-Tar-A's main entrance.

10. Big Bass Bash - This amateur-only fishing tournament is typically held in October. Like the professionals, weekend anglers will have a chance to win big prize money. How big? In total, over $325,000 in cash and prizes! Anglers can enter online. Complete details here.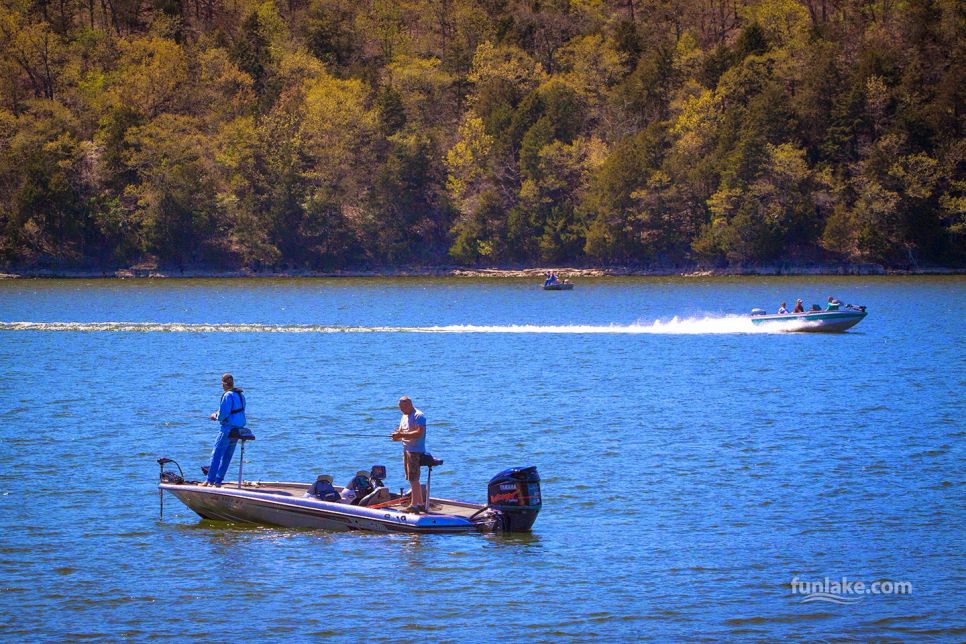 Photo Credit: FunLake.com

11. Bald Eagle Viewing -Bald eagles arrive at Lake of the Ozarks in October. A few have been known to nest along the shoreline. In addition to bald eagles, ring-billed gulls migrate from the Great Lakes region to winter at the Lake. Although rare, golden eagles have been seen in the area as well.

12. Enjoy Less Traffic - From coving out to viewing fall scenery, navigating the Lake during the fall is much easier. There are fewer boats on the water, so captains and their guests can enjoy the unusually calm water. There are also plenty of open docks at your favorite lakeside establishments, and it's a lot easier to find that quiet cove where you may be the only one anchored out. As always, be safe and watch your wake.

As the boat traffic wanes and the days shorten, fall foliage will be on full display at Lake of the Ozarks. It's a beautiful and pleasant time to be on the water. Seize the moment while you can, before you have to winterize your boat. As we all know, winter is just around the corner.

Why do you enjoy fall boating at Lake of the Ozarks? Do you have a go-to spot to enjoy fall foliage? How about a favorite warm meal on your boat? Join the conversation, we would love to hear from you!