Whether it is work and life getting hectic, a special occasion, or just because. You need a break, we understand. Grab your buddies and come down to Lake of the Ozarks for a good time! Below is an outline of possible ways for you and your buds to have the perfect guys weekend away.
Catch some Zzz's
Need a place to stay for the weekend? Have no fear, we have a few recommendations for you:
The Lodge of Four Seasons is a great option for a guys' weekend away. Choose between an affordable guest room or opt for a luxury suite. This lakefront resort offers tons of premium amenities as well as tons of activities including water sports, fishing, golfing, parasailing, and more!
Another great spot for you and your buddies to stay is Margaritaville Lake Resort. This resort offers endless recreation including two champion golf courses! Dine at one of eight restaurants located on-site. Or check out the full-service marina and maybe rent out a jet ski or boat for the day. Margaritaville also offers various specials. Play, dine, and relax all in one perfect place!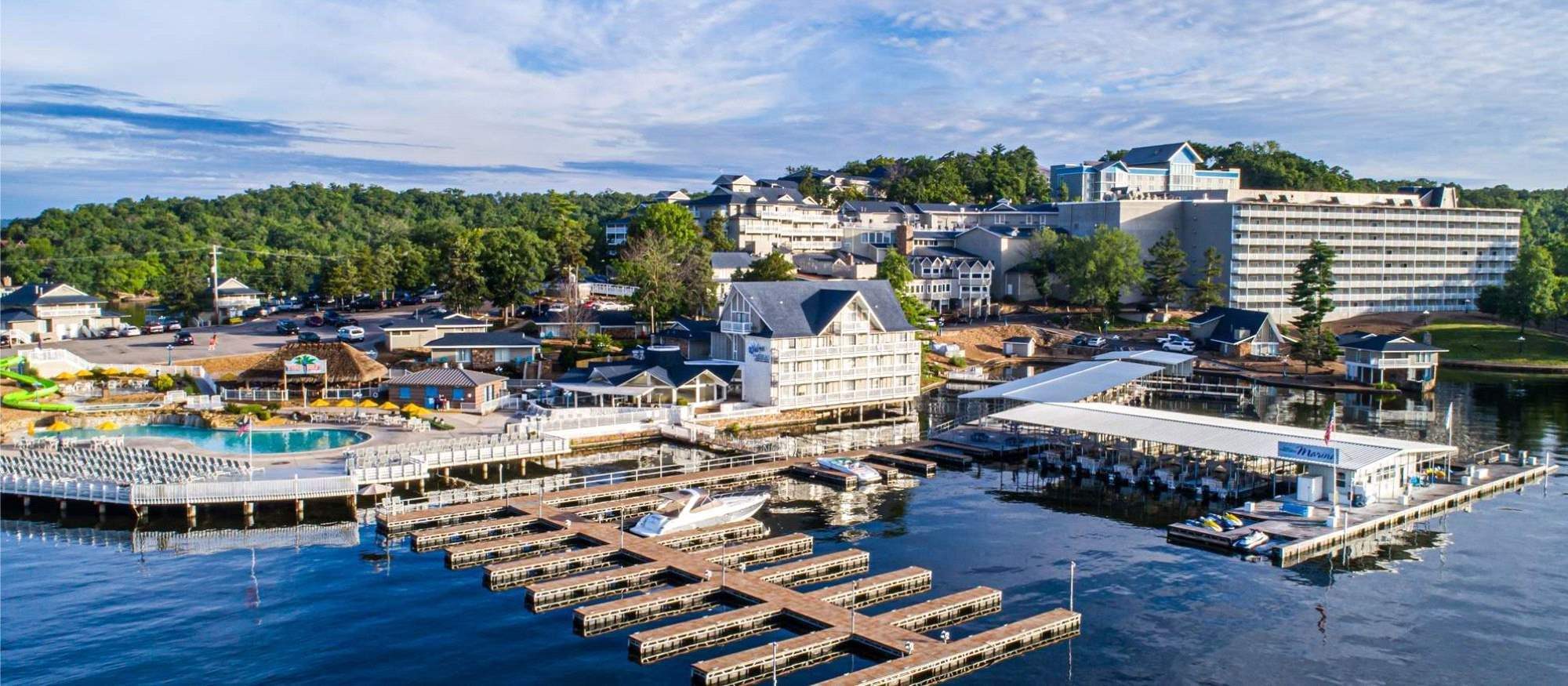 Photo Credit: Margaritaville Lake Resort
Looking for endless amounts of entertainment? Camden on the Lake Resort and Spa is the resort for you! Stay in Toad Cove and experience the newest, most luxurious full-service resort at the Lake. Expect great times and great entertainment at Camden. Enjoy features including golfing and fishing, a pool complete with swim-up bar, an entertainment complex, and more!
Airbnb also has some great options whether you're looking for a sweet home with a dock or a condo with a view. Just enter in your dates, number of guests, price range, and desired amount of space. Voilà! Search through the list to find your perfect weekend home away from home.
I'm on a Boat
If you don't have access to a boat, have no fear. You can still enjoy boating around the Lake during your trip. Besides, no one wants to risk getting a BWI (Boating While Intoxicated). Rent by the hour, day, or even longer through various companies. Here are some of the most popular boat rental companies at Lake of the Ozarks:
Anchor has a unique and very popular concept when it comes to renting a boat at Lake of the Ozarks. Instead of just renting your average pontoon, Anchor has a variety of privately owned boats and yachts to make your on-the-water experience extraordinary. In addition to helping you find the perfect boat or yacht, Anchor will also pair you up with an amazing Captain & Crew so everyone can have fun and relax. To book your next adventure, simply visit Anchor's website, where you can filter boats by length and number of passengers. You will then be paired with the perfect boat for your desired boating experience.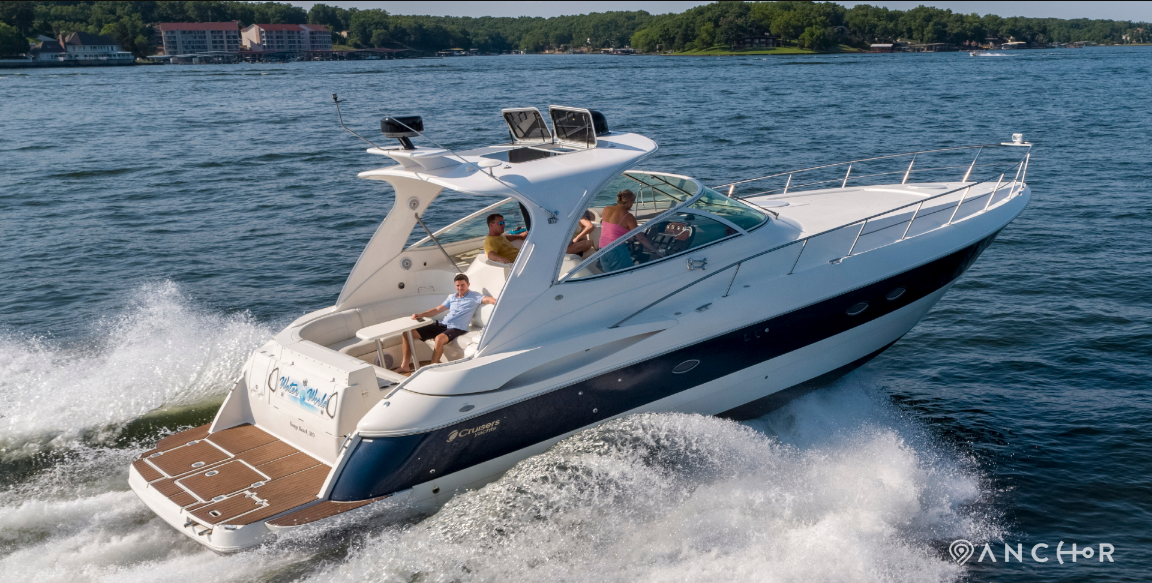 Photo Credit: Anchor
Experience a European-inspired yacht charter on one of the lake's largest private yachts. You'll instantly feel luxurious thanks to Skyfall's crew, hydraulic swim platform beach, interior styling, and state-of-the-art sound system. Also located at Camden on the Lake, Skyfall services all of Lake of the Ozarks and can hold groups up to 12 people. Check it out here.
Duane Wood, aka Captain Woody, started Lake Adventures in the summer of 2013 and is highly recommended. Hop on the Leviathan for either a four, six, or eight-hour excursion. The Leviathan one of the largest boats on the lake: 56' long, 14' beam, and 57 gross register tons. It has two decks, 1.5 baths, full kitchen, a dining and living room, central air conditioning, gas grill, bar, water, high-performance sound system...did we miss anything? Oh! And you can bring your own music. See all the rates and fine print here.
Another popular choice is Dirty Duck Boat Rental, located only 10 minutes from Party Cove. Dirty Duck is family owned and operated for 18 years. They rent out everything you could want for a guys weekend. Dirty Duck offers pontoon boat rental, ski boat rental, and even jet ski rental. These all come in different sizes. They even offer an early bird special!
Play Date Charters is also another family-owned and operated charter rental option. Bar hop, go to Party Cove, or do a sunset cruise on one of their three boats. Their boats, "Play Date," "Play Pen," and "Play House" are 47 foot Sea Ray Sundancers. You can rent one of these vessels for up to eight hours. See all their rates here.
I'd Rather be Fishing
The Lake covers 54,000 acres and has over 1,150 miles of shoreline. Why wouldn't you take advantage of this and spend the afternoon fishing? There are plenty of different fish to catch and plenty of guides to help you along the way like Big Ed's Guide Service or Lake Ozark Fishing Guide Service. Also, check out Bassing Bob for fishing reports to get you prepared for your fishing trip.
Fore!
Golfing is a staple activity in most guys' weekend trips. Lucky for you, there are plenty of places to golf at the Lake. If you are looking for a place to golf not too far off from the water, Margaritaville Lake Resort is a great spot. They offer two courses: The Oaks (18-hole) and Hidden Lakes (9-hole). See their golf packages here. Whatever course you chose, the views are hard to beat!
Another highly-rated spot is the Four Seasons, the only full-service golf resort in Missouri. They also have two courses to choose from, the Cove (18-hole) and the Ridge (18-hole), which both are recognized as two of the top five courses in Missouri. They both also have a full-service clubhouse and fully stocked golf shops. Not to mention, amazing lake views!
One of our favorite courses to play is Osage National Golf Club, Missouri's only Arnold Palmer Signature Course. The original 18 holes were designed by Arnold Palmer in 1992 and the remaining nine holes were added to create a 27 hole golfing experience. The course is laid out on beautifully forested, rolling terrain and is surrounded by lakes, creeks and the imposing bluffs along the Osage River. This tranquil setting provides the backdrop for a challenging, but enjoyable golf experience.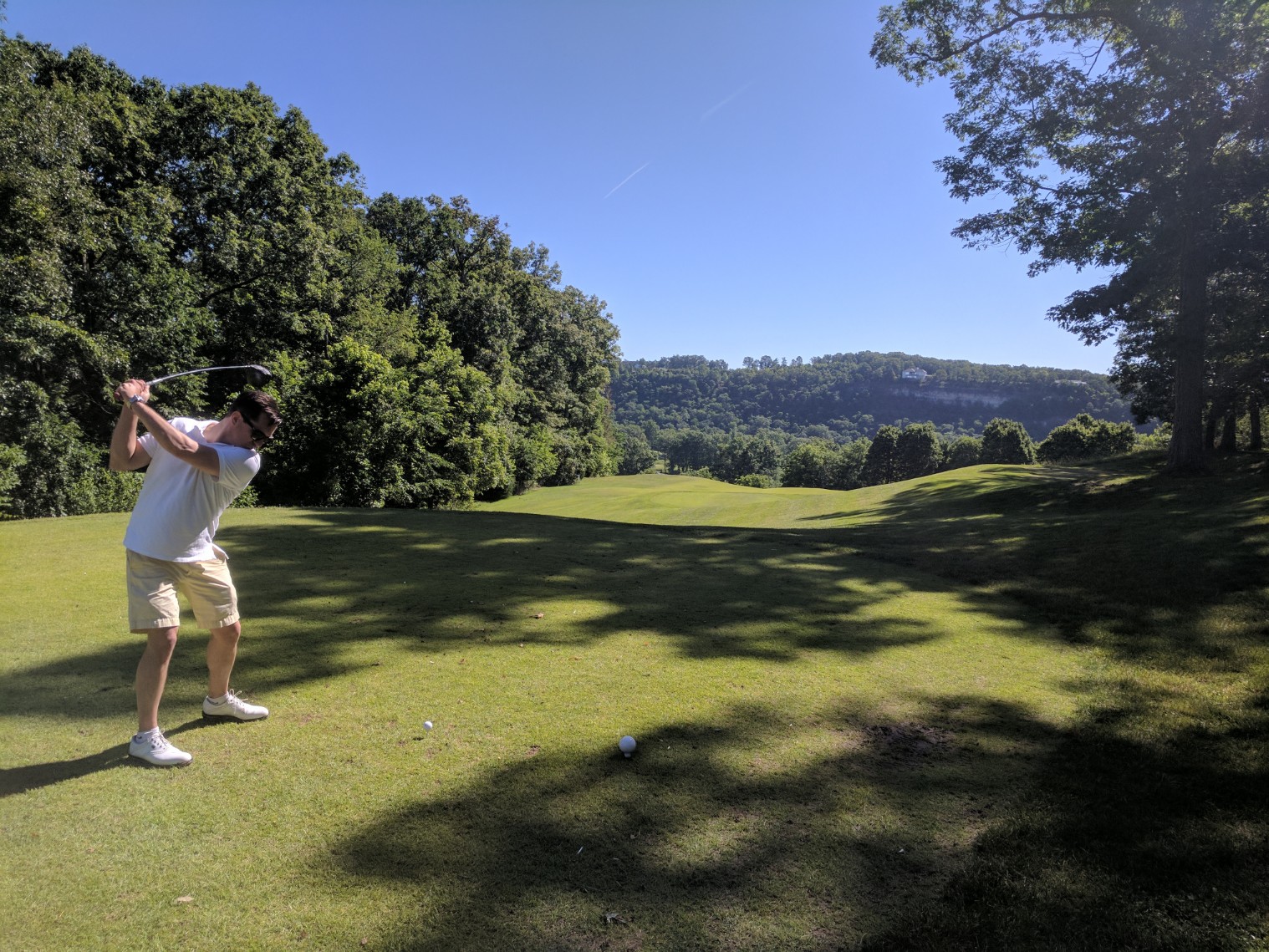 If you aren't too picky about location, the Lake has a total of 16 area golf courses.
Food with a View
If sports are your thing and you want to catch a bite while watching your favorite games, Redhead Lakeside Grill (21MM) and Paradise (24MM) have plenty of televisions and great food. Paradise also has a great view of the lake and an even better view of the sunset. Both locations are casual and the staff is extremely friendly. If you are heading to Redhead, don't forget your suits! They have a fantastic pool with a full-service bar and a couple of televisions.
If you want to party, swim, and eat check out Coconuts Caribbean Beach Bar & Grill (7MM). They have a huge pool with 2 swim-up bars. We hear their DJs are pretty great, too. Coconuts is your one-stop destination if you want to party all day and enjoy some pretty great food. It is a favorite among many visitors and locals.
Speaking of local favorites, many will suggest Tap & Grill Lake Side Brew Haus (6.5MM). It has upscale food with a casual dining experience. Not to mention, 60 craft beers on draft. Many of the beers are local, too! Tap & Grill also just opened their new pool complete with a swim-up bar.
Get "Nauti" at Nautifish Rum Bar, located at the 3.5MM. This is the only waterfront bar and restaurant located on the Niangua and the owners did it up right. With an expansive menu and (obviously) tons of rum drinks to choose from, you will definitely find something you will like. I mean, they even have 64 ounce Nautifish Bowls. Still not sold? Their establishment has the perfect setup: two outdoor tiki bars, three levels of deck space, upper sports bar complete with AC, bar games, and a sandy beach which includes an area for bags. Oh, and a dance floor with a stage. Now you should be sold.
Burnt out from the party spots and just want an amazing meal with the perfect view? JB Hook's Restaurant (16MM) is considered to have the best steak and seafood on the Lake. Their happy hour, running Monday-Friday from 3-8 PM, is pretty top-notch too. Did we mention the view? Yes, but it is because it's unforgettable. Like a 14 mile panoramic view unforgettable.
No matter what type of dining experience you are looking for to grab a bite, the Lake definitely has it.
It's Five O'clock Somewhere
If you are looking for next to none nightlife, you have come to the right place! Check out H. Toad's at Camden (7MM) if you are into great live music. Considered home of the best nightlife, H. Toad's always has special performances throughout the year. Check out their events calendar here. This place is an exciting, get on the dance floor, party the night away type of place. You will never be bored!
Locals and visitors alike find Backwater Jack's (17.5MM) to be an all-time favorite. First of all, it is spacious. There's a restaurant area with a deck, patio seating everywhere, a middle bar, stage area, a huge pool complete with a swim-up bar, and another outside bar. If you are looking for a casual atmosphere or want to party in the pool alongside some great live music, this is your spot. The glowing snake-like map of the Lake on the wall is pretty awesome, too. Oh, and don't forget to try one of their famous Rum Runners or Pains!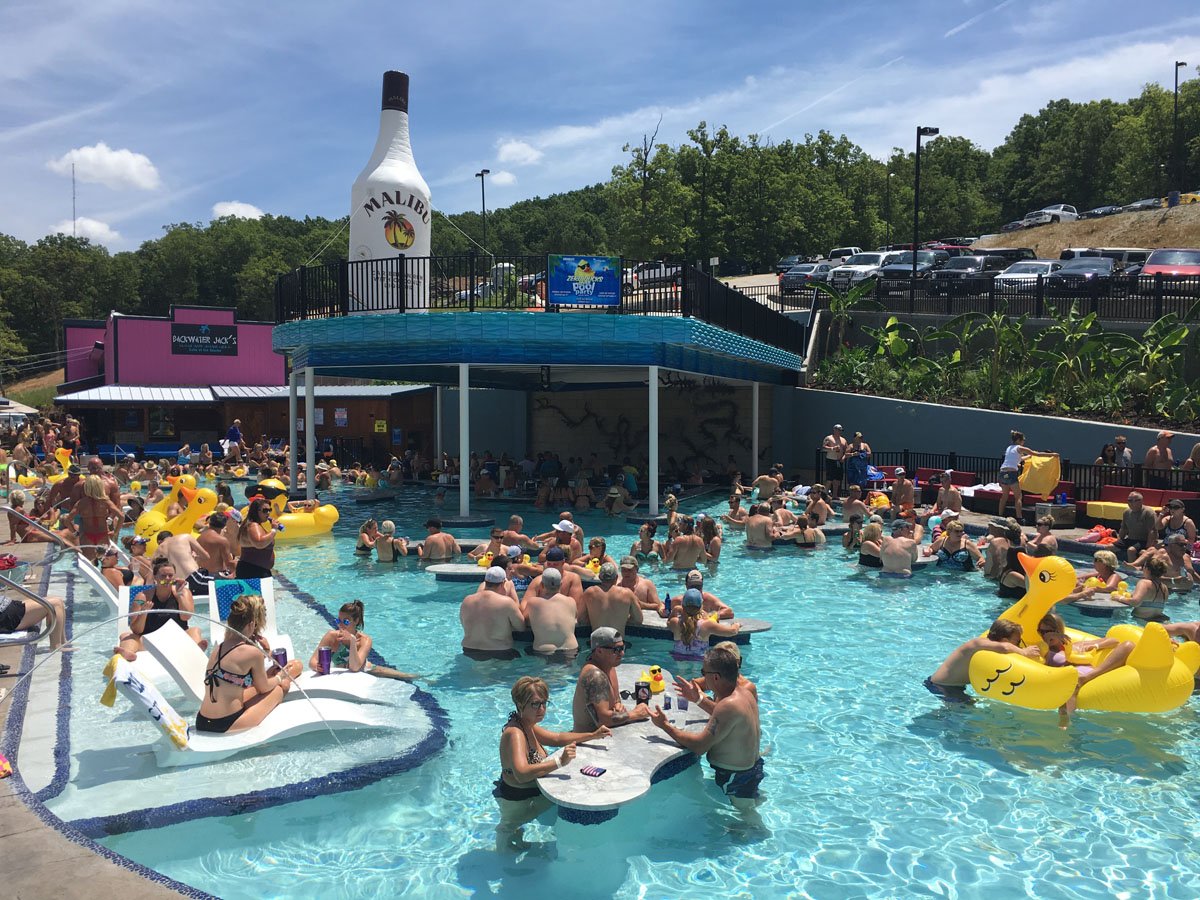 Photo Credit: Backwater Jacks
Another popular local and visitor spot is Dog Days Bar & Grill (19MM). This establishment is home to many of the best and most popular annual events held at the Lake. Their nightlife is pretty awesome, too. They have plenty of room for guests between the restaurant and bar, the pool and swim-up bar, the Dog Pound (their outside upper bar), and a new rooftop area. Enjoy live music either inside or outside while sipping on one of their signature drinks.
If you are looking for a little bit of everything, Shady Gators (7MM) is it. This place is huge! Also, it is super entertaining with various live entertainment ranging from live music to foam parties to bikini contests. So you can see why they are considered the Party Capital of Lake of the Ozarks. See their calendar of events here.
Whatever vibe you are looking to end your night with, the Lake has it all!
You have chosen the perfect place to have a guys weekend and these are just a few spots you could go to. Guys, what are your go-to places at Lake of the Ozarks?