Life gets hectic and sometimes all you need is a little R&R with some of your girlfriends. We get it. What better place to spend a girls weekend than Lake of the Ozarks? Gather your girlfriends up and get ready to plan the perfect girls trip! Below we outlined some ways to make the most out of your getaway.
Get Some Beauty Sleep
Maybe you're lucky enough to have an uncle who's friend's brother has a lake house. Odds are, if you're reading this you probably need a place to rest your head for the weekend. Here are some good options:
Airbnb has some great options, whether you're looking for a condo or a lakefront house with a view. Just enter in your dates, number of guests, price range, and desired amount of space. Voilà! Search through the list to find your perfect weekend home away from home.
There are also some great waterfront hotels to stay in including The Lodge of Four Seasons or Camden on the Lake Resort and Spa. The Lodge of Four Seasons is a beautiful lake front hotel with tons to offer, including affordable guest rooms or luxurious suites. No matter if you choose the Main Lodge, Avila Suites, or Seasons Bay, you won't be disappointed with your room. All 358 rooms or suites have premium amenities and the majority include furnished balconies with beautiful views.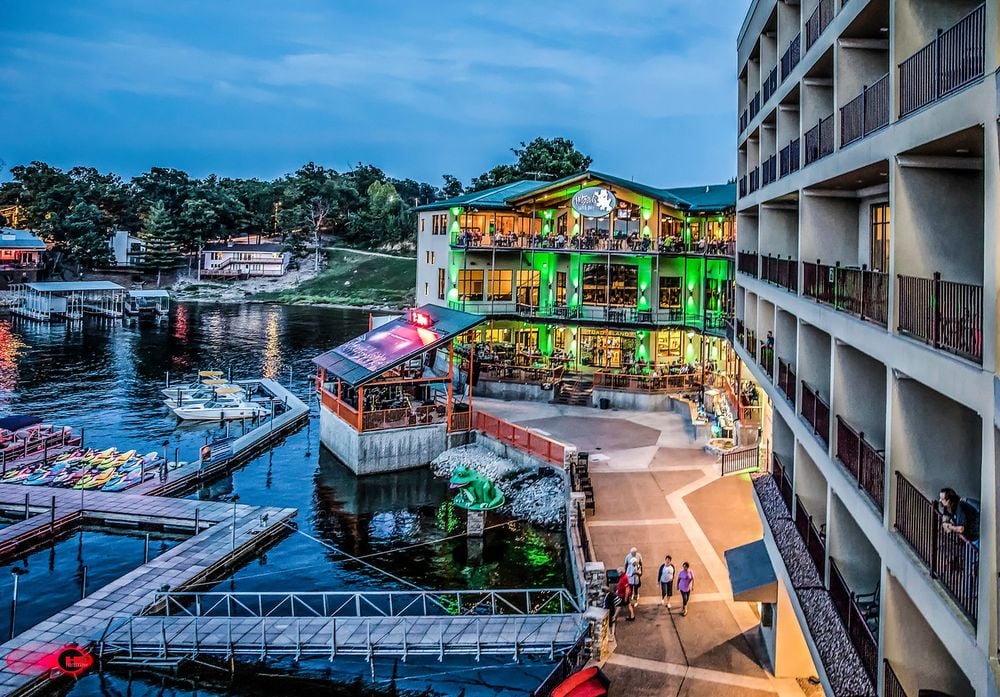 Photo Credit: Camden on the Lake Resort & Spa
Camden on the Lake, located in Toad Cove, is known as the newest, most luxurious full-service resort at the Lake. The 84 suite, 34 deluxe room hotel can't and won't disappoint. Camden also offers tons of features including, but not limited to: retail shops, a spa, amazing dining, pool with swim-up bar, an entertainment complex, and so much more! Want an idea of what to expect at Camden? Click here. Don't forget to check out their special offers and packages!
Boat Hair, Don't Care
Maybe you don't have your own access to a boat. Or you just don't want to risk getting a BWI from water patrol. Either way, there are plenty of options available to you so you can enjoy your girls weekend out on the water! After all, life is better on a boat.
Anchor has a unique and very popular concept when it comes to renting a boat at Lake of the Ozarks. Instead of just renting your average pontoon, Anchor has a variety of privately owned boats and yachts to make your on-the-water experience extraordinary. In addition to helping you find the perfect boat or yacht, Anchor will also pair you up with an amazing Captain & Crew so everyone can have fun and relax. To book your next adventure, simply visit Anchor's website, where you can filter boats by length and number of passengers. You will then be paired with the perfect boat for your desired boating experience.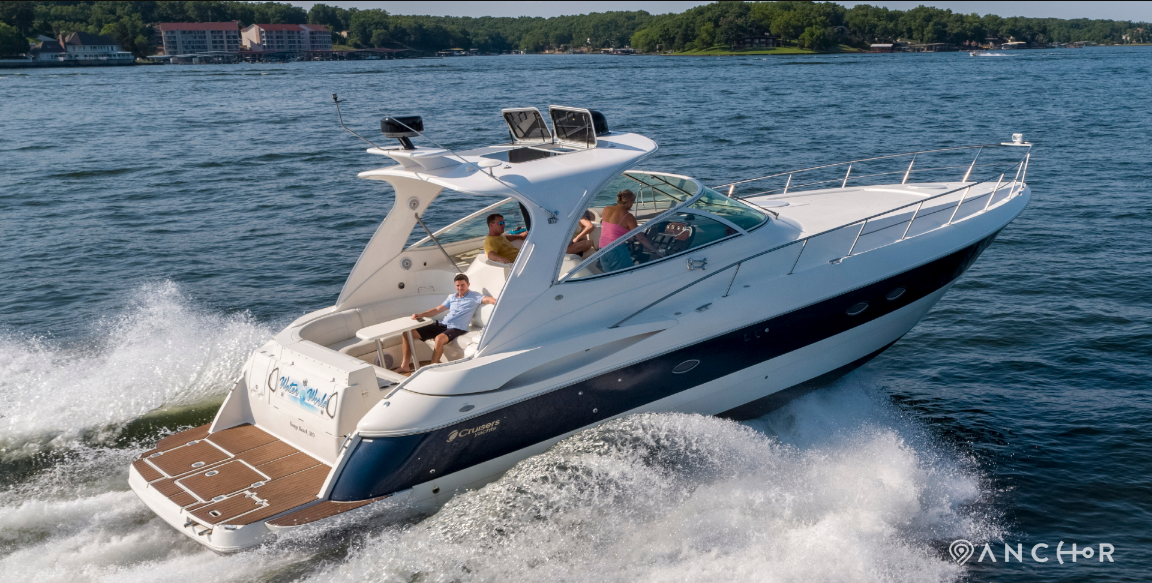 Photo Credit: Anchor
Want to rent a boat by the hour, day, or even longer? There are plenty of boat rental companies at Lake of the Ozarks who are there to help you enjoy your time on the water. Here are a few recommendations:
Experience a European-inspired yacht charter on one of the lake's largest private yachts. You'll instantly feel luxurious thanks to Skyfall's crew, hydraulic swim platform beach, interior styling, and state-of-the-art sound system. Also located at Camden on the Lake, Skyfall services all of Lake of the Ozarks and can hold groups up to 12 people. Check it out here.
Whether you want to rent wave runners or a boat, Dirty Duck Rental has you covered. They have been family owned and operated for over 18 years and are located only 10 minutes away from Party Cove. They offer three options of boats to rent in various different sizes: speed boats, pontoons, or deck boats. They even have an early bird special as well to save you some money!
Another popular family-owned rental company is Play Date Charters. Their boats, "Play Date," "Play Pen," and "Play House" are 47 foot Sea Ray Sundancers. These boats are available to rent for up to eight hours with options to either go bar hopping, go to Party Cove, or go on a sunset cruise. See all their options and rates here.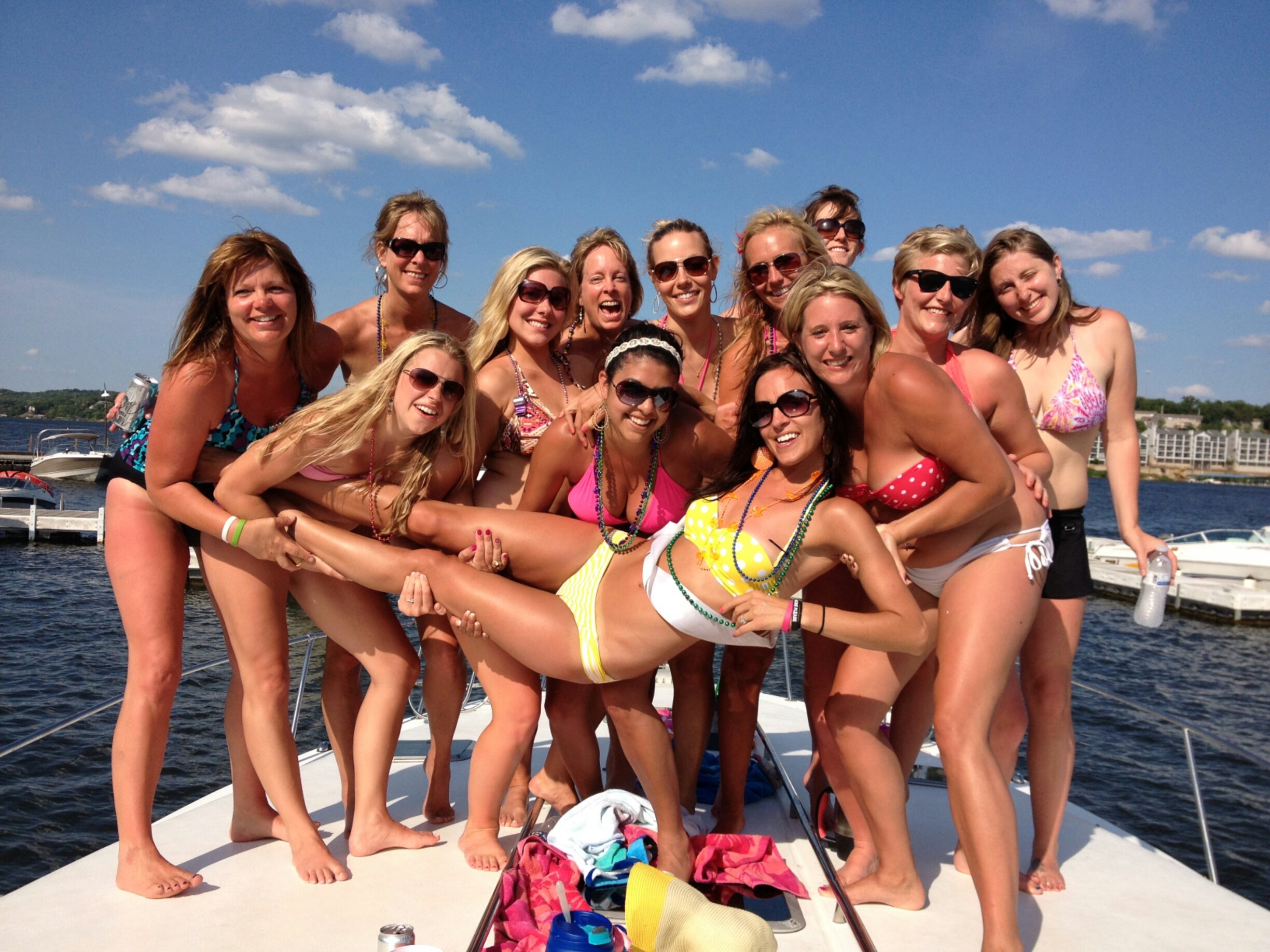 Photo Credit: Playdate Charters

In the summer of 2013, Duane Wood, aka Captain Woody, started chartering visitors and before you knew it Lake Adventures was born. Captain Woody is a popular recommendation from those who have hired him in the past. His boat, the Leviathan, is one of the largest at the lake clocking in at 56' long, 14' beam, and 57 gross register tons. The Leviathan is available to rent for four, six, or eight hours. And it has everything! It has two decks, 1.5 baths, full kitchen, a dining and living room, central air conditioning, gas grill, bar, water, high-performance sound system, and the option to bring your own music! See all the rates and fine print here.

Relax. Refresh. Recharge.

On a girls getaway, it goes without saying that you want some relaxation to happen. While the Lake can be a bit hectic sometimes, it is also one of the best places to relax! There are many options made available for you and your gals to have some downtime:

Looking to relax and spend the day at a spa? Spa 54 at Camden on the Lake and Spa Shiki in the Lodge of Four Seasons are great places to unwind. Spa 54 is a full service all natural Aveda™ spa. They offer a handful of lakeview services including pedicures or massages. See a full list of services and prices here. Spa 54 also offers two packages to choose from: Lake Escape Package or the Lake Retreat Package.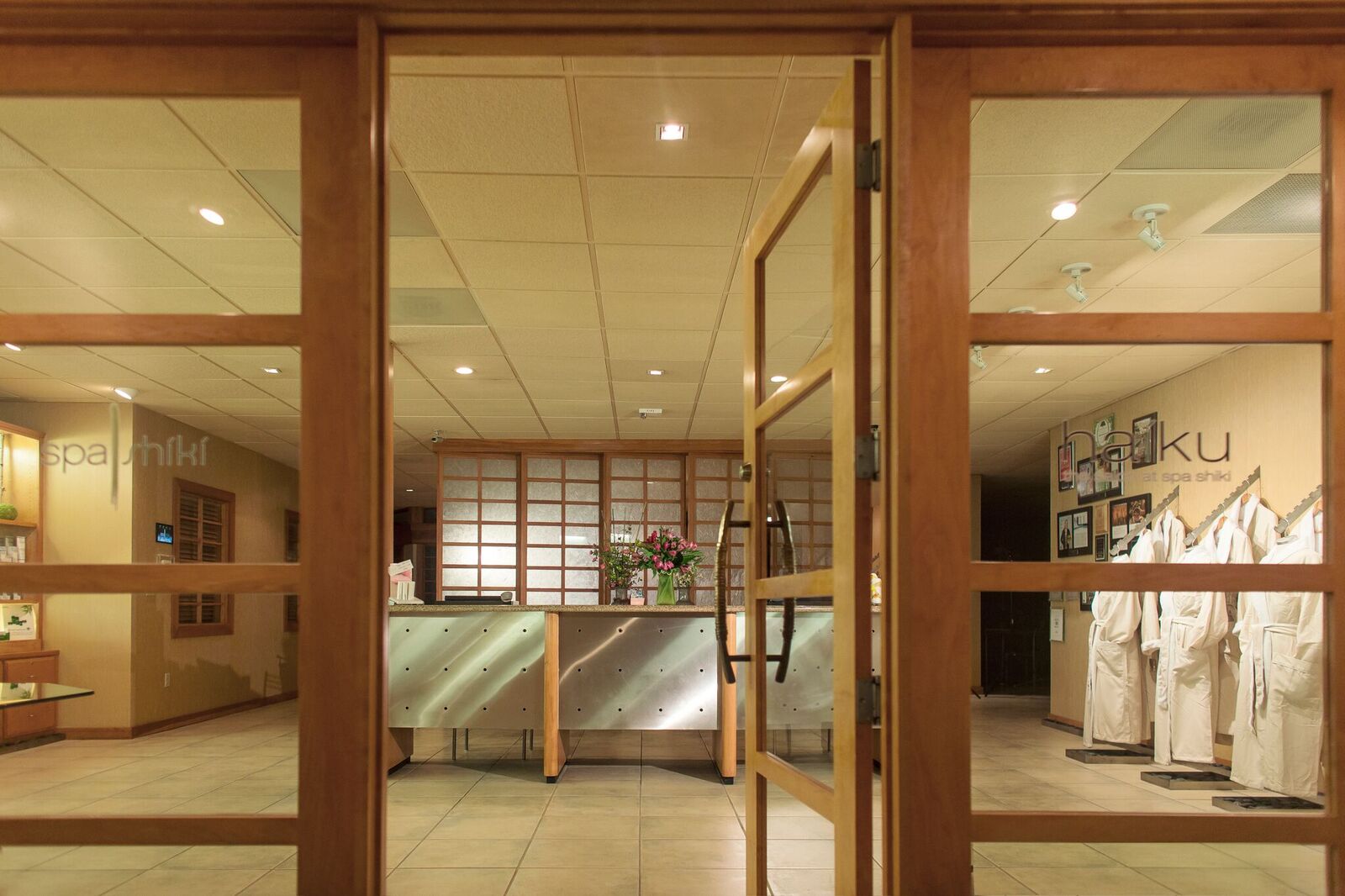 Photo Credit: Spa Shiki

Spa Shiki is an award-winning spa and has everything you could want out of a spa. Their amenities include: a meditation pool, an indoor-outdoor pool, steam room, sauna, and even a cafe. They also offer various services like facials, massage therapy, manicures and pedicures, and more. Monthly specials are also available Monday through Friday.

Wine and Dine
Love a good glass (or bottle) of wine? Wine and dine at the waterfront winery Shawnee Bluff. As they like to put it, Shawnee Bluff is the perfect place to "celebrate the every day." Sit on their patio or deck to enjoy perfect views of the Lake and some tapas or brick oven pizza. Wine tastings are available by either the glass or the bottle. Shawnee Bluff also hosts plenty of live music and other events throughout the year.

There are plenty of places to grab a waterfront meal at the Lake, all with a different type of vibe. Want to eat poolside? Backwater Jack's (17.5MM) is an ideal spot to spend the day parting in their new pool complete with swim-up bar. It is also a popular spot to spend a Friday night eating and getting drinks. They have indoor dining, patio dining, poolside service, and even an outdoor tiki bar that serves some of the best sushi rolls. Not to mention, Backwater Jack's serves some of the best drinks including their famous Rum Runners and Pains (don't forget the floater).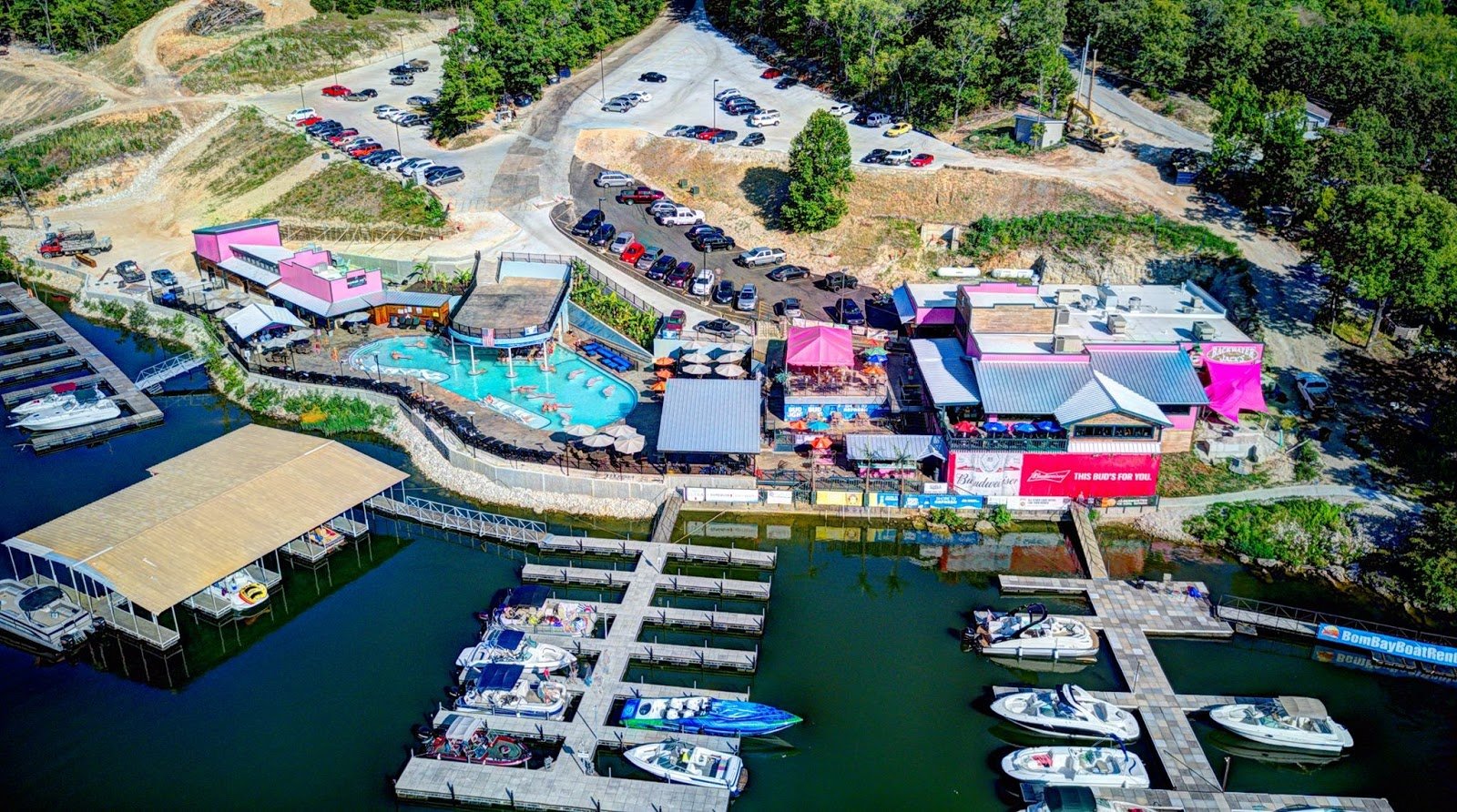 Photo Credit: Backwater Jacks

Who doesn't love rum fish bowls? (Surely not just us?) If you do, it's time to get "Nauti" at Nautifish Rum Bar (3.5MM)! Nautifish is the only waterfront bar and restaurant on the Niangua. So if you're in or near the Niangua Arm, this is the spot for you. The owners knew what they were doing when creating their food and drinks menus. Not only that, but their setup has something for everyone: three levels of deck space, 2 tiki bars, bar games, and a sand and beach area complete with a bags area. After 10 PM, get on the dance floor and dance the night away!

Love Creole cuisine? Check out the Lake's favorite cajun waterfront restaurant Shorty Pants. While they reside in Lake of the Ozarks, their menu embraces all that is New Orleans. There is plenty of seating whether it be indoors, out by the fire pit, or on the waterfront patio. Shorty Pants typically has live music playing as well making it a fun, chill atmosphere. Not only do they have some of the best cajun food, but they are also voted as the #1 gas dock six years in a row!

Dine during sunset at Baxter's Lakeside Grill. This casual, yet upscale restaurant only uses the finest, freshest ingredients with some of the finest service to match. The menu offers many options food-wise including a gluten-free and vegetarian menu. Their extensive wine list guarantees you find your perfect wine pairing as well. Did we mention the view? Baxter's is one of the best spots to soak in the sunset at Lake of the Ozarks!

Girls Just Wanna Have Fun

Ask any local or weekend warrior. One of the top places to party during the day is Coconuts Caribbean Beach Bar & Grill (7MM Gravois Arm). This place on a Saturday or Sunday is like nothing you've seen before. Their large pool has plenty of room for guests and includes two swim-up bars. Not to mention, Coconuts probably has the greatest MC ever! Jody Rhew keeps the party going every weekend in a variety of costumes and onesies.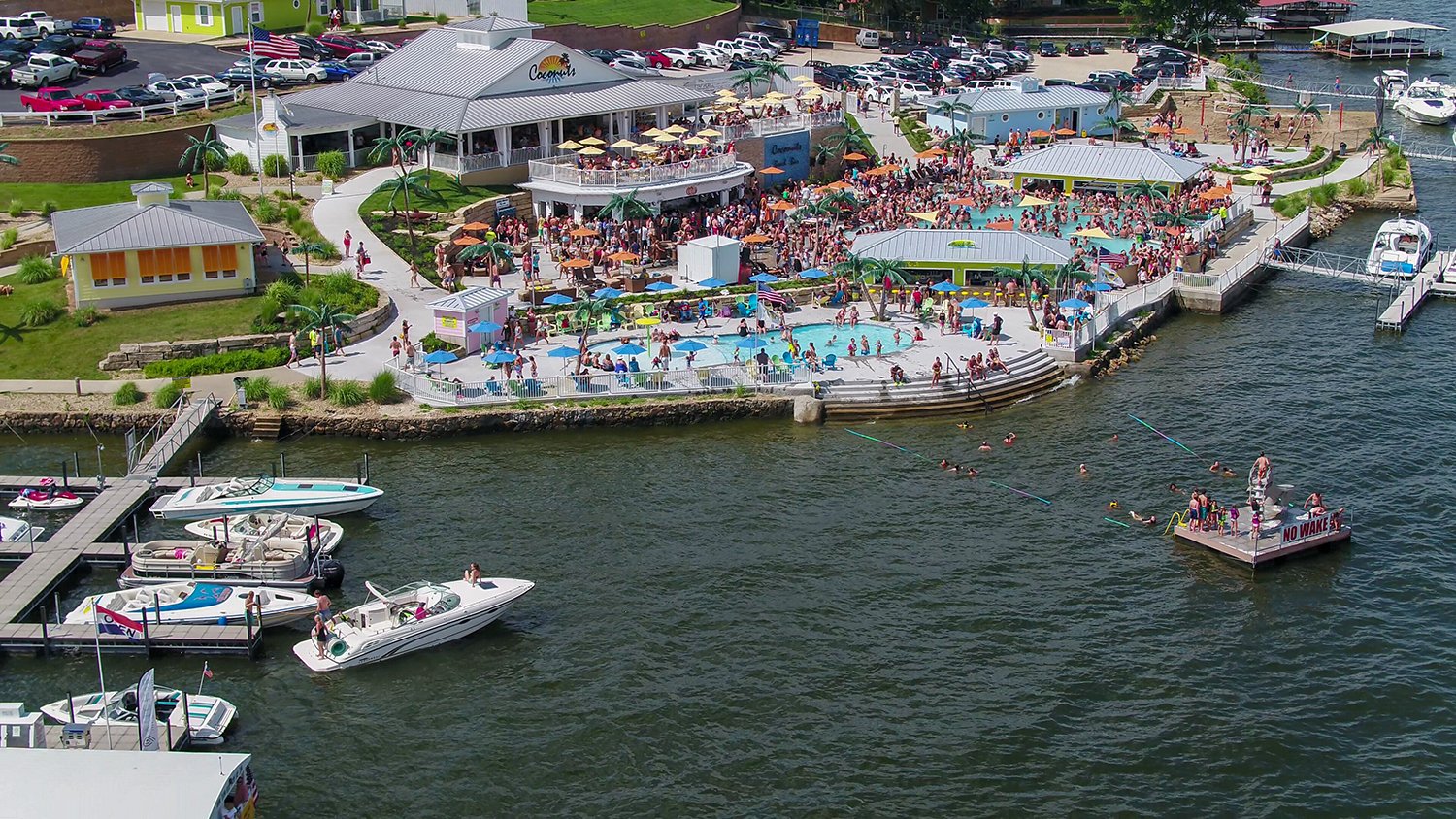 Photo Credit: Sky View Photography

Home of the best nightlife, visitors have to check out H. Toad's at Camden (7MM). H. Toad's hosts some of the greatest live music at the Lake. Check out their events calendar here. If you are looking for a great, dance the night away, upbeat type of vibe, this is your spot!

Check out the Party Capital of Lake of the Ozarks, Shady Gators (7MM). This place is huge, like three floors huge. They also host various live entertainment ranging from live music to foam parties to bikini contests. This place has a little bit of everything for everyone. See their calendar of events here.

We may have already mentioned this place once before, but locals and visitors alike find Backwater Jack's (17.5MM) to be an all-time favorite. It's spacious, it's casual, and there's plenty to do whether it's dance along to some live music, party in the pool, or relax while sipping on some famous drinks. The glowing snake-like map of the Lake on the wall is a must see, too.

Speaking of spacious, Dog Days Bar & Grill (19MM) has plenty of room for guests to enjoy themselves. Grab a drink and watch live music inside or enjoy the summer evening outside by the pool or up in the Dog Pound or on the new rooftop area. Home to some of the best and most popular events held at the Lake, this establishment knows how to get people to have a good time!

There you go, ladies! There's your guide to a perfect girls weekend away at Lake of the Ozarks. How do you like to spend your girls weekends? Tell us your favorite spots and things to do for a girls weekend at Lake of the Ozarks!