So you're planning a bachelorette party? Your bestie needs some girl time to de-stress from all the wedding planning and little details. It is her last fling before the ring, after all. What better place to host it than Lake of the Ozarks?
The Lake is becoming a hot-spot for both bachelor and bachelorette parties. There is a lot to do and plenty to see, therefore we decided to help you out a little. Here's your bachelorette party guide to Lake of the Ozarks:

The Bride Tribe Headquarters
The first order of business: finding a place to accommodate you and the rest of your bride tribe.
Camden on the Lake | Camden (7MM) is hopping on the bachelorette party train by offering a "Bride's Last Fling Before The Ring" package and it includes everything you need for a perfect party: shot glass veil for the bride, a $20 spa credit to Spa 54, and free drinks for each bride tribe member registered. Enjoy your trip not only in a luxury suite, but also the hottest party spot at the Lake!

Photo Credit: Camden on the Lake
The Lodge of Four Seasons | This beautiful lakefront hotel (6MM) offers affordable guest rooms and luxurious suites. No matter if you choose the Main Lodge, Avila Suites, or Seasons Bay, you won't be disappointed with your room. Enjoy premium amenities and, in many of the rooms, furnished balconies with beautiful views. Their Spa Getaway package might be perfect for your bachelorette weekend.
Airbnb | Is a Hotel not your thing or are you are in search of something a little bigger? Search Lake of the Ozarks on Airbnb. There you can find various options depending on what you're looking for or how much space you may need. Rent a room or a whole entire house! Many of the houses are lakefront, too.

Dine With a View
At Lake of the Ozarks, you have to dine while soaking up gorgeous views of the sunset and water. The Lake offers countless dining options, but here are a few of our favorites:
Baxter's Lakeside Grill | This casual, yet upscale establishment is a perfect spot to enjoy time with the girls. Their extensive wine list and menu offers up many options including a gluten-free and vegetarian menu. Wine and dine all while soaking up the Lake's beautiful sunset.
Paradise | Every day at the Lake is paradise at the 24MM. This waterfront restaurant offers a perfect view of the Lake, especially during sunset. There is ample seating on their multi-level patio for you to enjoy. Listen to live music, eat fantastic food, and sip on delicious specialty cocktails all while enjoying the casual, tropical vibe Paradise has to offer.
JB Hook's | When we say dining with a view, this is the ultimate dining with a view experience. Take in a 14-mile panoramic view of our beautiful lake and take advantage of some perfect photo opportunities with your girls. Here you will find some of the best seafood and steak dishes. Coming into town during the week or on Friday? Stop by for an outstanding Happy Hour (Monday-Friday) from 3-8 PM.

Soak Up Some Fun in the Sun
Now for the fun stuff. Bride, bust out your white bikini or dress in your winery best for a perfect day out and about. Whether you want to spend the day on a boat, hit up popular pool bars, or wine and dine the Lake has it all.
Dirty Duck Rentals | Located 10 minutes away from Party Cove, this family-owned and operated boat rental company has a wide spread of options to choose from. Check out their wave runners, speed boats, pontoons, or deck boats to see what suits your group best. Want to save money? Check out their early bird special!
Anchor | Anchor has a unique and very popular concept when it comes to renting a boat at Lake of the Ozarks. Instead of just renting your average pontoon, Anchor has a variety of privately owned boats and yachts to make your on-the-water experience extraordinary. In addition to helping you find the perfect boat or yacht, Anchor will also pair you up with an amazing Captain & Crew so everyone can have fun and relax. To book your next adventure, simply visit Anchor's website, where you can filter boats by length and number of passengers. You will then be paired with the perfect boat for your desired boating experience.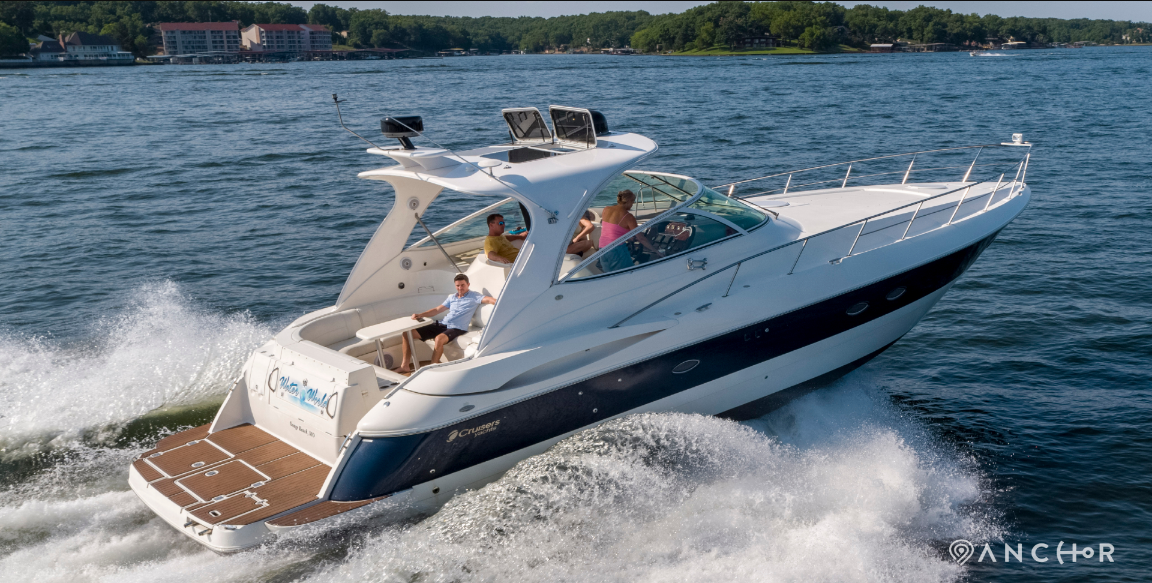 Photo Credit: Anchor
Skyfall Yacht Charter | Experience a European-inspired yacht charter on one of the lake's largest private yachts. You'll instantly feel luxurious thanks to Skyfall's crew, hydraulic swim platform beach, interior styling, and state-of-the-art sound system. Also located at Camden on the Lake, Skyfall services all of Lake of the Ozarks and can hold groups up to 12 people. Check it out here.
Lazy Gators + Rehydrate | If you plan it out right, you could be in town for one of the hottest pool parties held during the summer: Rehydrate at Lazy Gators (7MM). Here you will see some of the country's hottest DJs, party in the pool, and dance the day (and night) away! Want to know when Rehydrate is coming to the Lake? See their events calendar here. Sidebar: Lazy Gators also books private events if that is more ideal for you and your group.
Coconuts | A popular spot for bachelorette parties to hit up is Coconuts (7MM). This place on a beautiful Saturday is like nothing you've seen before. Talk about an entire day full of great DJs, great people, and an even better time. Like Lazy Gators, Coconuts also books private parties with many customized services included.
Backwater Jack's | Located at the 17.5 MM, this is a hot spot for locals and visitors alike. They also sometimes hosts themed pool parties on Saturdays during holiday weekends. Their 2017 Zero Ducks Given pool parties were a hit! No matter what day during the weekend it is, this pool is always a great time! Their new sushi bar is a must-try, too (if you're into sushi)! If you want your own spot, you can get a VIP couch by the pool. Plenty of space, a large pool, drink specials, and dance-your-butt-off music...you will want to spend all day and night here!

Photo Credit: Sky View Photography
Shawnee Bluff | You and your bachelorette group can enjoy a nice glass (aka bottle) of some fantastic wine at this waterfront winery. Enjoy a beautiful sunny day on their patio or deck while soaking up some Lake views. Wine tastings are available by either the glass or the bottle. Shawnee Bluff also hosts plenty of live music and other events throughout the year.
Dancing By The Moonlight
Ladies, time to glam and head out on the town (or Lake). You will find live music and dancing around every corner. Here are some hot spots recommended by locals and visitors:
H. Toad's | Hop over to Toad Cove if you want to see entertaining, get-out-on-the-dance floor live music. This is a premier nightlife spot at the Lake. This three-story entertainment complex hosts live entertainment every weekend whether it is a local act or big-name performers. If a like-minded party crowd is what you want to surround yourself with, this is it. Before you know it, you will be dancing the night away! See their calendar of events here.
Dog Day's | Located at 19 MM, they have been voted #1 Entertainment on the Lake as well as #1 Restaurant on the Water, and we couldn't agree more. Between the restaurant, patio, two pools, and the Dog Pound you have plenty of room for you and the Bride Tribe. Also, debuting this summer is the new rooftop area, a perfect spot for a couple of lakeview photos. Sip on signature frozen cocktails while hanging in the pool. Did we mention that Dog Day's is home to the largest free concert at the Lake? Aquapalooza is held here every July and it is a can't miss event!
Shady Gators | Check out the Party Capital of Lake of the Ozarks at the 7 MM! This place is huge, like three floors huge. They also host various live entertainment ranging from live music to foam parties to bikini contests. They have a little bit of everything for everyone, so your bachelorette group will surely have a blast! See their calendar of events here.
Overall, Lake of the Ozarks offers brides and tribes everything necessary for a bachelorette party to remember. Hosting a bachelorette party at the Lake? Tell us about it in the comments! Where are your must-stop spots?