Bach-e-lor Par-ty (n): 1. Final fling before the (suffer)ring.
Kidding. But this is the moment all the groomsmen and the groom have been looking forward to (besides the big day, of course). What better way to celebrate your bachelor party than heading to Lake of the Ozarks? Boating, golfing, pool bars, and awesome nightlife. The Lake has everything you need for an awesome bachelor party.
Here is your ultimate bachelor party guide to Lake of the Ozarks:
The Base of Operations
Coming from out of town? You'll need a place to crash. Here are some popular options:
Margaritaville Lake Resort | Located at the 26MM, your bachelor party group can stay in an affordable room or suite right off the water. Margaritaville has tons of activities like water rentals and two championship golf courses. Additionally, you can dine and have cold beverages at one of its eight bars and restaurants. It's a great spot to call home for your trip.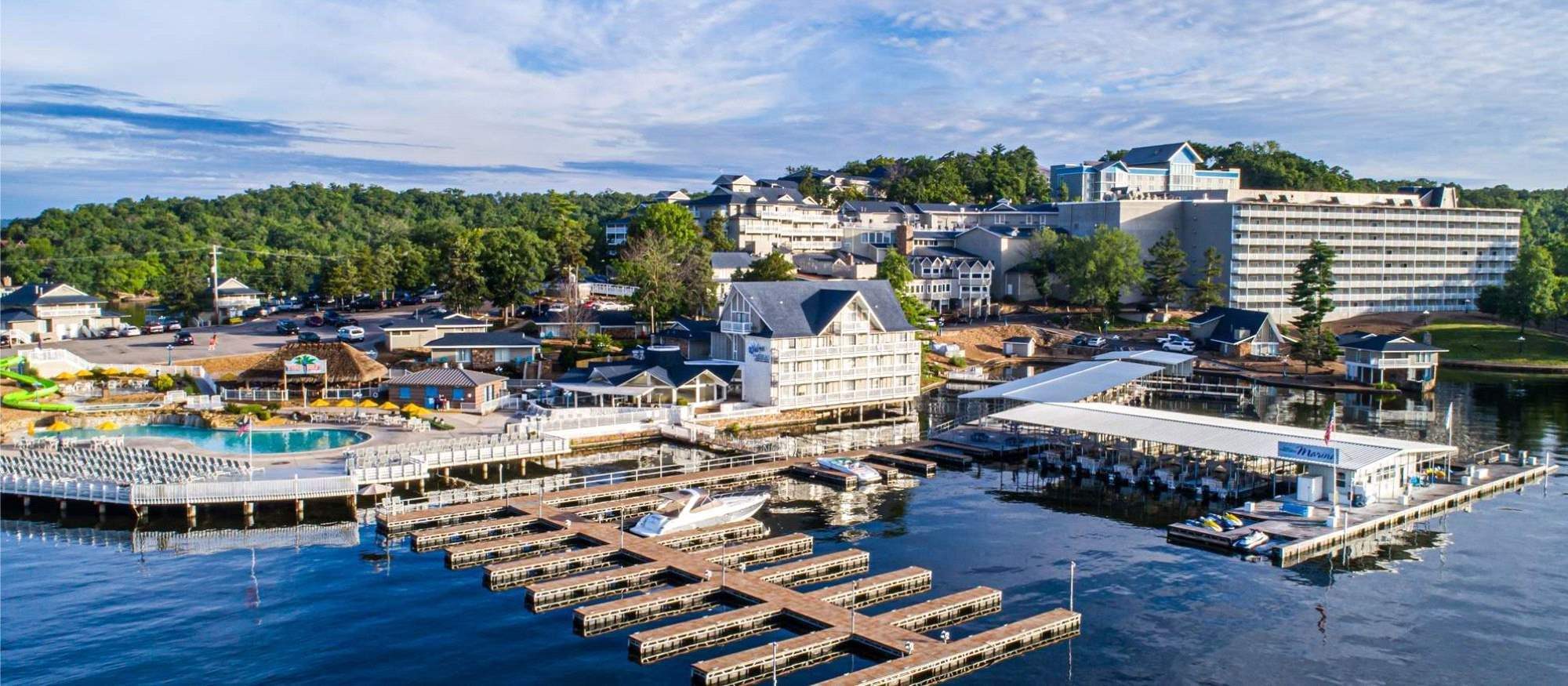 Photo Credit: Margaritaville Resort
The Lodge of Four Seasons | If you love golf, you'll love this resort. They have two world-class, full-service golf courses. They are in the top five best golf courses in Missouri. Other than golf and beautiful rooms and suites, your bachelor party can check out their marina for fun Lake activities.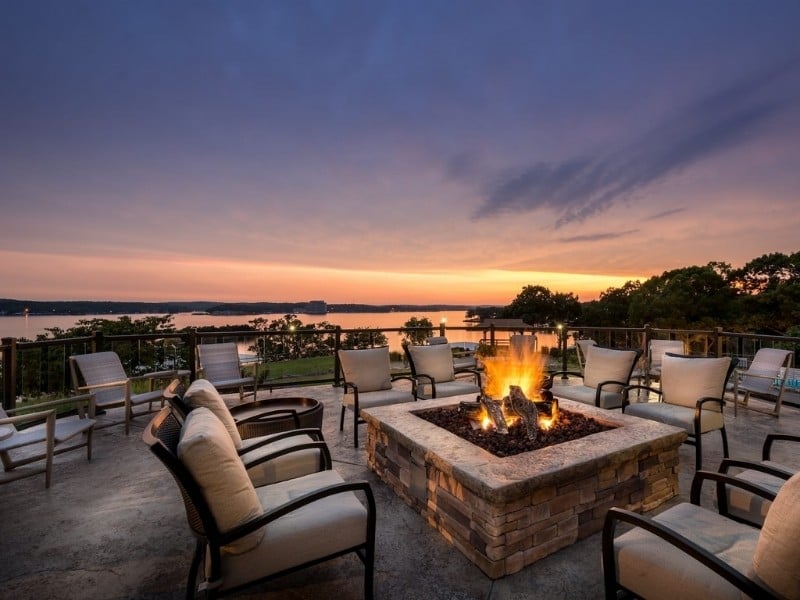 Photo Credit: Visit MO
Airbnb | Rather have a house? Check out Lake of the Ozarks through Airbnb. There you will find some great spots for your group to rent for your trip. You can filter through to find your perfect home away from home.
First We Eat, Then We Do The Things
Most bachelor parties like to enjoy a nice meal before heading out for the night. Here are a few recommendations:
Redhead | Swim-up bar, awesome food and drinks, and a massive amount of TVs to watch your favorite teams on. Need we say more? Redhead (21MM) is a perfect spot to grab lunch or dinner or to simply hang out in the pool and grab some drinks.


Photo Credit: Redhead Lakeside Grill
JB Hook's | Craving steak and lobster? Look no further. JB Hook's (16MM) is your one-stop shop. They have some of the best steak and seafood at the Lake. Not only that, but their view is top-notch. And by top-notch, we mean a 14-mile panoramic view.
Tap & Grill Brew Haus | Buy your buddy a brew before he says "I do." And at Tap (6.5MM) you won't have an excuse not to since they have over 60 local craft beers to choose from. Here you can eat on the patio surrounded by fire pits or pool-side all while taking in great lake views. It's a great spot to have fun and relax.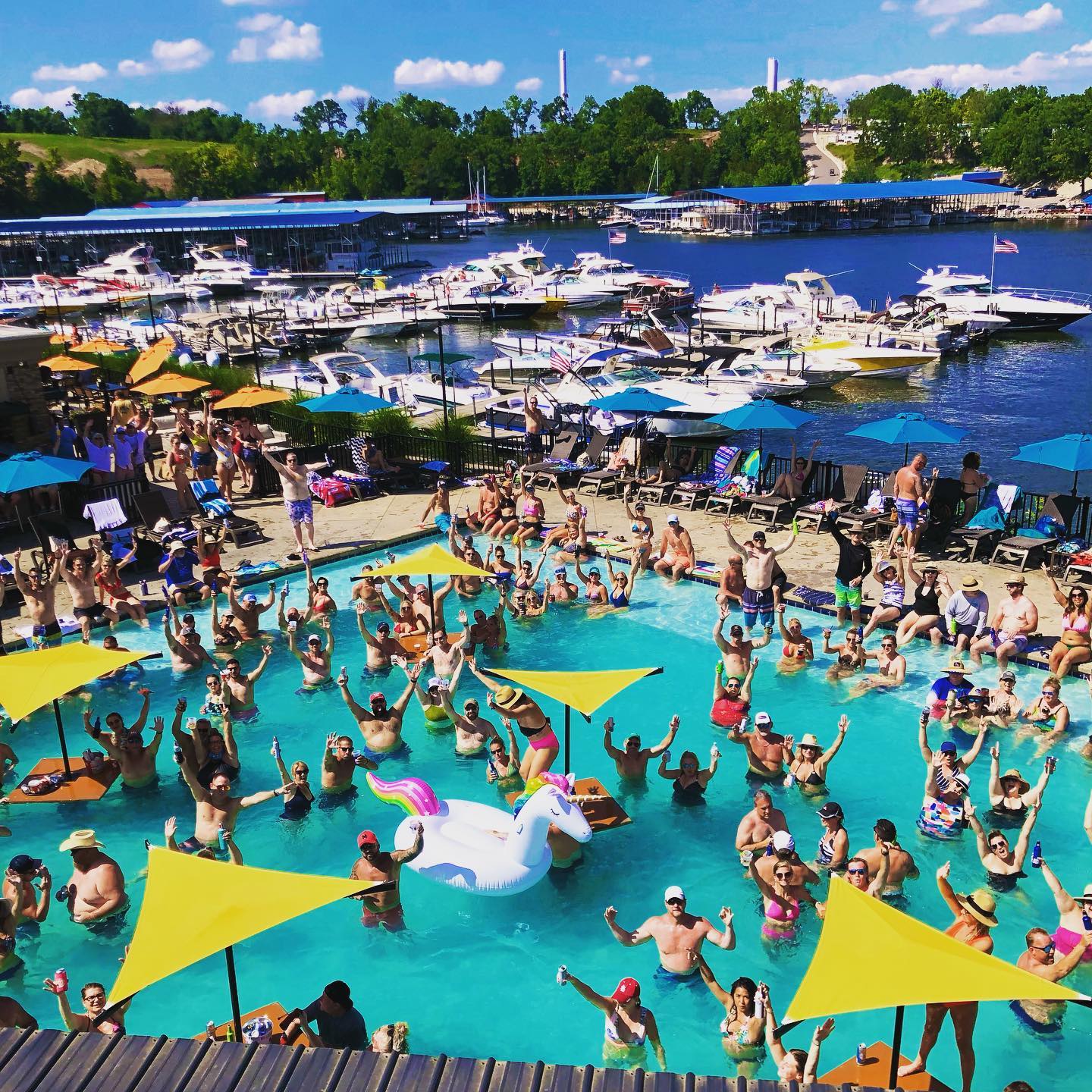 Photo Credit: Tap & Grill Brew Haus
Days Are Better Spent at the Lake
Time to start planning the good stuff. Spend your bachelor trip on the water (see options for captain services here and information about renting boats at Lake of the Ozarks here) or at the Lake's hottest daytime party spots. Here are a few suggestions:
Dirty Duck Rentals | Family owned and operated, Dirty Duck is a popular choice for boat rentals. They have it all: wave runners, speed boats, pontoons, and deck boats. Choose whatever you think fits your bachelor group best. They even have an early bird special to save you some money.
Anchor | Anchor has a unique and very popular concept when it comes to renting a boat at Lake of the Ozarks. Instead of just renting your average pontoon, Anchor has a variety of privately owned boats and yachts to make your on-the-water experience extraordinary. In addition to helping you find the perfect boat or yacht, Anchor will also pair you up with an amazing Captain & Crew so everyone can have fun and relax. To book your next adventure, simply visit Anchor's website, where you can filter boats by length and number of passengers. You will then be paired with the perfect boat for your desired boating experience.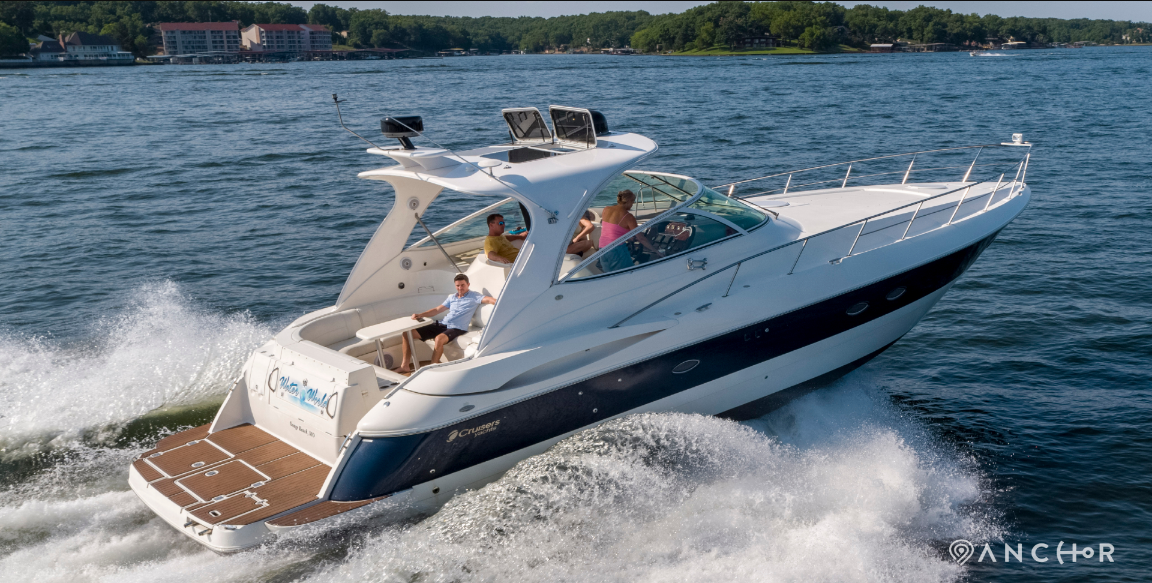 Photo Credit: Anchor
Skyfall Yacht Charter | Experience a European-inspired yacht charter on one of the lake's largest private yachts. You'll instantly feel luxurious thanks to Skyfall's crew, hydraulic swim platform beach, interior styling, and state-of-the-art sound system. Also located at Camden on the Lake, Skyfall services all of Lake of the Ozarks and can hold groups up to 12 people. Check it out here.
Lake Adventures | Hop on The Leviathan, Captain Woody's fantastic boat, for a day on the Lake to remember. The Leviathan is one of the largest vessels on the Lake and has everything you could hope for: two decks, 1 ½ baths, full kitchen, a dining and living room, a water slide, and so much more. You can also bring your own music! Check out all the details here.
Backwater Jack's | This popular spot offers up a great daytime party. Music, drink specials, a large pool, and awesome food…what more could you want? Last summer they hosted pool parties during holiday weekends that were a hit. Check out what we mean here.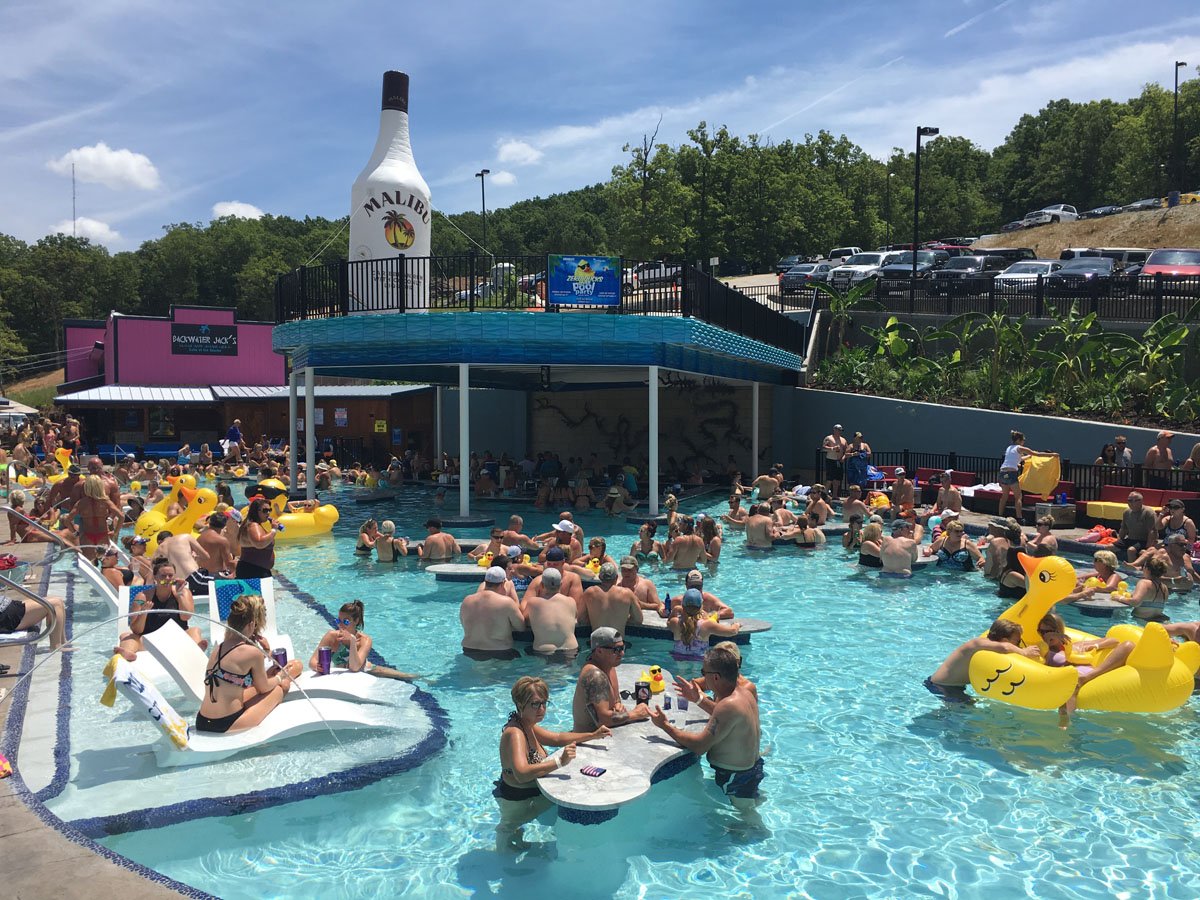 Photo Credit: Backwater Jack's
Coconuts | Ask anyone at the Lake where the hot daytime party spot is and you'll likely hear "Coconuts." Located at the 6MM of the Gravois Arm, they have non-stop entertainment that rivals some of the pool parties in Vegas. Not to mention, awesome DJs and the Lake's best MC, Jody Rhew.
Party Like a Rockstar
The Lake has some of the best places to party into the night. Grab your group and get ready to party like it's 1999:
Franky & Louie's | Welcome to the "Key West of the Midwest." Franky & Louie's (10MM) has been named Best Restaurant on the Water, Best Bartenders, and Best Beach. Play a game of washers or listen to their live bands. No cover and some of the lowest food and drink prices at the Lake? Sounds good to us.
H. Toad's | Want to "live boldly?" You've come to the right place. H. Toad's offers a ton of entertainment: indoor and outdoor bars, hot tubs and swim-up bars, and awesome live entertainment. They have their amazing regulars, but they also host big-name performers sometimes. This three-story entertainment complex has it all!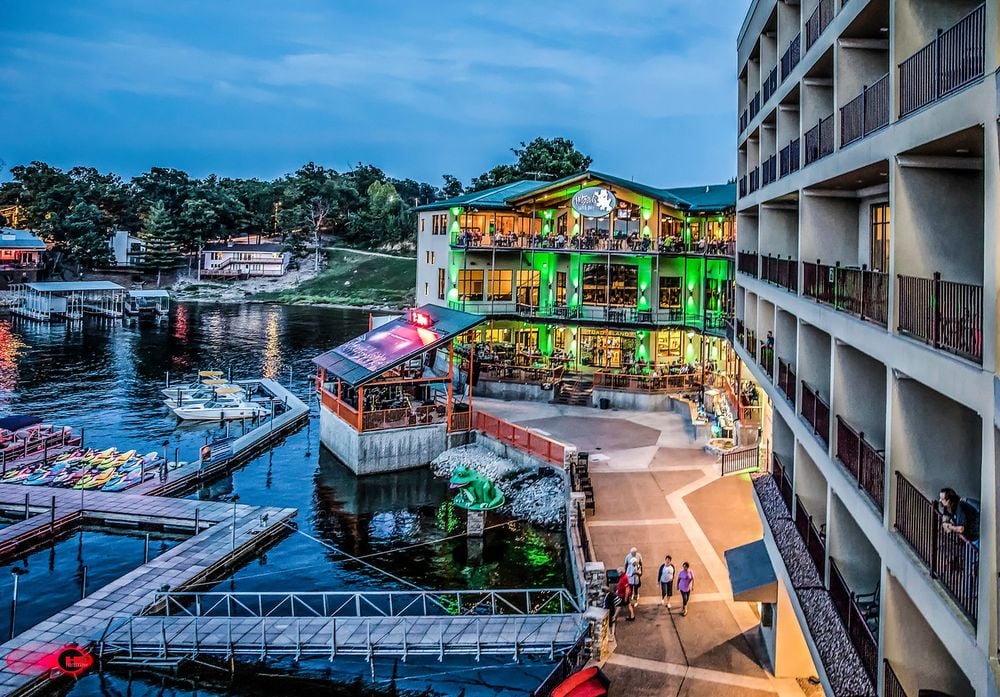 Photo Credit: H. Toad's at Camden on the Lake
Dog Day's | This is a favorite among locals and visitors. Voted #1 Entertainment on the Lake and #1 Restaurant on the Water, Dog Day's (19MM) is a great casual nightlife spot. Chill out on the new rooftop area or hang out in the Dog Pound outside. Grab a round of Rum Runners or Pains and enjoy this awesome waterfront spot. As hosts of the largest free concert at the Lake, Aquapalooza, they know how to have a good time.
Shady Gators | Head over to the 7MM and visit the Party Capital of the Lake of the Ozarks. This hot-spot hosts some of the greatest live music ranging from country to rock to dance hits. Not only do they have live music, but they also have Friday foam parties and a Miss Shady Gators Model search on Saturday. You're guaranteed to have an awesome time here.
Needless to say, if you plan on hosting your bachelor party at the Lake of the Ozarks, it's going to be legendary. Fellas, what are your favorite spots for bachelor parties?