The sometimes-rough waters inherent to the Lake of the Ozarks require a lift that is especially sturdy, strong, and designed to withstand rough water, fight back against marine growth and algae, and offer increased protection and security. That makes the HydroHoist range of products some of the best boat lifts for the rough water at Lake of the Ozarks.
A haven for watersports and fishing, and home of the famed Harbor Hop, boaters have long enjoyed the marine and water life of the Ozarks. To ensure the boat you love is always ready to enjoy, HydroHoist designs boat lifts and accessories that make sure your boat is safe and protected in the water and out. Keep reading for more information on boat lifts and lifts for shallow water and personal watercraft.
For boats up to 32,000lbs, the best-of-the-best boat lifts for the rough water at Lake of the Ozarks includes the UltraLift series. With two-piece stainless, polyethylene pitman bushings, and guide ropes that aid in proper positioning, the UltraLift series is ideal for securing your boat to the dock and for ensuring its safety during short-term and long-term storage. It offers:
All steel construction above the waterline

Precision design that includes custom-molded polyethylene tanks

Heavy-duty 1/4″ torsion bars

Heavy-duty hull support system

Structural-grade dock brackets with molded bumper guards
There is a reason the UltraLift Series is among the most popular boat lifts. It is damage and impact-resistant, flexible when stressed, and rust-defiant. This is the lift for you if you are looking for years of durability, reliability, sturdiness, and protection. Convenience and worry-free storage are built into the UltraLift series so you and your family and friends can enjoy the roughest of waters with minimal – if any – limitations.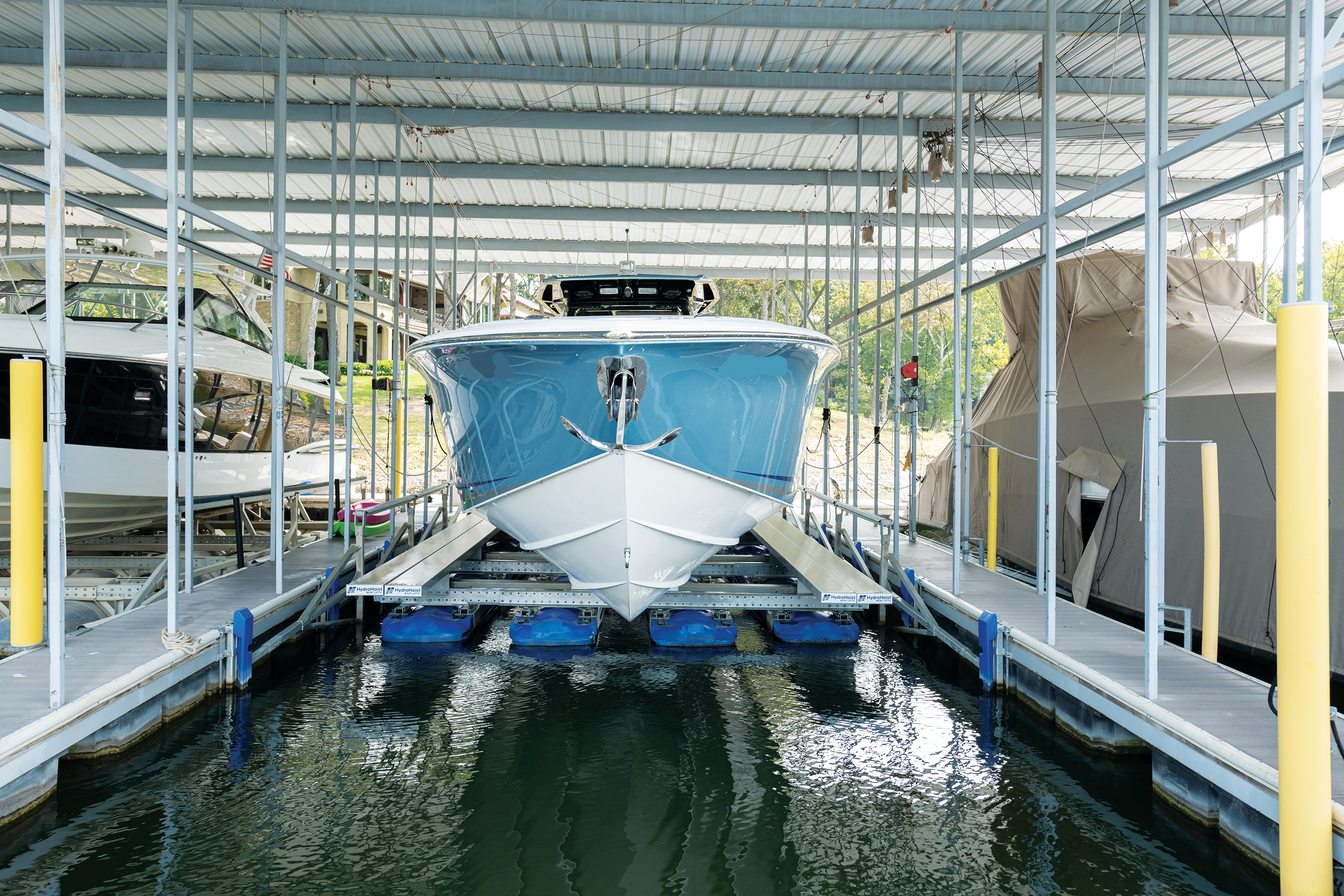 HydroHoist Shallow Water Lifts
HydroHoist's Shallow Water boat lift is a great choice if you opt for shallow water use according to your boat type. Shallow water can happen on many lakes and is especially common early in the boating season at Lake of the Ozarks. If you have a dock near the back of a cove water levels can fluctuate pretty drastically in the spring and winter. To make sure you get the same protection deep-water boaters rely on, HydroHoist thoroughly researched and studied shallow water boating and worked hard to build some incredible features into their shallow water lifts including longer tanks with low profiles that aid in the operation and performance of your boat lift in lower water levels.
Get solid, rugged, hard-wearing support for your boat, with the following features that make this specific HydroHoist model the best boat lift for the rough, shallow water at Lake of the Ozarks:
10' slip minimum

Low profile molded polyethylene tanks

Custom tank placement

Durable steel construction

Grade-8 pivot hardware
With an optional inboard or stern drive, the shallow water model can fit a floating dock and a U-Shaped slip. Because they leave nothing to chance, the HydroHoist shallow water model was also carefully engineered to ensure its steel mechanisms stay above the water level to reduce and prevent potentially damaging corrosion and deterioration. These features help preserve and extend the life of your boat lift and maximize the protection and security of your shallow-water boat. If sturdy, strong protection is important to you, you'll find it right here. Shallow water lifts are also becoming popular for wake/surf style boats that have tall towers that cannot be lifted by traditional lifts due to roof height.
If you're looking for reliability, quality, design, and performance in a boat lift – look no further. The HydroHoist E-Series offers all this and more. It stands out as one of the best boat lifts for the rough water at Lake of the Ozarks with its best-in-class boat protection at an affordable price point for boat owners on a budget. Each model in the series offers:
A custom-molded polyethylene tank

Sturdy, heavy-duty galvanized construction

A secure, lockable deck-mounted control box

High-density polyethylene square-hole bushings
Its 6,500lb capacity means it fits many different types and models of boats when fully loaded with your gear and equipment. In addition, HydroHoist stands behind every boat lift and accessory they sell with a warranty that gives you peace of mind with every product purchase. When rough waters are your playing ground, their easy-to-understand and easy-to-use controls mean you can easily raise and lower your boat, manage basic operations, and keep your focus on the waters around you.
Ready to put industry-leading sturdiness, resilience, and durability right at your fingertips? With an unbeatable range of features and amenities, the single-touch technology means you get durability and stability that help you add to the security of your boat and its passengers with HydroHoist reliability that simply cannot be beaten.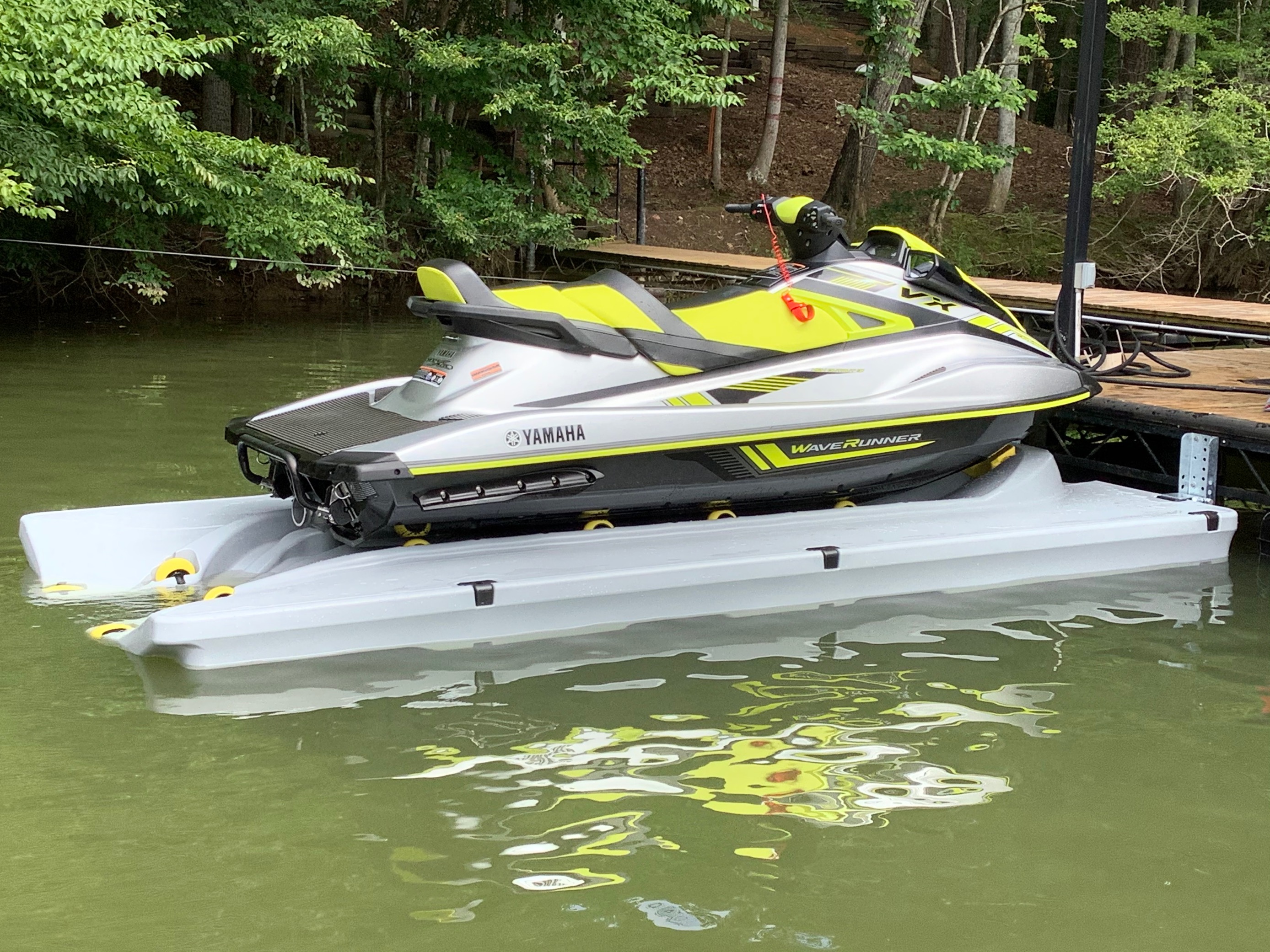 Boat owners are not the only people who enjoy the beauty of Lake of the Ozarks. Personal watercraft (PWC) owners also love the area for its beauty and for the fun that can be had on its water. PWCs include any vessel that lets you ride or stand on versus in it, such as:
Jet Ski

WaveRunner

SeaDoo
The HydroPort Series PWC docking platforms are some of the best PWC lifts for the rough water at Lake of the Ozarks. PWC owners across the nation choose HydroHoist because they've put more than half a century of on-the-water technology and industry innovation behind their development. Their distinctive, state-of-the-art PWC docking platforms are strategically designed to maintain your PWC when it's not in use. They also ensure easier use and simplified, stable access to your PWC.
In addition to these benefits, you will enjoy easy cleaning, fast covering, and repel unsightly and damaging marine growth. If you're looking for superior protection against the rough waters of the Ozarks, HydroHoist HydroPort Series offers three incredible options – the HP EPIC, HP Extreme, and the HP Pro. The HP EPIC and HP Extreme options feature dual in-line rollers, universal hull support, a patented "air pillow" bow bumper that provides a soft rest for the keel, and the ability to front or side mount for both fixed and floating docks.
Are you ready to protect the investment you made in your boat and/or PWC while also making it easier to enjoy? Contact the team at HydroHoist Lake of the Ozarks to learn more about the benefits and advantages of HydroHoist boat and PWC lifts. Their team will tell you everything you need to know about the affordability and superiority of their lifts and why their strength and durability make them the best boat lifts for the rough water at Lake of the Ozarks – and anywhere you dock or store your favorite watercraft.