Lake of the Ozarks is a great place for family fun and making memories. Not all establishments are made equal. So, we wanted to share some waterfront restaurants that the whole family can enjoy. At these places, you'll find great food, views, entertainment, and (at some) kid-friendly pools.
Nautifish Rum Bar: Don't let the word "Bar" deter you away from bringing the family to Nautifish Rum Bar (3.5MM Niangua Arm). It normally doesn't get "Nauti" until after 10 PM. Your family will have tons to do here! Soak up some sun while the kids play in the sand and feed the fish. Play some games in the arcade or play a round of ping-pong or shuffleboard. Nautifish also hosts friendly kid competitions, like a hula hoop contest. Your family will be kept plenty busy here! Grab lunch while you're at it. Have no fear, they have a kids' menu.
Franky & Louie's Beachfront Bar & Grill: This popular family-friendly spot is found at the 10MM. Franky & Louie's has it all when it comes to family-fun entertainment. Spend the day on their sandy beach. Parents can relax in their lounge chairs while their kiddos play in the sand and the water. The beach also has shade options if your family gets a little too warm.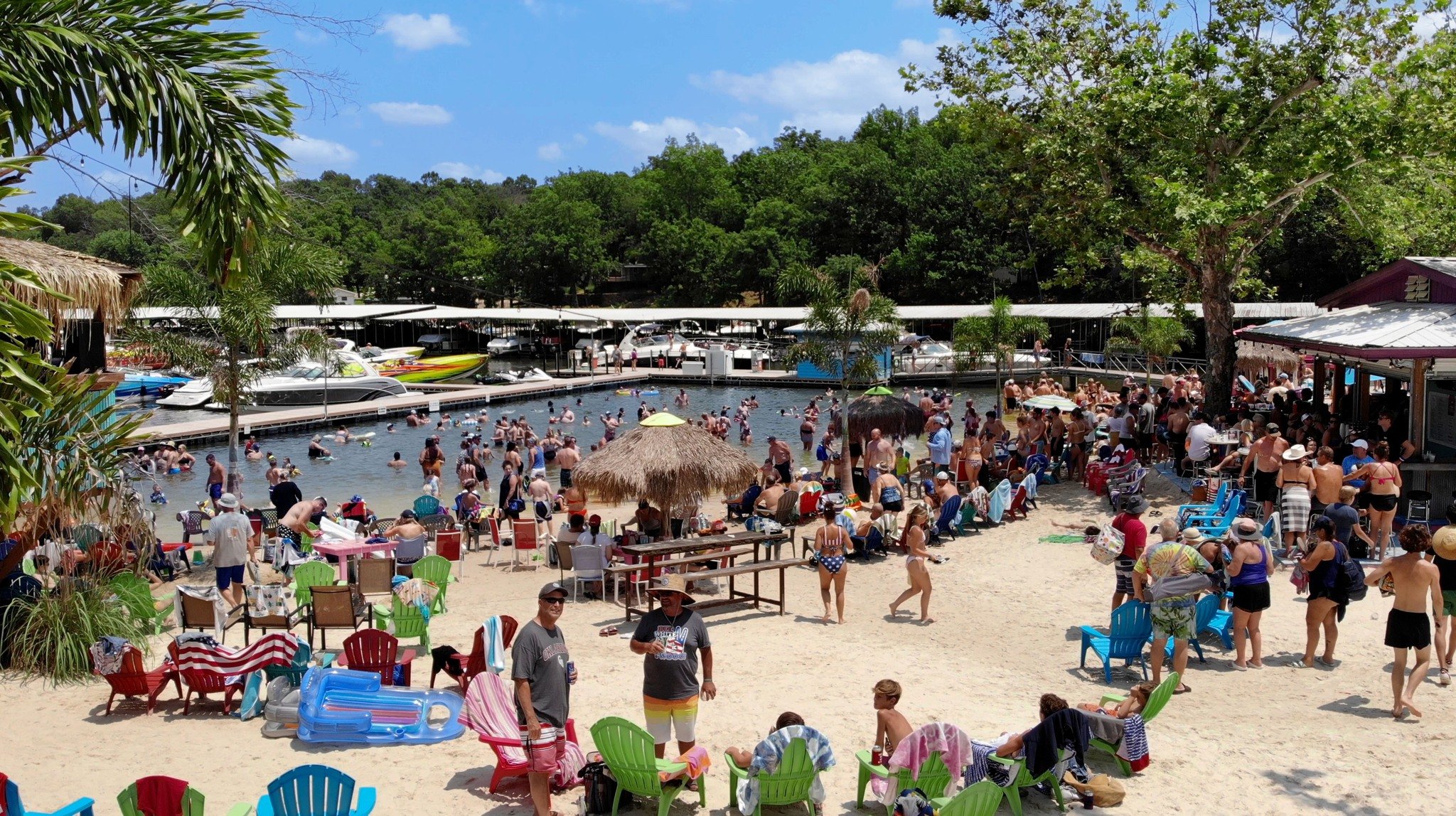 Photo Credit: Franky & Louie's
The fun doesn't stop at the beach though! At Franky & Louie's you can enjoy live music and entertainment starting in the afternoon. So grab some lunch for you and your kids and stick around to be entertained! Insider tip: they have an awesome crab leg special on Wednesdays, plus they also rent WaveRunners.
Dog Day's Bar & Grill: Dog Day's (19MM) is a great place for you and your family! They offer two pools: one for adults with a swim-up bar and another that is family-friendly. You will be sure to find something on the menu to enjoy along with a wide selection for your kid's as well.
At Dog Day's you have a selection of seating ranging from inside, the patio, or by the pool. They also have a new rooftop area called the Woof Top. On most days, enjoy live music and entertainment. As the host of many popular Lake events, Dog Day's knows how to make sure visitors have a great time!
Redhead Lakeside Grill: One of the newest dining and entertainment facilities at the Lake can be found at the 21MM. Redhead is extremely spacious with two levels of dining, both indoor and outdoor. The patio is even complete with a fireplace. Enjoy lunch or dinner seven days a week.



Photo Credit: Redhead Lakeside Grill
If you and your family love sports, this is the place for you. They have over 50 T.V.s so you can be sure your team will be on. There are even T.V.s at the tiki bar by the pool. Redhead offers two pools: an adult pool connected to the tiki bar and another that is kid-friendly. Therefore, everyone has a space to hang out this summer.
The Fish & Co.: You can't miss this bright yellow and blue building! The Fish & Co. (31MM) is a great spot for your family to soak up the sun and lake views. Sit inside or somewhere on the large patio for lunch or dinner. They have been voted Best Waterfront Bar and Restaurant and you'll see why. They offer a large menu of various foods including homemade pasta. Check out when they have live music as well!
Bear Bottom Resort: Since Bear Bottom (38MM) faces west, we guarantee you will see some of the best sunsets at the Lake here. There's also tons to do at Bear Bottom! Enjoy lunch or dinner inside or outside. Before or after you eat, your kiddos can go play arcade games in the game room.
You will also listen to great local and regional live acts. Not only that, but kids can also soak up the summer sun by playing in the pool or going down the water slides. The slides cost $10 per person, but rides are unlimited.
Backwater Jack's: This popular local spot is found at the 17.5MM. Backwater Jack's menu has a little bit for everyone, including your kiddos. In 2017 they introduced their new sushi menu which can be ordered outside at the tiki bar. And we mean it when we say this is world-class sushi! Enjoy the view while sitting outside or stay cool inside the restaurant. Cool down in the new pool complete with swim-up bar. However, if you have younger children, you'll want to be aware of pool rules: 1) No one under the age of 10 in pool at any time, 2) No one under 21 in the pool after 2 PM Monday through Friday, 3) No one under 21 in the pool any time on Saturday and Sunday.
Jolly Rogers Grub-n-Grog: Jolly Roger's (4.5MM) is home to the infamous boat bar. Here you will find two amazing dining experiences with the addition of The Kraken Shack, which is only open on weekends. There you can enjoy fresh oysters, crab, lobster, and more! Or head to the other restaurant for breakfast, lunch, or dinner.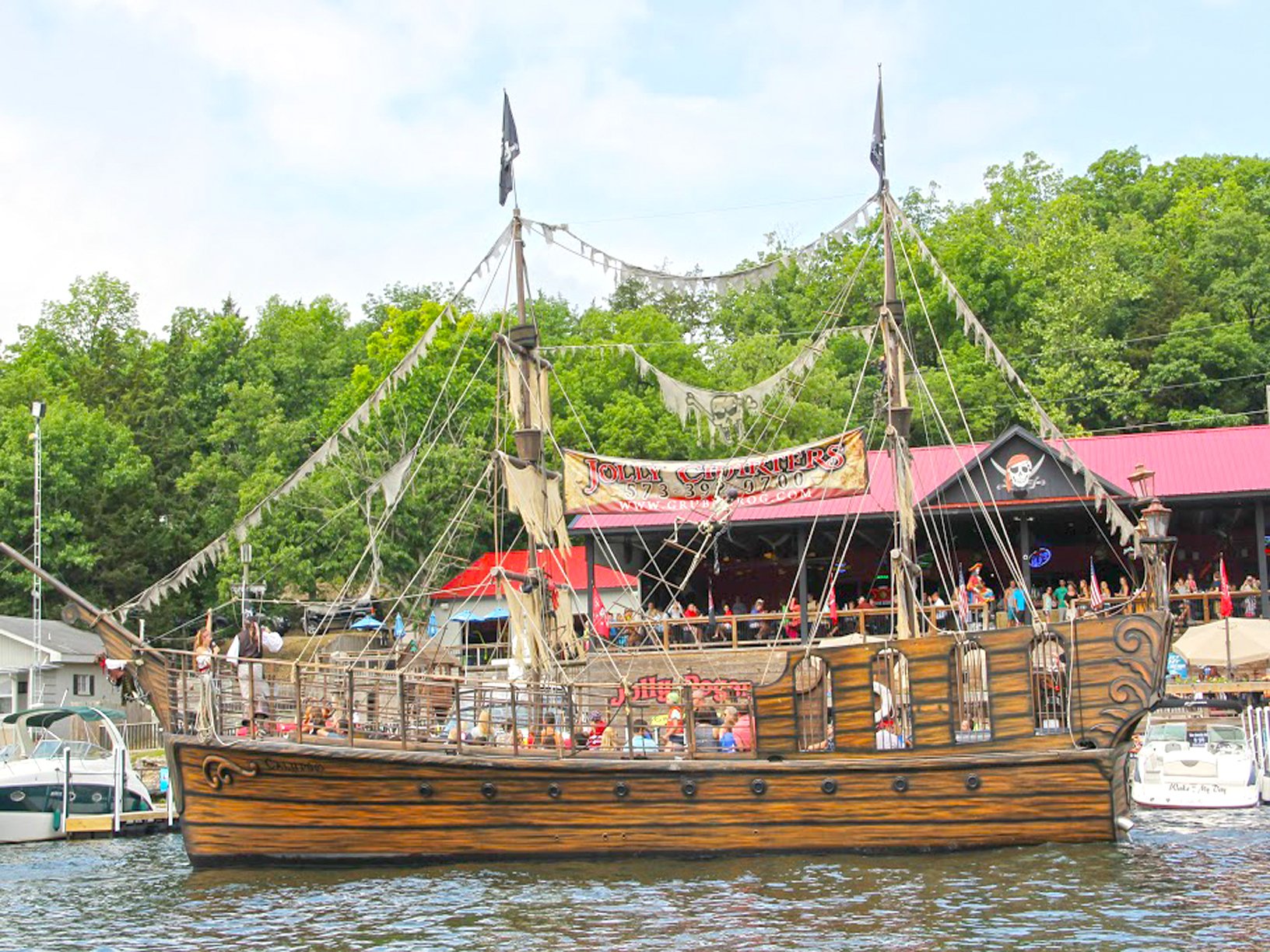 Photo Credit: Jolly Rogers Grub & Grog
This a perfect spot for you and your kiddos to have fun. There is a playground, an arcade, and even a treasure hunt. Kids also love the large pirate ship! Families can also listen to live music on the weekends and on holidays.
Coconuts: Welcome to the Lake's #1 Family Destination. Coconuts (7MM) has entertainment for the whole family. They have two pools: one for anyone 21 and older and another specifically for children ($4 fee). Enjoy entertainment daily and soak up the Lake views.
They offer a full menu including a menu for kids and even a menu for your pup! You can sit out on the patio, order at the swim-up bar, or get some shade inside. There's plenty of room!
Captain Ron's: Captain Ron's (34.5MM) is a great place for families to hang out and soak up some sunshine. Relax on one of their two beaches, play a game of sand volleyball at one of the two courts, or grab a drink at the tiki bar. Don't forget to grab some lunch or dinner either! Kids can take part in a treasure hunt or the whole family can hop aboard the Gypsy Rose, their own pirate ship.
Captain Ron's is home to Shootout: the largest boating event and the largest charity event at the Lake. This is a must-see event!
Boat House Lakeside Bar & Grill: Found at Village Marina, Boat House (3MM) is another great spot for a family day out. Their new and improved saltwater pool is perfect to cool down in on a hot summer day. Order lunch or dinner poolside and those of age can order some of their famous drinks. Insider tip: We hear they have a 19-ingredient Bloody Mary.
Landshark Bar & Grill: Landshark (26MM) can be found at Margaritaville Lake Resort, formally known as Tan-Tar-A. This bar and grill is quickly becoming a family-favorite among boaters. They have a relaxing vibe and great food and drink selections. Additionally, they have pools for both the adults and the "little sharks" to enjoy.
We hope you and your family enjoy the Lake as much as we do! People of all ages should enjoy our little piece of paradise. Let us know where you and your family love going on beautiful summer days.