For many, Labor Day weekend at Lake of the Ozarks is their official summer sendoff. With a surface water temperature of about 80 degrees on the Main Channel and temperatures in the 80s, the Lake will not disappoint this weekend. Summer is still here; enjoy it! From the best spots to cove out to awesome pool parties and firework displays, this is your holiday destination guide for end-of-summer fun at Lake of the Ozarks.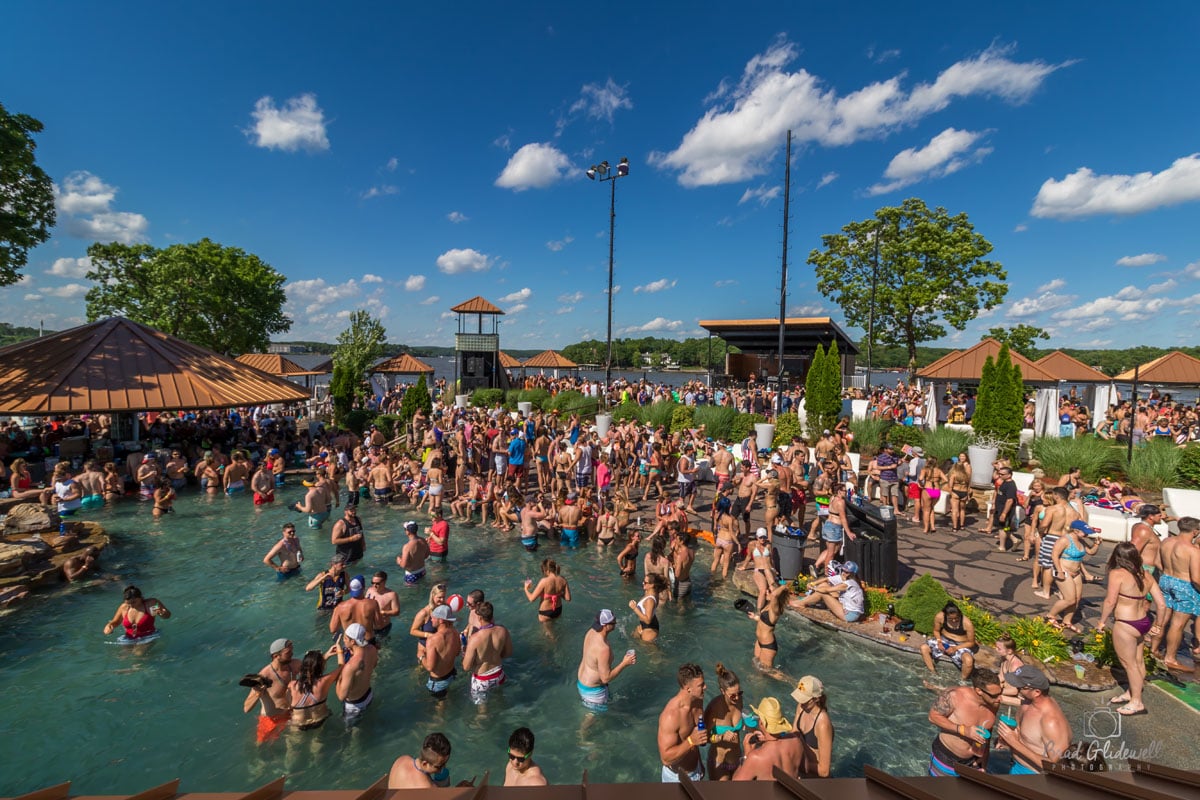 Photo Credit: Lazy Gators

Zero Ducks Given, Dr. Zhivegas, and Rehydrate at These Pool Party Spots

Celebrating Labor Day weekend at Lake of the Ozarks is a tradition for many families. From relaxing coves to your favorite hot-spots, the Lake offers something for everyone. If you are looking for a party, head to Backwater Jack's (17.7MM) for the final Zero Ducks Given Pool Party of the summer on Saturday, August 31, 2019. Three DJs will have the pool party rocking from 11 AM to 7 PM. But the party doesn't end there! Machine Gun Symphony takes the stage right afterwards. At the H. Toad Entertainment Complex at Camden on the Lake (7MM), Dr. Zhivegas rocks the outdoor stage on Friday, Saturday, and Sunday at 9 PM. If it is Labor Day weekend, then it is Rehydrate at Lazy Gators (7MM) Sunday, September 1, 2019, from 11 AM to 1 AM. Headlining is Shaun Frank. Additional DJ sets performed by Maximus, Jwin, Bobby Bohen, Lektrik, Requiem, and Franco.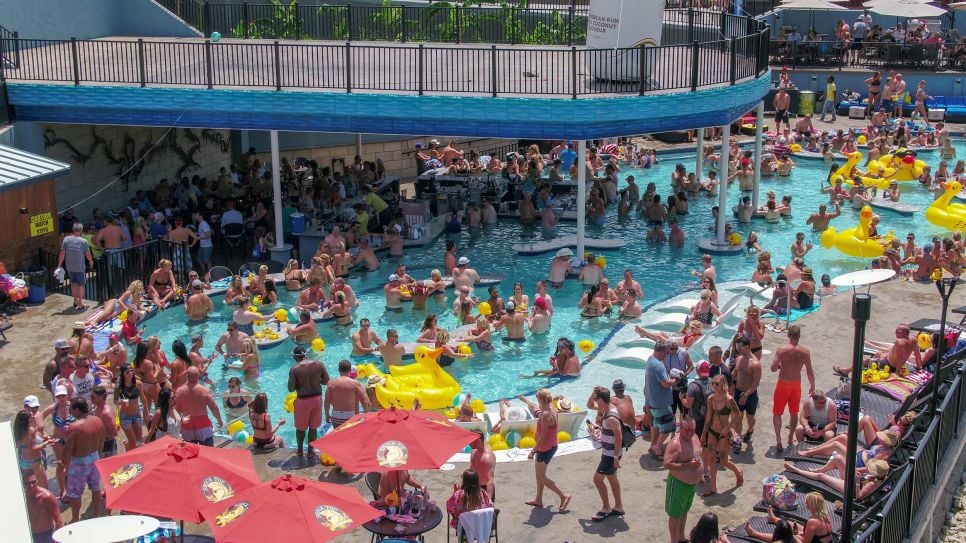 Photo Credit: Sky View Photography

From Lively to Laid-back, Drop Anchor and Relax in these Coves

Downing Branch Cove, aka Power Line Cove, is at the 3MM directly across the Main Channel from Isla Del Sol condos. This cove is a great spot for chilling out with some tunes with your favorite floaty. If you are looking for a more lively location, check out Evergreen Cove at the 17.5MM (opposite side of the Main Channel from Backwater Jack's).
At the 31MM, check out Fish & Co. Cove, and bring your appetite. This is a great cove that bears the name of the nearby restaurant, The Fish & Co. Not too far from Coconuts Caribbean Beach Bar & Grill is Indian Creek Cove, 6 MM, Gravois Arm. From water pads to paddle boards, this family-friendly cove is perfect for various water activities. If you want to feel the rush of Missouri's 12th largest spring, check out Ha Ha Tonka Cove, 15MM, Niangua Arm. A beautiful spot with towering bluffs overhead.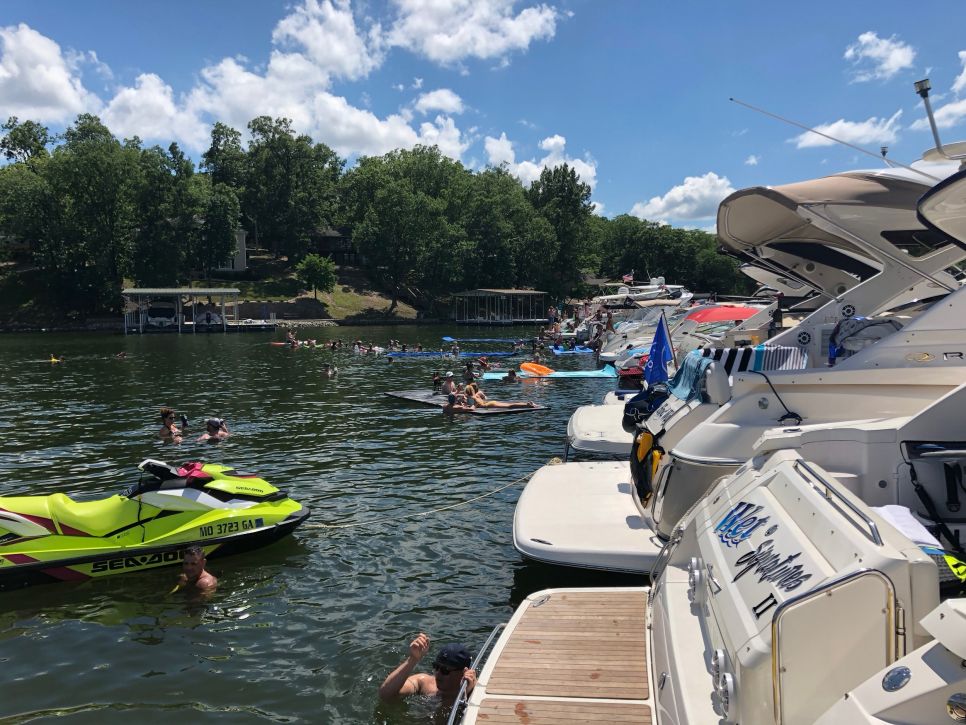 Watch Awesome Fireworks From The Water

As the sun begins to set, get ready for fireworks overhead. The Lake puts on some great shows, and the best seat in the house is on the water.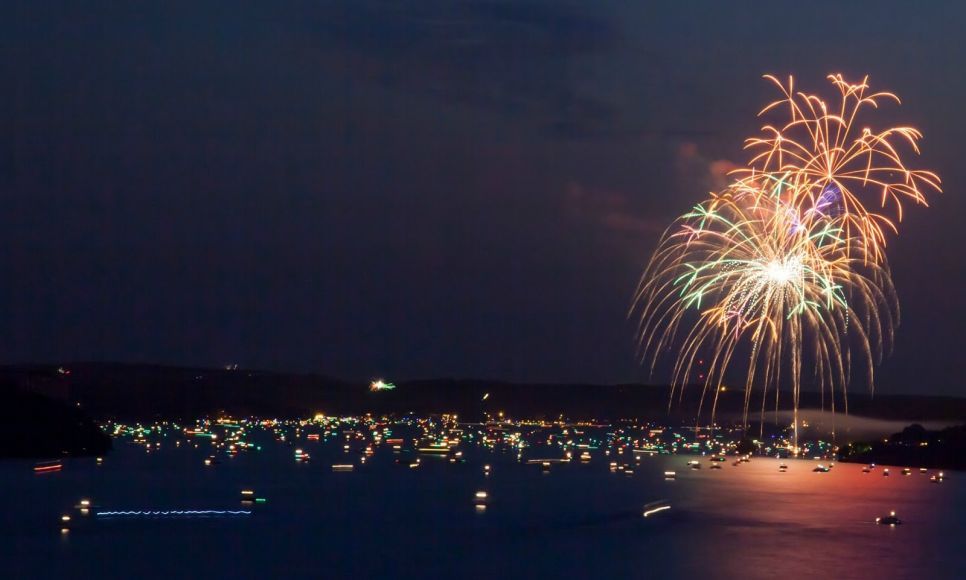 Photo Credit: Bombay Boat Rental
Whether you're taking in a pool party or firework show, remember safety comes first. Lake of the Ozarks will be extremely busy during this summer sendoff weekend. The boat traffic after the fireworks shows may feel like rush hour traffic. Have a sober captain—be safe and watch your wake. It is your responsibility to know Missouri boating laws. Make it a safe and enjoyable Labor Day weekend!

Is celebrating Labor Day weekend at Lake of the Ozarks a family tradition? How long has your family been coming to The Lake on Labor Day weekend? Do you plan on taking in some fireworks? If so, where? Join the conversation, we would love to hear from you!