The Fall Harbor Hop, which is held the second Saturday in October, signals the "unofficial" end to the boating season at Lake of the Ozarks. Veteran boaters know there are many great weeks of boating left! A beautiful summer on the Lake has given way to fall. Soon, snowbirds will return to their winter locations and second homeowners will curtail their weekend visits. For many, the Fall Harbor Hop is the last hurrah of the boating season.
Grab your jacket and enjoy the crisp air, it is time for Lake of the Ozarks Fall Harbor Hop!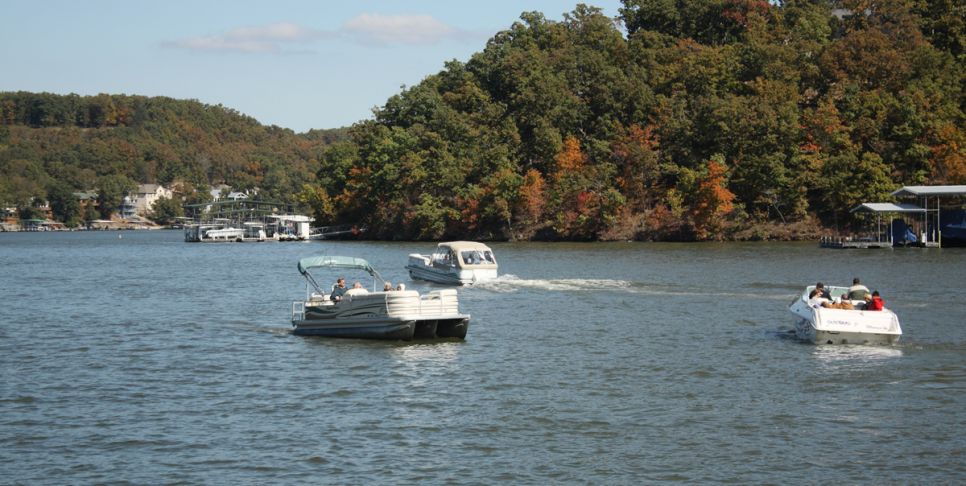 Photo Credit: Fun Lake

The Fall Harbor Hop is a great reason to gather up your family and friends for a beautiful, fun, cooler day on the water. This may be your last chance to enjoy some of your favorite lakeside establishments before they close for the season. So captains, before heading out with your mates, have a plan for navigating the Lake's best waterfront restaurants and marinas featured during the Fall Harbor Hop.

Here are five tips for making sure you have a safe and enjoyable Fall Harbor Hop:
1. Harbor Hop kicks off at 9 AM and ends at 7 PM. Keep in mind, some checkpoints may not open until 11 AM and others may close at 5 PM. Enter the Harbor Hop by starting at any one of the participating locations. Once there, sign in and pay an optional $20 donation per seven card hand. A player may enter more than once. Players receive their first card at their sign-up location. From there, six more cards are drawn by hopping to six different locations—drawing one card per hand at each location. A player's hand is complete once the seventh card is drawn. Heads up players, you have the option of drawing an eighth bonus card for an additional $5. Once you have seven cards, your hand is turned in at the checkpoint where your seventh card was drawn. All hands must be turned in by 7 PM. Prizes are awarded to winners first through 10th place, as well as the four worst hands. Complete details, including the official rules, can be found on the official Harbor Hop website. We wish everyone the best!
2. Several lakeside pools will be open and heated. While many pools close after Labor Day weekend, Lake of the Ozarks has several pools open year-round. The average high temperature in October at the Lake is 69 degrees. Insider Tip: The following lakeside pools are heated: Redhead Lakeside Grill (21MM), Dog Days (19MM), Backwater Jack's (17.7MM), Boathouse Lakeside Bar and Grill (3MM), and Camden on the Lake (7MM).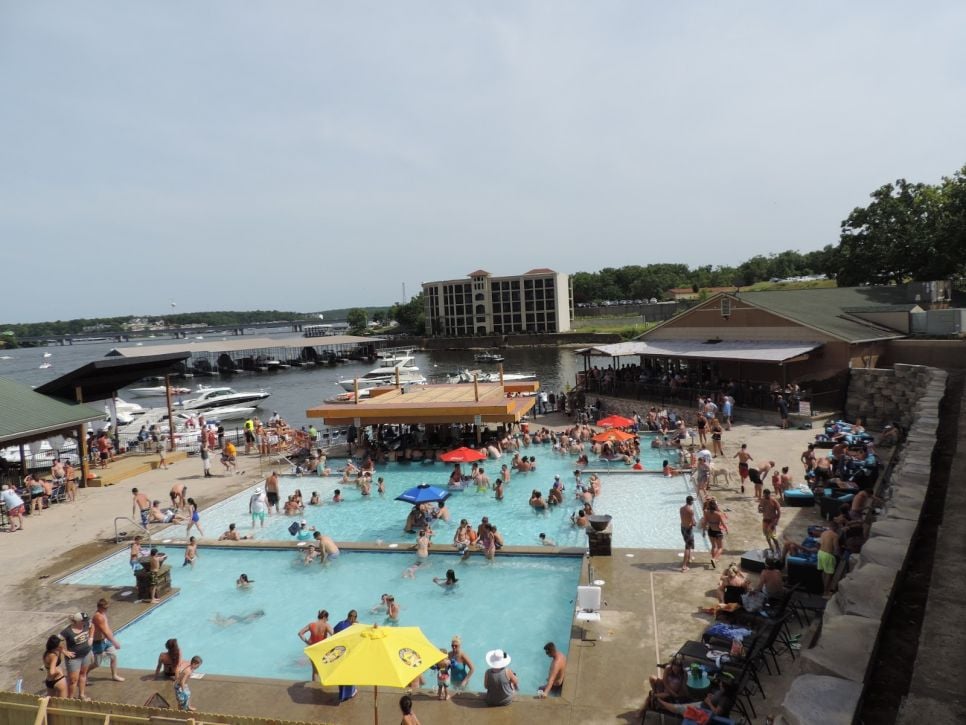 Photo Credit: Dog Days Bar & Grill
3. Lake of the Ozarks covers 54,000 acres. Why is this important? Smaller boats and cruisers may not have the time to hop great distances between checkpoints to pull seven cards before the 7 PM deadline. Check out the official Lake of the Ozarks Fall Harbor Hop map below from FunLake.com, which shows the exact location of all participating locations. We've made it easy for you to save the images to your phone so you can reference the locations and the map during the Fall Harbor Hop. Having a plan of attack will ensure you have the time needed to turn in your seven-card draw.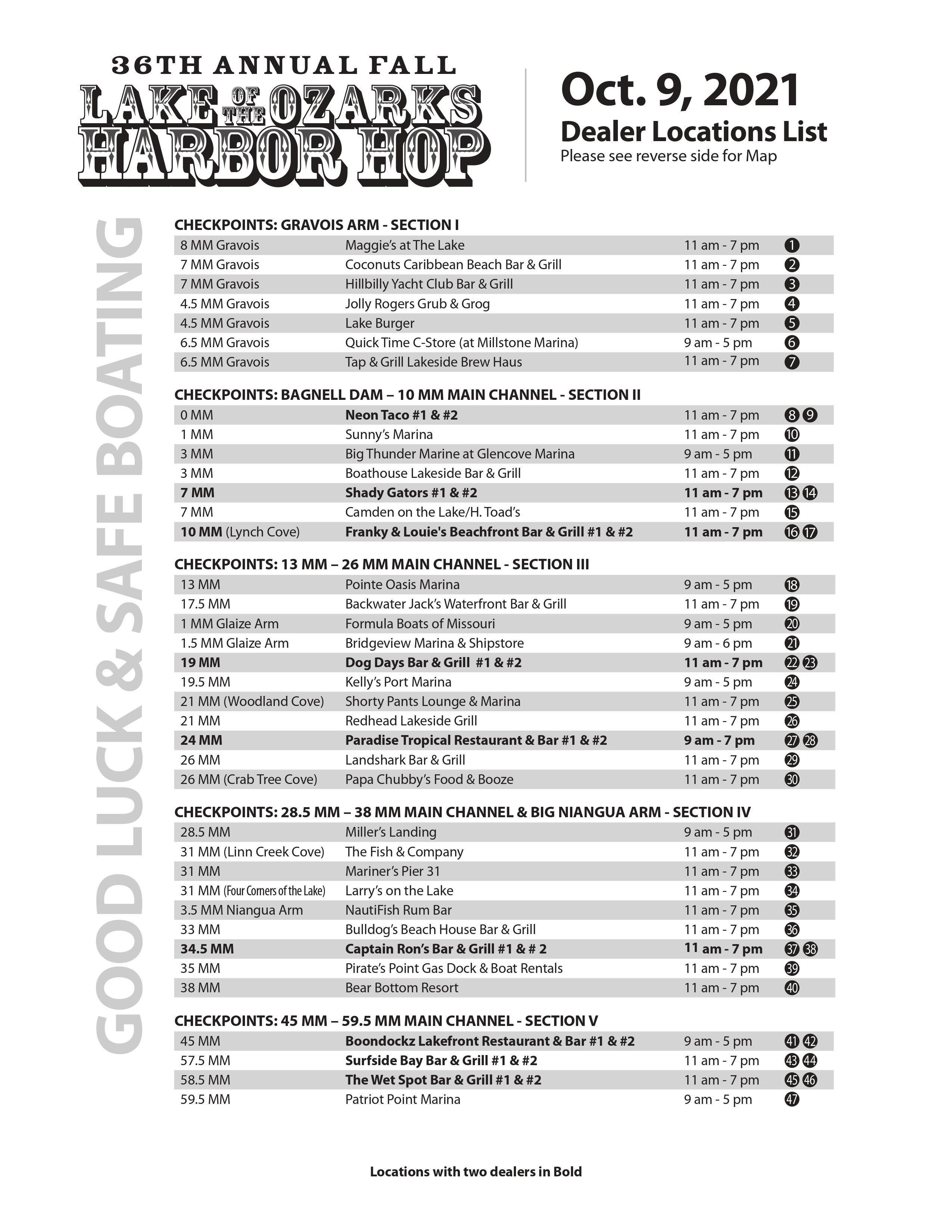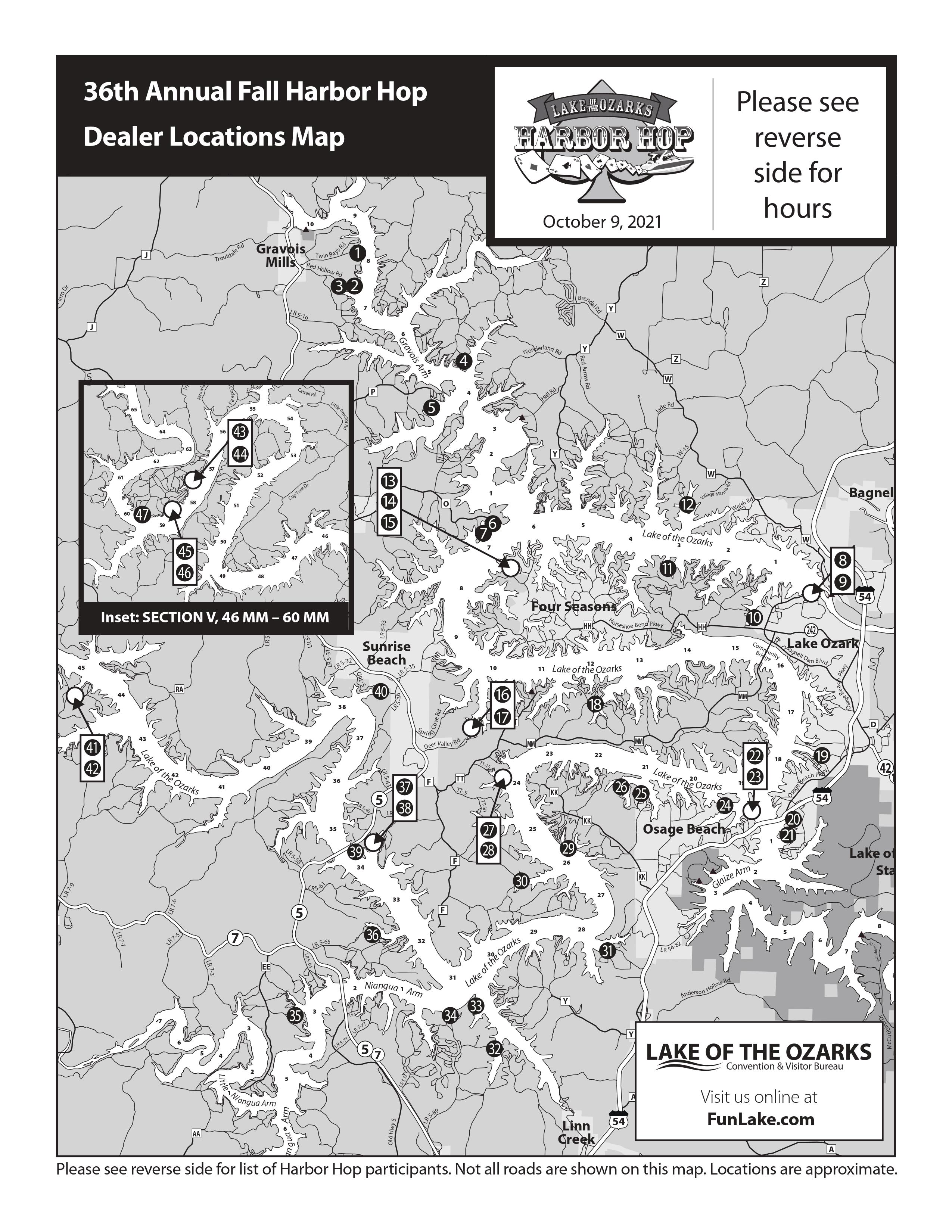 Photo Credit: Fun Lake
4. It is also a day for Missouri Sports. College football will be in full swing. We will also hopefully be cheering on the St. Louis Cardinals as they play in the Postseason. There are plenty of great lakeside spots to watch the game. Some of our favorite waterfront restaurants for college football include Paradise (24MM), Tap and Grill (6.5MM), and Redhead Lakeside Grill (21MM).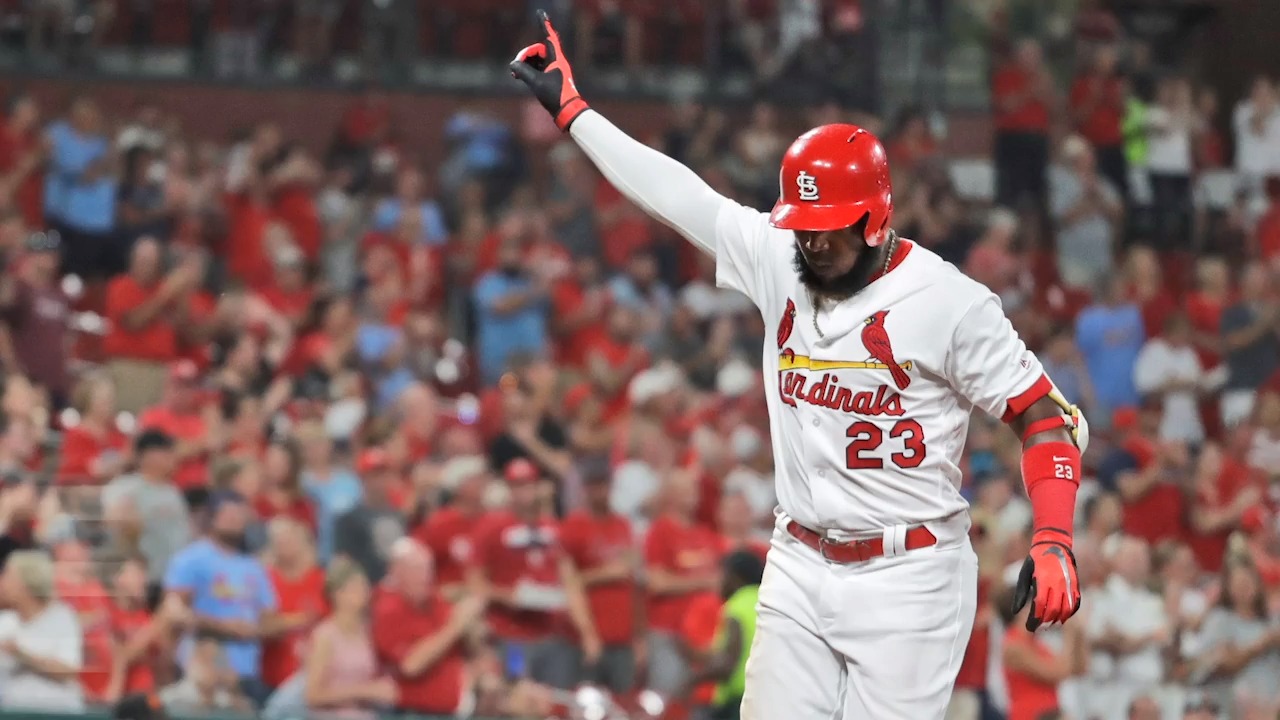 Photo Credit: BND
5. Have fun, be safe. In addition to the Fall Harbor Hop, the annual Osage Beach Fall Festival also takes place on the same Saturday. Remember to be safe, watch your wake, and have a sober captain.

With over 40 plus locations serving as Fall Harbor Hop checkpoints, captains and their mates can navigate to the spots that interest them the most. The fall is a beautiful time in the Ozarks as leaves begin to change. The Fall Harbor Hop may be your last hurrah on the water before winterizing your boat. Take advantage of this opportunity to enjoy beautiful fall weather on one of the best lakes in America!

How many years have you participated in the Fall Harbor Hop? Do you plan on taking a dip in one of the lakeside heated pools? Where do you plan on starting your Harbor Hop? Where do you plan on ending it? Join the conversation, we would love to hear from you!