It's almost time for the "largest on-water concert!" Aquapalooza 2019 at Dog Day's Bar and Grill (19MM) will take place on July 20, 2019 from 12 PM to 5 PM. Aquapalooza is also known as the "single largest one-day family event at the Lake." So, grab the whole family, pack up the floaties and supplies, and get ready to enjoy some live music on the water!
Here is everything you need to know about Aquapalooza 2019: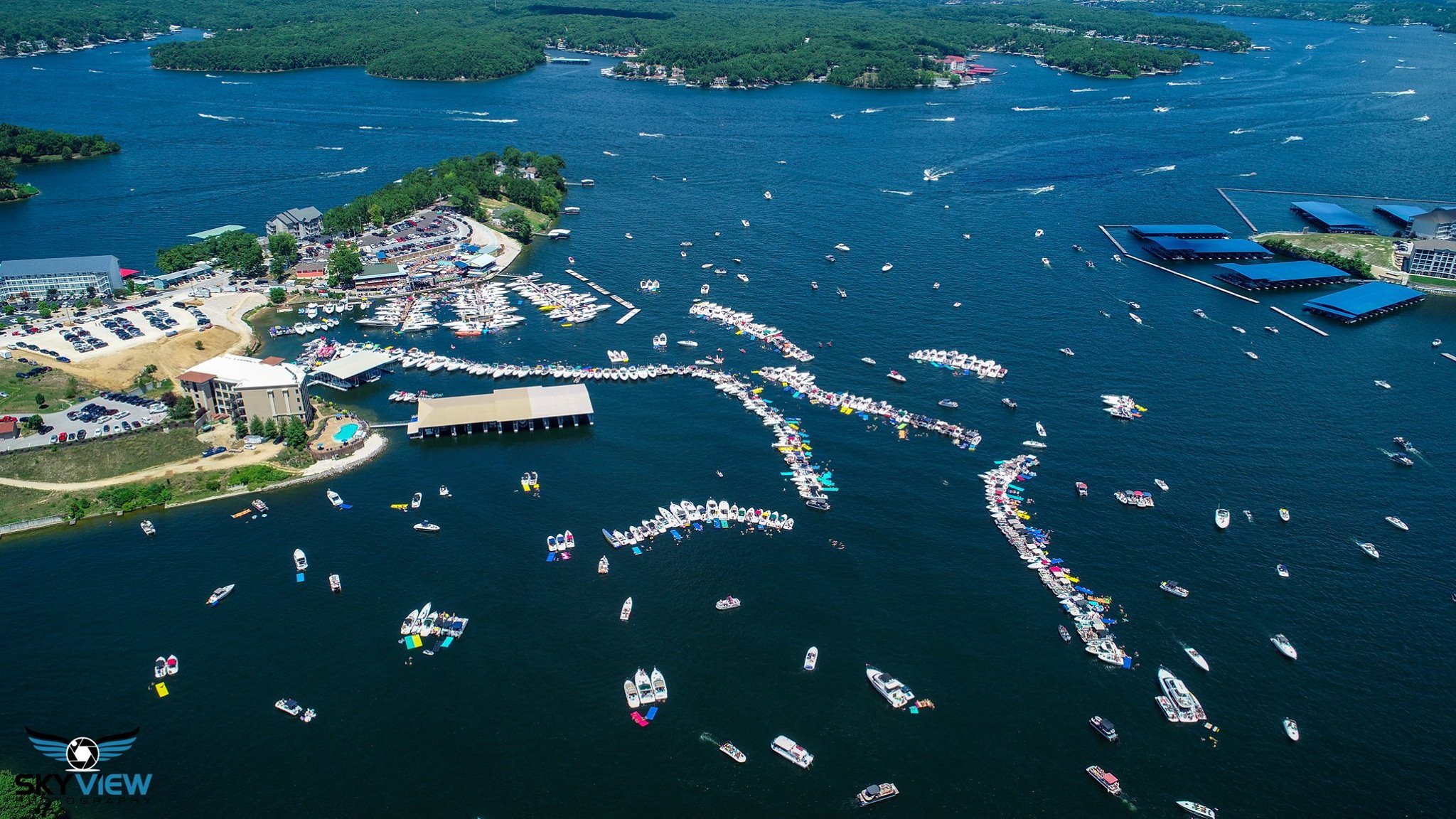 Photo Credit: Sky View Photography
Your 2019 Entertainment
Aquapalooza always has top-notch music for boaters to enjoy. Here's a rundown on who will be performing this year:
Chris Weaver: This Nashville artist and his bad mix together southern rock, soul, and country blues. They have opened up for numerous legendary bands such as John Mellencamp, Earth Wind and Fire, Chicago, Heart and others.
SUPERJAM: "The word invokes the glory of a bygone era." This band from St. Louis, MO performs a variety of rock covers from Queen, Chip Trick, Toto, and more.
Machine Gun Symphony: This band, out of Springfield, MO "brings back the era where excess is a way of life." Hear all your favorite songs from the 80s originating from artists like Bon Jovi, AC/DC, Guns N' Roses, and more.
Dirt Road Addiction: If you like a wide range of country, pop, and classic rock, you'll love this band. This "Jump-Country" band from Sedalia, MO has opened and followed numerous big-named country artists such as Little Big Town, Florida Georgia Line, and Colt Ford.
That's not all! Aquapalooza may end at 5 PM, but the party at Dog Days doesn't have to end. Continue into the night with DJ Dr. Cheese and Taz the Drummer from 6 PM to 10 PM poolside. There will be entertainment inside, as well, for people to enjoy.

Tips to Make Your Aquapalooza Safe & Enjoyable
While Aquapalooza is always a blast, there is some preparation involved. Here are a few insider tips to help you get ready for Aquapalooza 2019:
Reserve a slip, if you can. It's more than likely you might be too late to reserve a slip at Dog Days this year, but you never know. There might be a cancellation. Call Dog Days (573-348-9797) just to check. But with that being said, for next year, book your boat slip far in advance.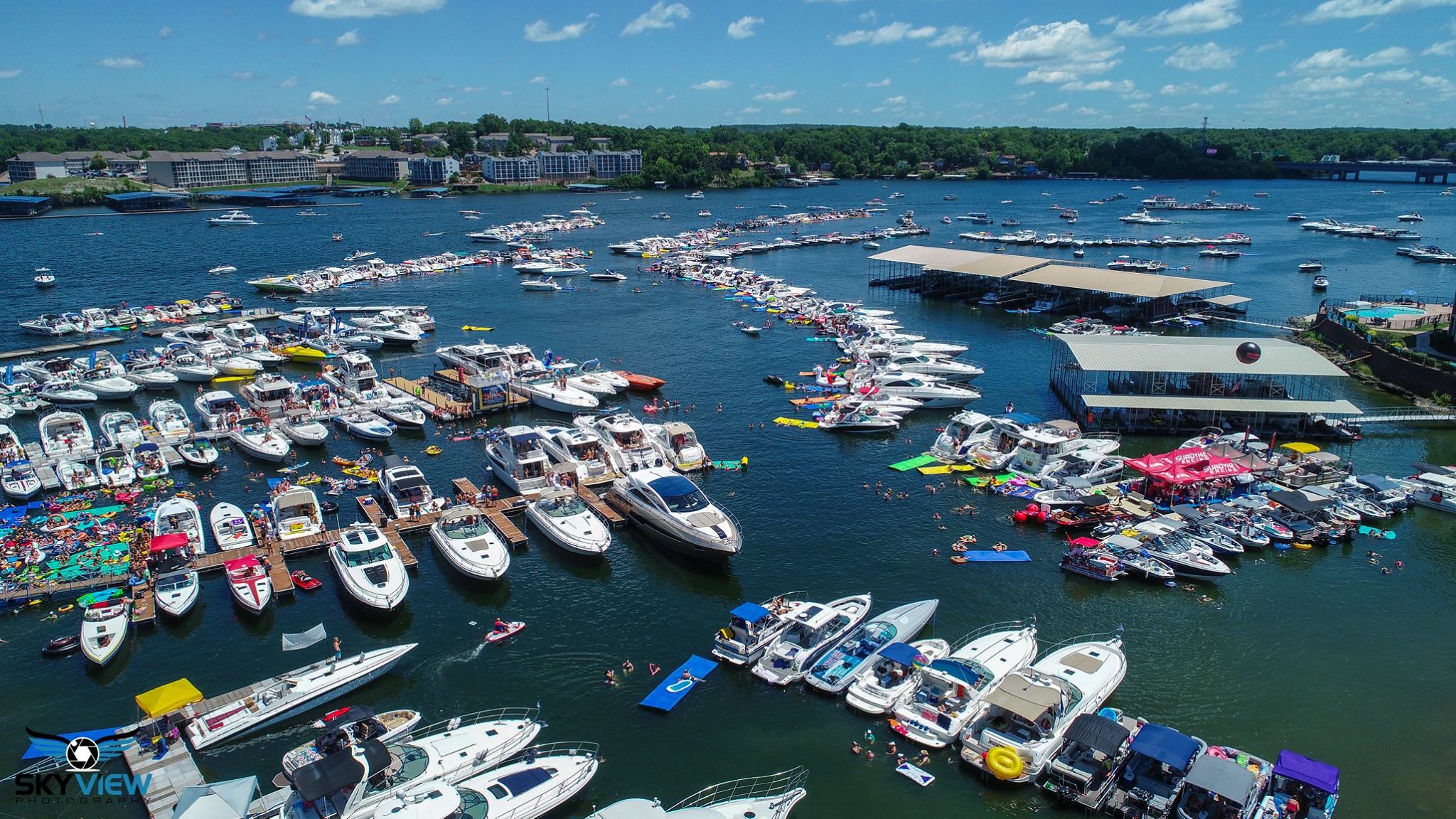 Photo Credit: Sky View Photography
Arrive early and tie up. No slip? No problem! Boat on over and tie up with fellow boaters to be part of the party. However, if you want front row viewing, arrive early. We suggest around 8 AM (we know, 4 hours early), to guarantee you get a good viewing spot.
Come prepared. It's a long day on the water so be sure to bring plenty of food and beverages for the day. While Dog Days does offer dining, it is going to be extremely busy. Additionally, we suggest bringing your favorite floatie for the day. Watch the entertainment right in the water and meet fellow Aquapalooza attendees. Oh, and don't forget the sunscreen!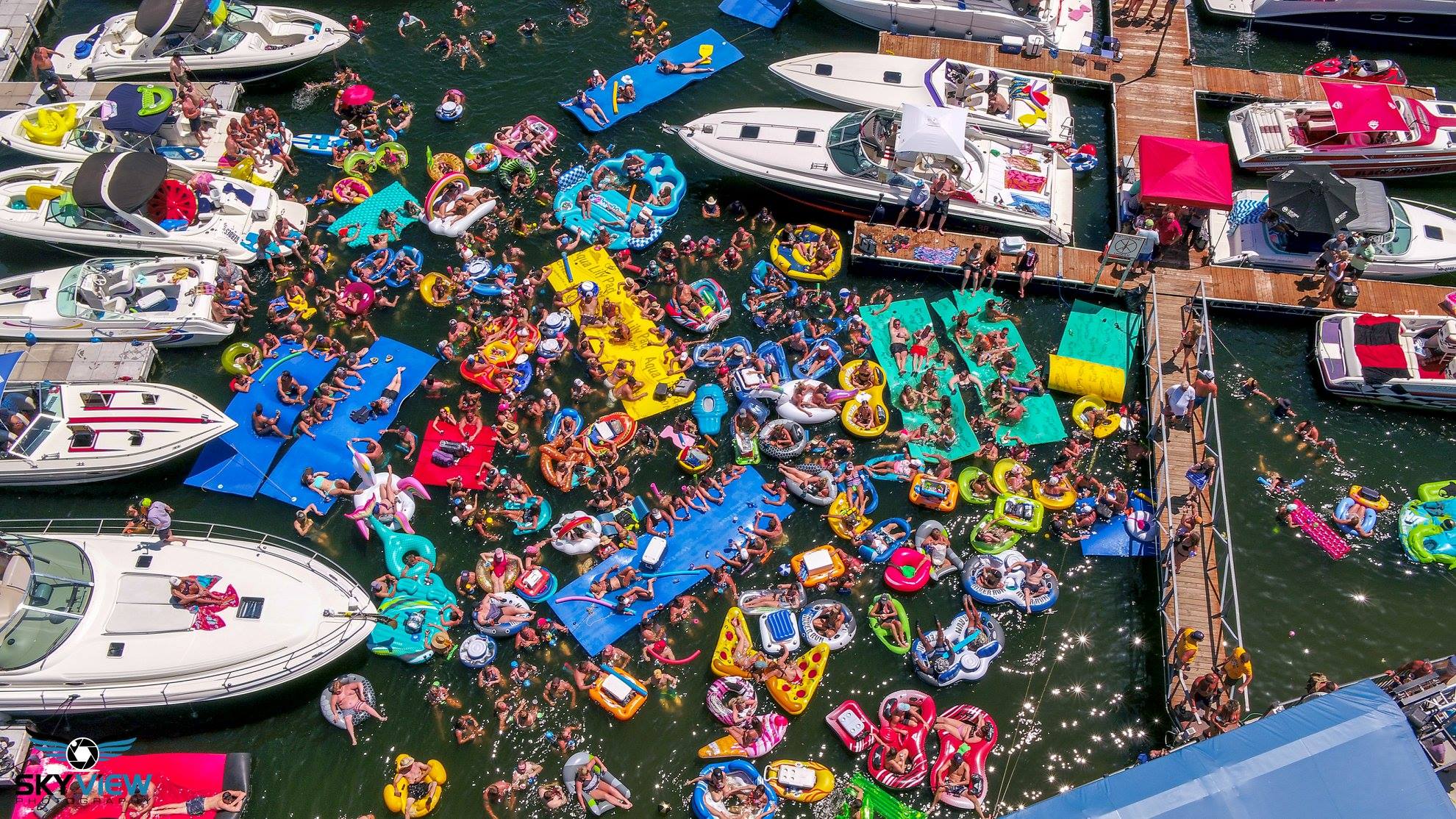 Photo Credit: Sky View Photography
Be patient. There will be hundreds of boats and thousands of attendees at Aquapalooza. Needless to say, this will cause one of the highest concentrations of boats in one cove. There's going to be a lot of shuffling for people coming and going. With that said, be patient, be safe, and be sure to have a designated captain.
Do you attend Aquapalooza every year? If so, do you have any more tips that you want to suggest? What's your favorite part of Aquapalooza? Be sure to join the conversation!