When you think of The Shootout, you think of horsepower on the water. American Ethanol brought 9,000 horsepower to Lake of the Ozarks in 2017. 9,000 horsepower! Speeds upwards of 200 mph will rock the Lake during the 31st Annual Shootout at Lake of the Ozarks happening August 16- 25, 2019.
However, did you know that The Shootout raises money for local charities around the Lake? Last year, this high-octane event gave $300,000 to 32 different charities and 8 fire departments. The Shootout has gained a lot of momentum over the years and its success stems from the racers, the spectators, and the countless volunteers.
Prepare for the roar of the largest unsanctioned boat race in the United States as we countdown to this year's Top Gun! If you feel the need, the need for speed, come along for the ride as we showcase Shootout 2019–including our picks for the can't miss events!

4 Can't-Miss Events at Shootout 2019

Here are our 4 Can't-Miss Events at Shootout 2019:
1. Shootout on The Strip presented by Waves and Wheels: This family-friendly event takes place on the historic Bagnell Dam Strip on Wednesday, August 21, 2019, from 5 PM to 10 PM. Dock at Beavers at the Dam and make the short walk up to The Strip. Selfie alert! This is your chance to take a picture next to these monstrous boats and meet the drivers and their race teams. Shootout on The Strip is billed as the largest out of water boating event at Lake of the Ozarks. Make sure to check out Top Gun Plaza next to Tucker's Shuckers. 2017 Top Gun winner American Ethanol and their entire crew from mechanics to drivers will be on hand with their boat to greet race enthusiasts, sign autographs, and hand out memorabilia. While at Top Gun Plaza, check out the various vendors, kid activities, and grab a bite to eat.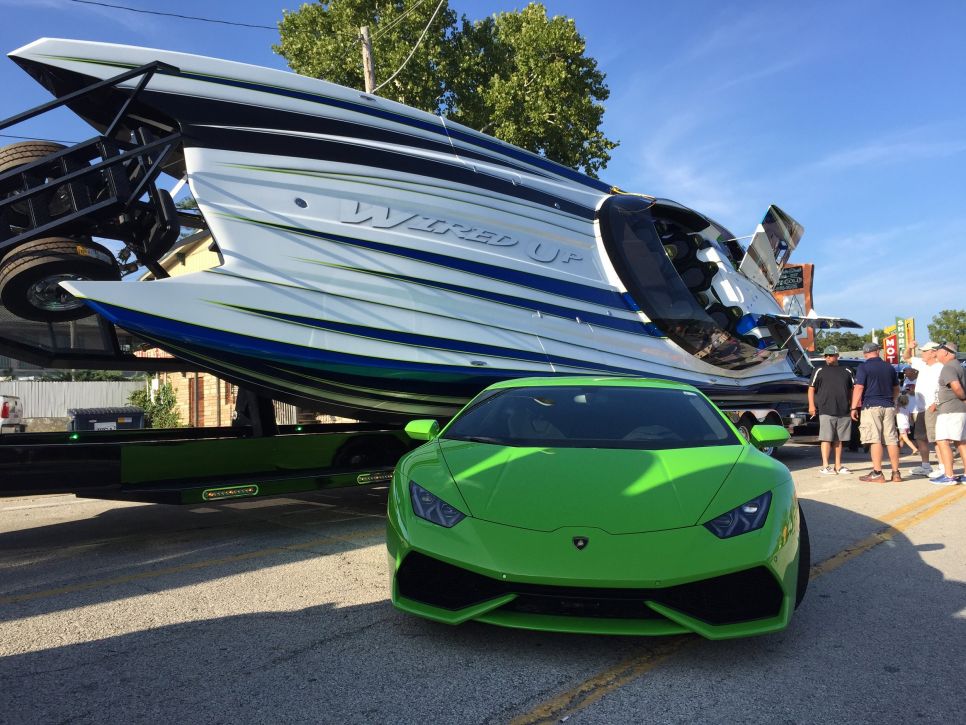 2. Poker Run Meet & Greet at Performance Boat Center: Come and meet fellow boaters and register for the poker run on Thursday, August 22, 2019, from 4 PM to 9 PM at Performance Boat Center (21MM) next to Redhead Lakeside Grill. There will be food, drinks, and a silent auction benefiting local charities will round out the evening. This is also your opportunity to check out Performance Boat Center's beautiful facility. Insider Tip: Don't leave early. There's a firework show at dusk.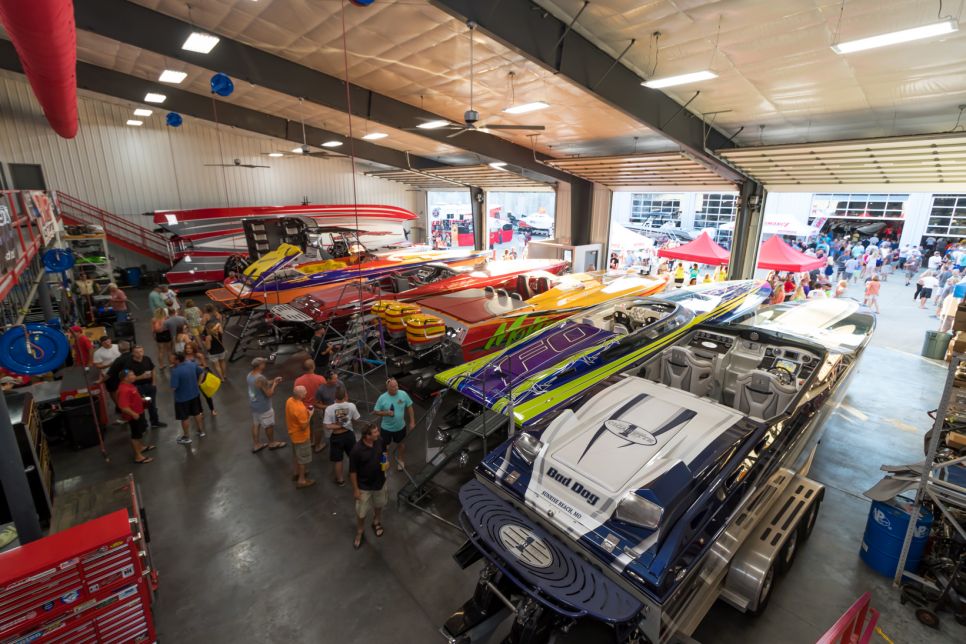 3. Poly Lift Lake Expo Poker Run: Rendezvous at Millstone Marina (7MM) on Friday, August 23, 2019, at 7:30 AM for breakfast and registration. Early registration costs $250. Registration increases to $300 on August 20, 2019. The registration fee includes breakfast for two at Millstone Marina, two t-shirts, lunch stop at Captain Ron's, Captain's Bag, and DVD. After breakfast, the poker run kicks off at 10 AM with eight stops: Paradise, Redhead's Lakeside Grill, Larry's on the Lake, NautiFish Rum Bar, Captain Ron's, Margaritaville, Big Dick's Halfway Inn, and finishes at Shady Gators. One card is drawn at each stop. The best 5-card hand wins. The awards ceremony, along with dinner will take place at 6 PM at Shady Gators, 7MM.
Photo Credit: Sky View Photography
4. Lake of the Ozarks Shootout: Finally, it's time to hear the roar, feel the power and marvel over these monstrous machines traveling north of 200 mph! Race weekend kicks off Saturday, August 24, 2019, at 9:45 AM with the opening ceremony and national anthem. Racing resumes on Sunday, August 25 at 9 AM, followed by the award ceremony at 4 PM. Boaters expecting to tie off along the racecourse, 33MM, must arrive early. Your fellow captains and their mates will arrive hours before the race starts on both Saturday and Sunday. Insider Tip: There will be a no-wake zone on both race days from the 31MM to the 36MM with an extended no-wake zone on Saturday only from 1 PM to 7 PM that starts at the 21MM. The Missouri Highway Patrol says, the extended no-wake zone is in place on Saturday because most boaters leave the race by exiting downstream, and Saturday is the busiest of the two race days. As always, be safe, watch your wake, and have a sober captain.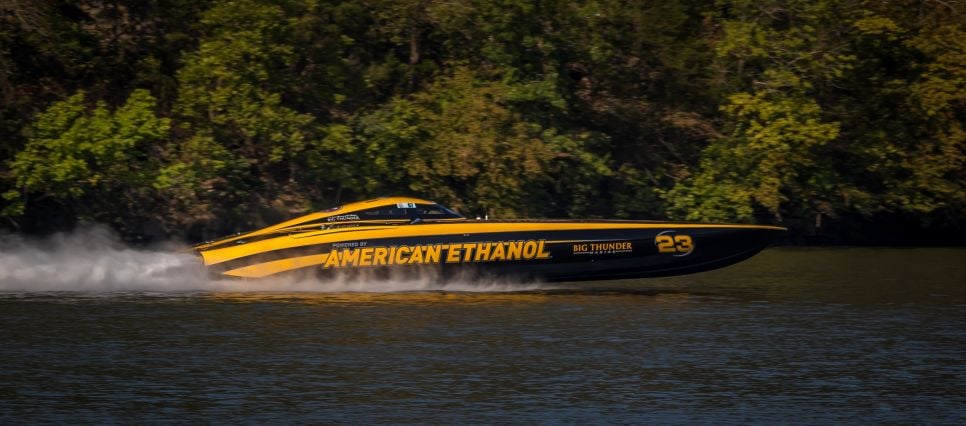 Photo Credit: Brad Glidewell Photography
Looking to get off the water for a while? Be sure to check out Racer and Vendor Villages at Buccaneer Bay and Captain Ron's (34.5MM) on Saturday from 9 AM to 5 PM and Sunday from 9 AM to 4 PM. Also, end the first day of racing with some live music by Members Only, performing at Captain Ron's from 8 PM to midnight.
More Boater Friendly Shootout Events
If the thunder of the big boats gets your adrenaline flowing, you may be mesmerized by their mini counterparts. From the Mini Shootout to a new poker run for all, let's reveal more boater-friendly events at Shootout 2019:

10th Annual Mini Shootout

Big things do, in fact, come in small packages. One of the Lake's premier events kicks off miniature style. Don't let these small replicas of their much larger counterparts fool you. Last year's Top Gun reached speeds of 124 MPH. Impressive, don't you think? The tiny party that packs a big punch kicks off Friday, August 16, 2019, with a meet and greet from 5 PM to 8 PM at Bridal Cave (10.5MM). Racing begins Saturday, August 17, 2019, from 9 AM to 5 PM at Ha Ha Tonka State Park (14.5MM Niangua Arm) and continues on Sunday from 9 AM to noon, followed by the awards presentation at the conclusion of the race.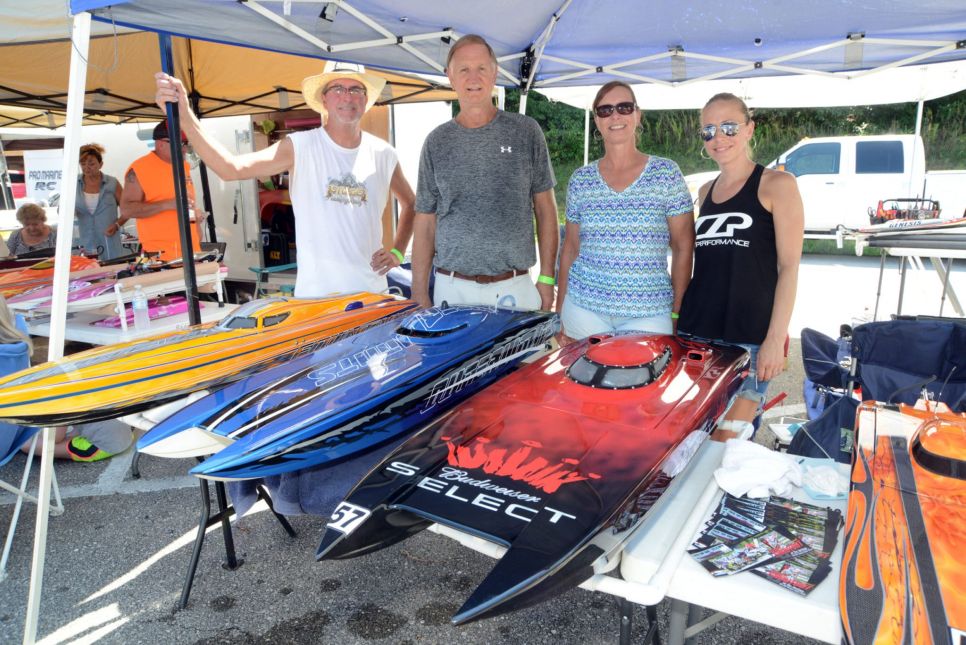 Photo Credit: Lake of the Ozarks Shootout

Captain Ron's Treasure Hunt

Alright, it may not be the gold rush of the mid-1800s, but contemporary pirates will hit the beach at Captain Ron's (34.5MM) on August 19, 2019, at 5 PM. This is a great event for the entire family. Parents and their kids will scour the beach at Captain Ron's looking for gold and silver treasure chests. Who doesn't like the word, treasure? Right? Social hour begins at 5 PM. The explanation of the rules begins at 6 PM. The treasure hunt kicks off at 6:15 PM followed by the presentation of the grand prize at 8 PM. What is the grand prize, you ask? One lucky local pirate will dig up the key to a new Hammerhead Mudhead Off-Road Go Kart from Surdyke Yamaha. Good luck! Tickets can be purchased for $20, but there is a special of 25% off tickets until August 16, 2019. Tickets may be purchased through Kid's Harbor and Lake of the Ozarks Idiots Club. All proceeds go to these two organizations and benefit the local children they help.
"Run What Ya Brung" Poker Run

Join us for a new addition to the lineup of the events. The "Run What Ya Brung" Poker Run takes place at 10 AM on Friday, August 16, 2019, at Captain Ron's (34.5MM). Proceeds go to the Jessica and Malachi Brazil Foundation and Shootout Charities. Registration costs $100 per boat, which includes one hand and a t-shirt. Additional hands can be purchased for $25 each or $100 for five hands. Pre-registration takes place Thursday, August 15, 2019, at Advantage Marine from 4 PM to 7 PM.
Poker Run stops include: Captain Ron's, Shady Gator's, Camden on the Lake, Franky and Louie's, Larry's on the Lake, Nautifish Rum Bar, Margaritaville, and Dog Days Bar and Grill (final stop). The top three hands, as well as the worst hand, win. There will also be a 50/50 raffle.
For more information on this event, contact Connie Weyer of Advantage Marine at 573-374-2231.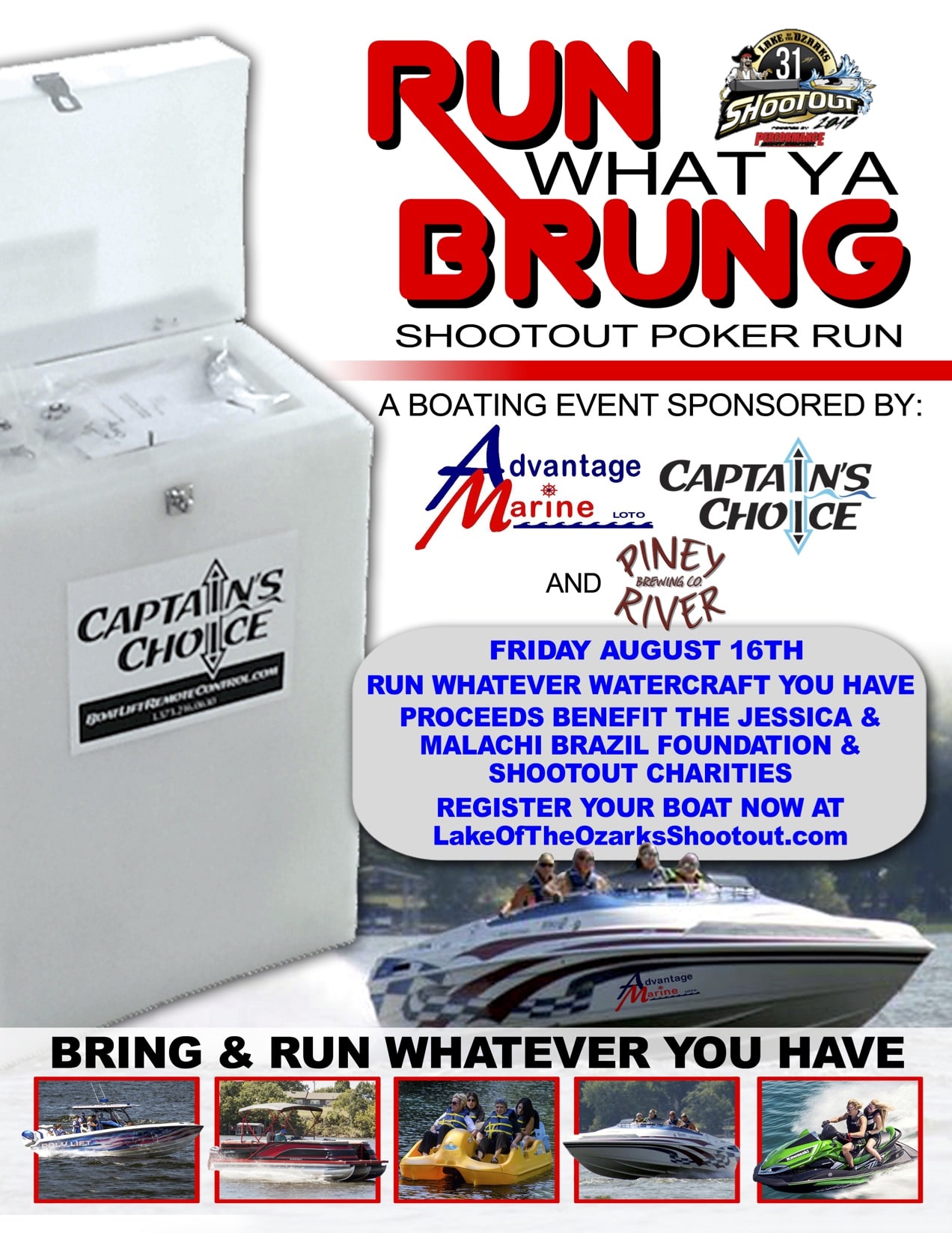 Photo Credit: Lake of the Ozark Shootout

Shootout Hall of Fame Dinner and Induction Ceremony

Break bread with fellow boaters at the Shootout Hall of Fame dinner and induction ceremony on Tuesday, August 20, 2019, at Cannon Smoked Saloon. The evening kicks off with a social hour at 6 PM. Dinner is served at 7 PM with the induction of the Shootout Hall of Fame Class of 2018 at 8:30 PM. Tickets are $35 per individual or $350 per table that includes two commemorative bottles of the Official Shootout Wine.

Wish Upon a Ride

Powerboat captains will send their love via massive horsepower as they give boat rides to children and families suffering from serious illness and disabilities. Wish Upon a Ride presented by SHORE Magazine and OakStar Bank takes place Sunday, August 18, 2019, at Redhead Yacht Club/Performance Boat Center (21MM) and also Friday, August 22, 2019, at Captain Ron's (34.5MM Dock #3) from noon to 4 PM. Parents and siblings are invited to ride along too! For additional information, contact Tiffany Maasen at [email protected].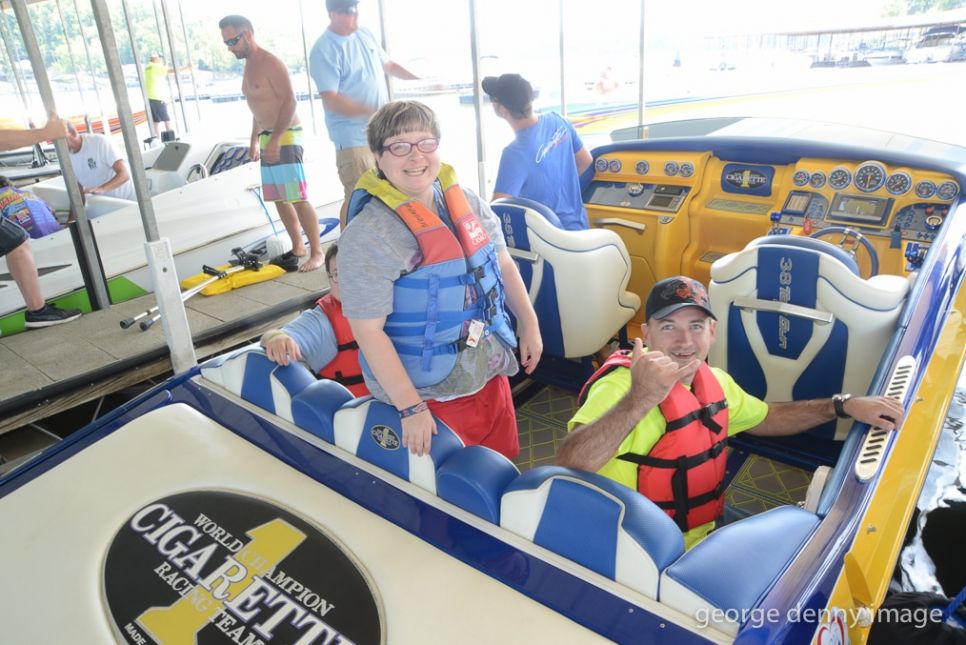 Photo Credit: George Denny, Lake of the Ozarks Shootout

Super Cat 4-Kids Live Auction

The Super Cats 4-Kids Live Auction at 8:30 PM Saturday, August 24, 2019, at Camden on the Lake (7MM) benefits four local charities: Children's Learning Center, Make-A-Wish Missouri, Kids' Harbor, and Sharing & Caring Foundation. Many great items up for bid including, ProDezigns certificate towards a custom boat wrap and a Disney World package with four 1-day passes and gift cards for travel expenses.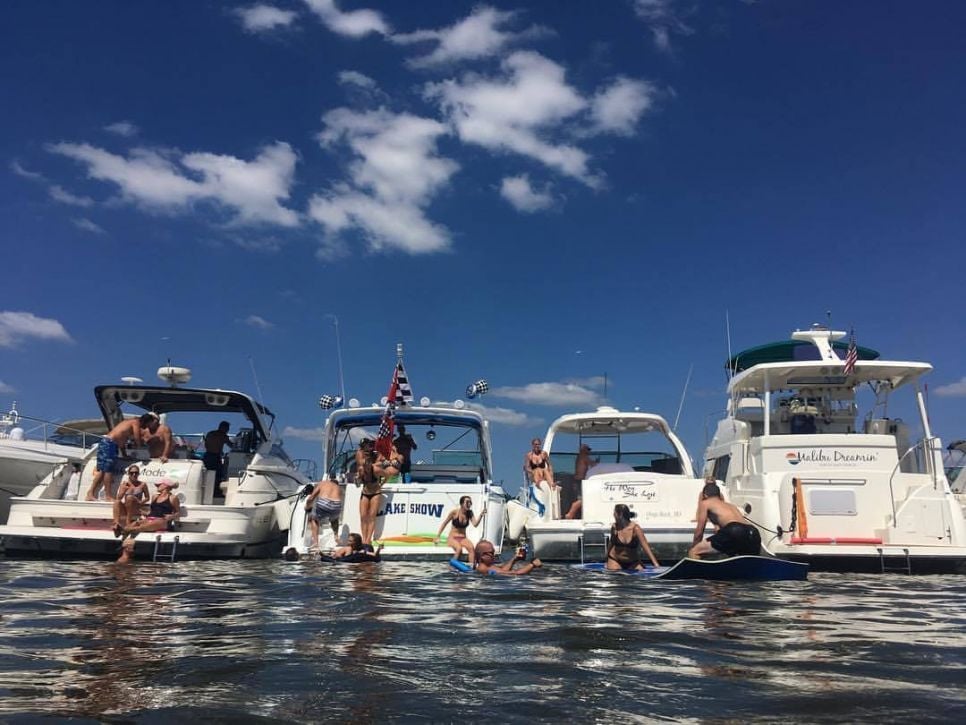 Have you ever been to The Shootout? If so, do you have any on-the-water viewing tips to share? What's your favorite event during The Shootout? Who would you like to see win "Top Gun" this year? Join the conversation, we would love to hear from you!